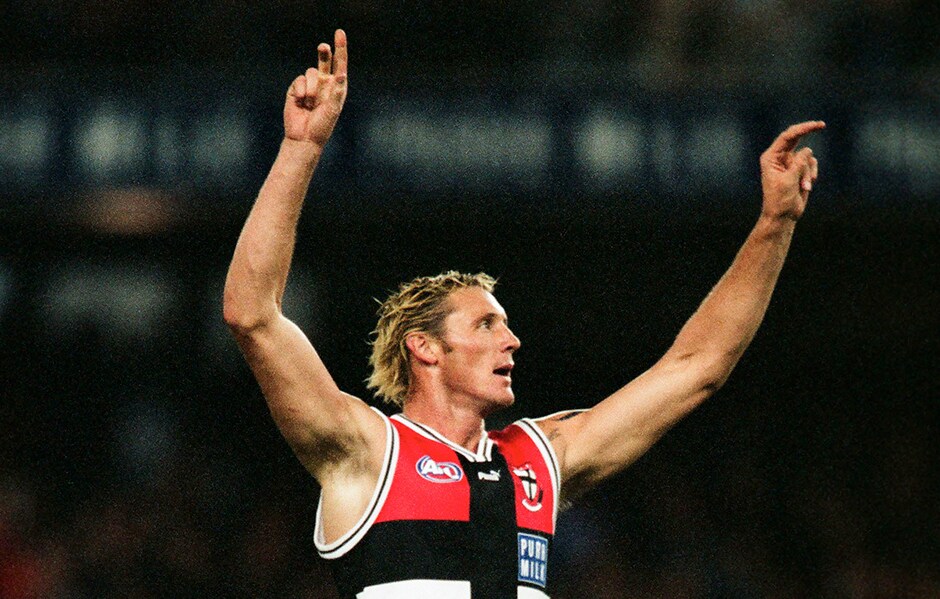 I will always stay loyal and stay a Saints fan.
Peter 'Spida' Everitt
Peter 'Spida' Everitt was St Kilda to a tee.
He arrived a skinny kid at Moorabbin, a little rough around the edges and with swagger in spades, but he had the raw talent to back it up.
He would become a cult figure in his own right, and fond memories of his heroics still reverberate amongst the red, white and black faithful over a decade after his retirement.
It's only fitting then, that on Thursday 7 March, 'Spida' will be officially inducted into the Saints' Hall of Fame alongside fellow favourites Lenny Hayes, Max Hudghton and Stephen Milne.
BOOK YOUR HALL OF FAME TICKET HERE
Like his fellow inductees, Everitt left a formidable legacy in his 180 matches at the Saints.
The imposing ruckman boasted a talent for kicking bags – almost unheard of for ruckmen at the time – and possessed extraordinary mobility given his 203cm frame.
And perhaps equally as memorable as his on-field prowess was the eccentric ruckman's suite of hairdos.
Peroxide blonde spikes, flowing dreadlocks, frosted tips and a vast array of headbands, Everitt's hairstyles were as numerous and varied as any other to ever play the game.
The big man was acutely aware of his own quirks, once commenting on his long-time teammate Robert Harvey:
For a guy to play 21 years at a footy club and never change his hairstyle was pretty good."
Debuting in 1993, it took some time for the young Everitt to truly kickstart his memorable campaign for the Saints.
His breakout year came in 1996, when he booted 40 majors and began to fully take the reins in the rucking duties, revolutionising the role of the modern ruckman in the process.
The proceeding two years were equally fruitful for the newly-formed ruckman, who earned himself two All Australian honours for his impressive centre-work and goalkicking, before going on to win the Trevor Barker Award in 2001.
READ: Favourite sons join Hall of Fame
Everitt eventually departed the Saints at the end of the 2002 season, closing out his career at Hawthorn (2003-06) and then Sydney (2007-08), earning another All Australian nomination in the process and finishing his career tally at 291 games.
But despite brief flirtations with rival clubs during his playing career, 'Spida' is and always will be a Saint.
"I'm a Saints fan," Everitt told saints.com.au.
"I'm a life member of St Kilda; I'm not a life member of Hawthorn or Sydney. I will always stay loyal and stay a Saints fan."
Now, 'Spida' Everitt is no longer just a Saints fan. He is immortalised in the club's history forever.