An ability to play both ends, deliver pressure and snag handy goals was just what the Saints had in mind when they snapped up Nicola Xenos with pick No. 27 in the AFLW Draft. 
Unfortunately, they witnessed the damage she could do first-hand. 
In Collingwood colours, the 18-year-old played a game-changing hand in knocking the Southern Saints out of the VFLW Preliminary Final, ultimately ending the red, white and black's September dream. 
But fresh off VFLW Premiership glory, Xenos is now with St Kilda. 
"It's an amazing feeling.  I can't really put it into words but I'm just soaking up the atmosphere," Xenos told saints.com.au. 
Xenos has had her hands full since September, juggling her Year 12 studies alongside her many football commitments. 
As captain of Carey Grammar's Girls First Football Team and a player for Vic Metro, Oakleigh Chargers and Collingwood's VFLW team, it's been an impressive workload she's managed in the most stressful year of schooling. 

But sport has always been entrenched in her life, with basketball and netball first starting the journey, before Xenos turned her focus to football.
She's now in her seventh season of footy after starting in the Under-11s. 
And Xenos will be intent on bringing her experience as a youngster and X-factor skillset to St Kilda in 2020.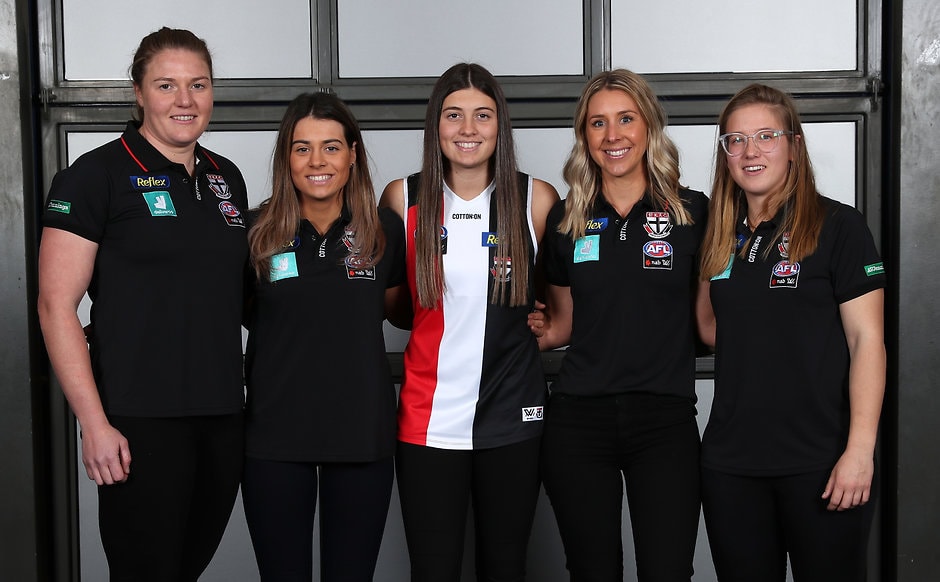 Nicola Xenos (Second L) with draftees Tamara Luke, Georgia Patrikios, Hannah Priest and Rosie Dillon.
Break-neck speed and endurance serve as her most notable traits, with the versatile Saint winning the 30m sprint and coming second in the 2km trials at this year's draft combine.  
Although she's shown her flair and harrowing presence up forward, the lively talent expects she'll spend most of her time off half-back and along the wings in the AFLW. 
AFLW: Rosie Dillon reaps the rewards
Her ability to run through the midfield makes her incredibly damaging, and when combined with her unrelenting hunt, she's more than enough for the opposition to grapple. 
Whatever end she plays next season, the Saints will be hoping Xenos delivers much of the same pressure that she did in that heartbreaking Preliminary Final. 
But this time, she'll be wearing red, white and black.