Part One:
The road trip that went forever
If anyone tells you driving from Brisbane to Melbourne is "not a bad drive", they are flat-out lying to you.
I should have been suspicious given it was my fellow St Kilda teammate Nat Exon who shared this view.
Nat would rather walk to Melbourne, she hates planes that much.
At first thought, I was fairly confident that I would be able to complete the drive alone as I am a strong, independent woman after all.
But my father, 'Daz', convinced me it would be too tough alone and decided he was coming too.
Watch the Saints take on the Crows this week LIVE with Kayo. Sign up for your FREE 14-day trial.
We set out at 5am on a Friday morning, taking the in-land road as it "is a lot quicker" according to big Daz.
Nacho, my Mini Dachshund, was all strapped in and ready to arrive at his new home in Melbourne.
It was a bit of an eye-opener, travelling through towns I couldn't pronounce and driving on a one-lane highway most of the time.
Luckily for me, Daz took the wheel for a big part of the trip, leaving me in charge of the important things.
We mostly explored the Triple J hitlist, from the likes of Meg Mac to Florence and the Machine and Maggie Rogers, but I would also give Daz some good old 80s rock from the 'Stranger Things' soundtrack.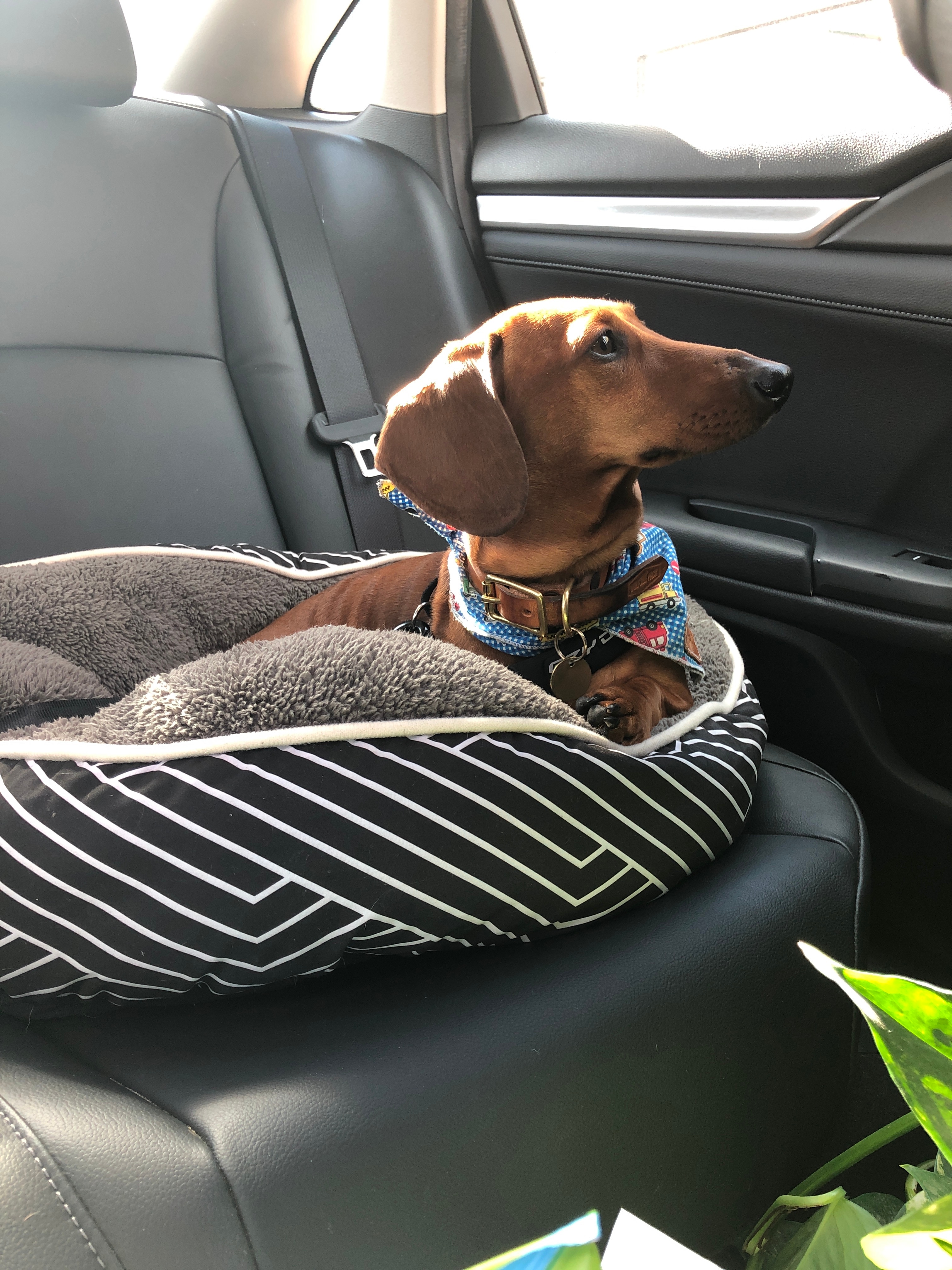 The most entertaining part of the whole trip was the constant temperature updates from Daz as we got closer and closer to Melbourne.
"Oh wow, it's only 6 degrees here Kate," or "how can it only be 9 degrees when the sun is out".
You can imagine how much fun the trip was if that was the highlight.
I don't think Nacho was even aware we were in a new city, given he slept for almost all of the entire 20-hour drive.
Alas, after some horrible temperature updates, a few rest stops in interesting towns with some friendly locals, Daz, Nacho and myself arrived at my new home in Bentleigh.
As if on cue, the Melbourne weather gave us a friendly welcome with a bucketload of golf-ball-sized hail falling from the sky. Thanks Melbs!
First Melbourne experience
I had read a lot of articles about the "must-do" things when you arrive in Melbourne, so I went straight to the most popular landmark – RSEA Park in Moorabbin.
We had just unpacked the car and found our feet when Dad decided there was no time like the present to go and check out the Saints' multi-million-dollar training base, which will also be the home ground for the AFLW side.
The club was able to secure a $13 million dollar grant from the State Government for Stage 2 which has allowed them to build new meeting rooms, our AFLW change rooms (tailor-made for a Women's team), along with a 1000-seat grandstand.
The new rooms were still under construction when I first came down, and I was blown away the second time around.
We will want for nothing as players, with our new digs the same size as the men's team.
They are so spacious with so much room that Darcy Guttridge can actually fit inside her own locker. There is even your own individual mirror in each locker, a feature I hear the boys are actually requesting in their rooms now!
We have direct access to the hot and cold pools, and it's a short walk to the one of my favourite places – the gym.
It's enormous and there's plenty of space for both the men's and women's team, as is the players' lounge with a fridge stocked full of Complete Dairy milk.
Dad was extremely impressed, and said that he could not wait to watch the Saints running around at Moorabbin for their first AFLW home game.
I couldn't help but imagine the hill full of red, white and black and running through the banner for the return of AFL football to the heartland of the club. Gives me Goosebumps just thinking about it.
First session as a Saint
Before I knew it, my furniture had arrived and I was all unpacked and settled into my house, leaving just one thing to do: get training! The time had finally come for me to meet all my new teammates and train with the girls at the Southern Saints.
The first thing I learnt was an extremely valuable lesson from Georgia "Jogger" Walker in fines.
As the fines master, Georgia is probably someone you want on your side otherwise the season can be an rather expensive one for you, just ask Jess Sedunary who has already singled-handedly contributed a significant amount to the piggy bank.
Then we got straight into training. I was in awe of the professionalism and the standards already set for training under coach Peta Searle.
We started with game review of the weekend's match which was held in what could easily be a gold-class cinema...if game review ever gets boring, it will be pretty challenging to stay awake.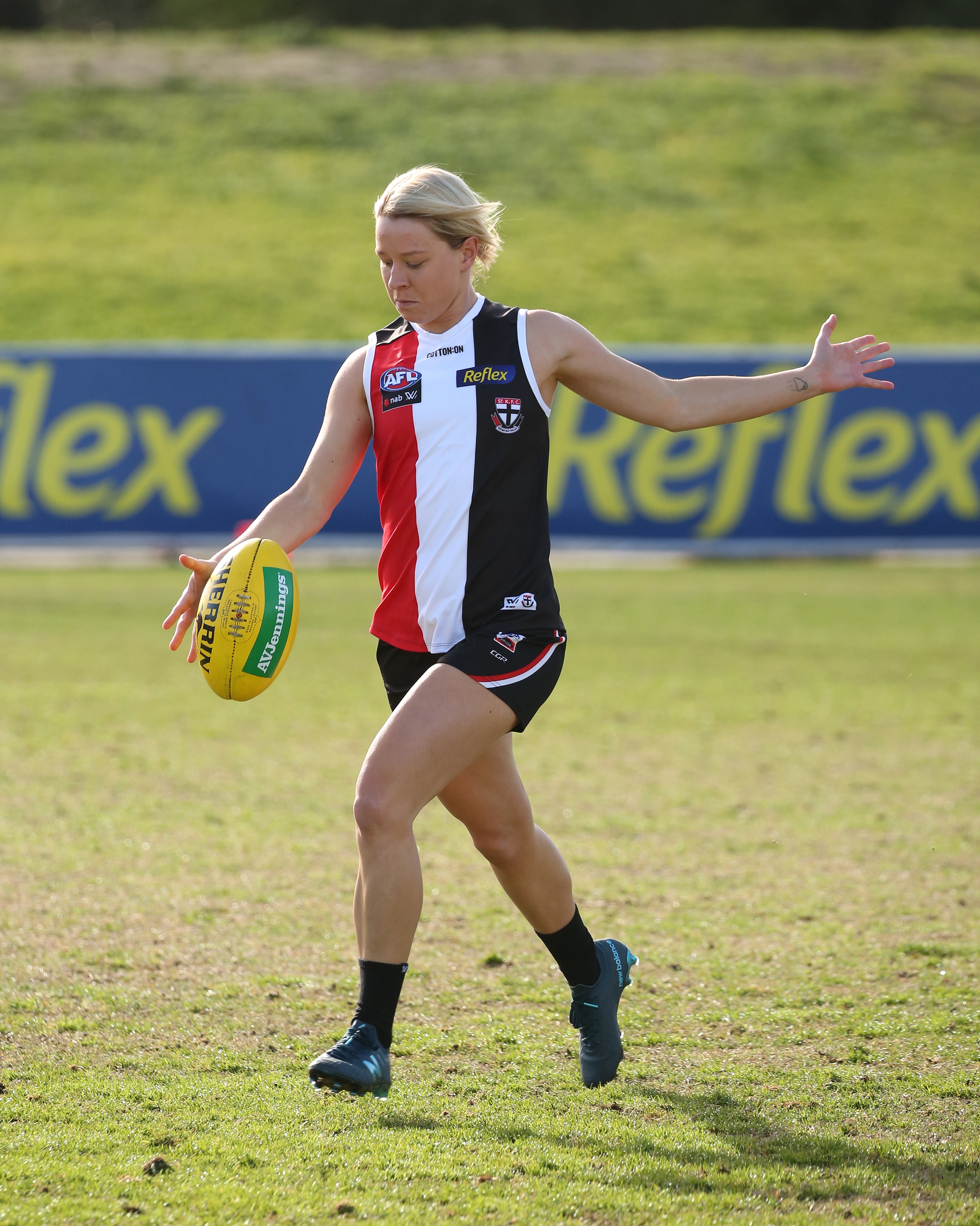 Next, we went into some touch and finally we were out on the track running around.
The staff and girls were so warm and welcoming which made things a whole lot easier.
At times, I did feel like the kid that changed schools halfway through the year though, having absolutely no clue what to do or where to go in some drills.
To be continued...