Some football memories lapse within a week, others within a year.
But a special few live forever.
For those who filled the stands at the then "Telstra Dome" on 1 May, 2004, and thousands more watching at home, they will always carry the memories of one very special moment.
It was the day Troy Schwarze etched his name in St Kilda folklore.
ON THIS DAY: Lenny Hayes debuts
Round 6 of 2004, and the plucky Saints are riding the high of a 5-0 start to the season, but their biggest test stands in front of them.
Brisbane in the early 2000s was nothing short of a powerhouse.
'Lethal' Leigh Matthews' side resembled the playing style of their famous coach; highly physical, silky skilled and infamously ruthless.
The Lions boasted triple-premiership glory, but the underdog Saints knew a win would make a statement to the rest of the league.

So when the rampaging Lions piled on seven goals in a final-quarter flurry to take back the lead with just minutes remaining, the Saints needed a hero.
Enter arguably the most unlikely player on the ground, defender Troy Schwarze.
A contentious Aussie Jones point cut the margin to five points.
ON THIS DAY: Jeff Fehring launches Moorabbin monster
Mal Michael sent the resulting kick-in long and wide, before St Kilda's Heath Black fed a handpass to Brett Voss, who looked up and saw our man in space.
The No. 40 had somehow found a veritable paddock on the outer wing, and when Voss speared the ball to him, Schwarze's only thought was "go for it".
The relatively-unknown backman stormed to 65m out before launching a season-defining roost that clinched a famous win.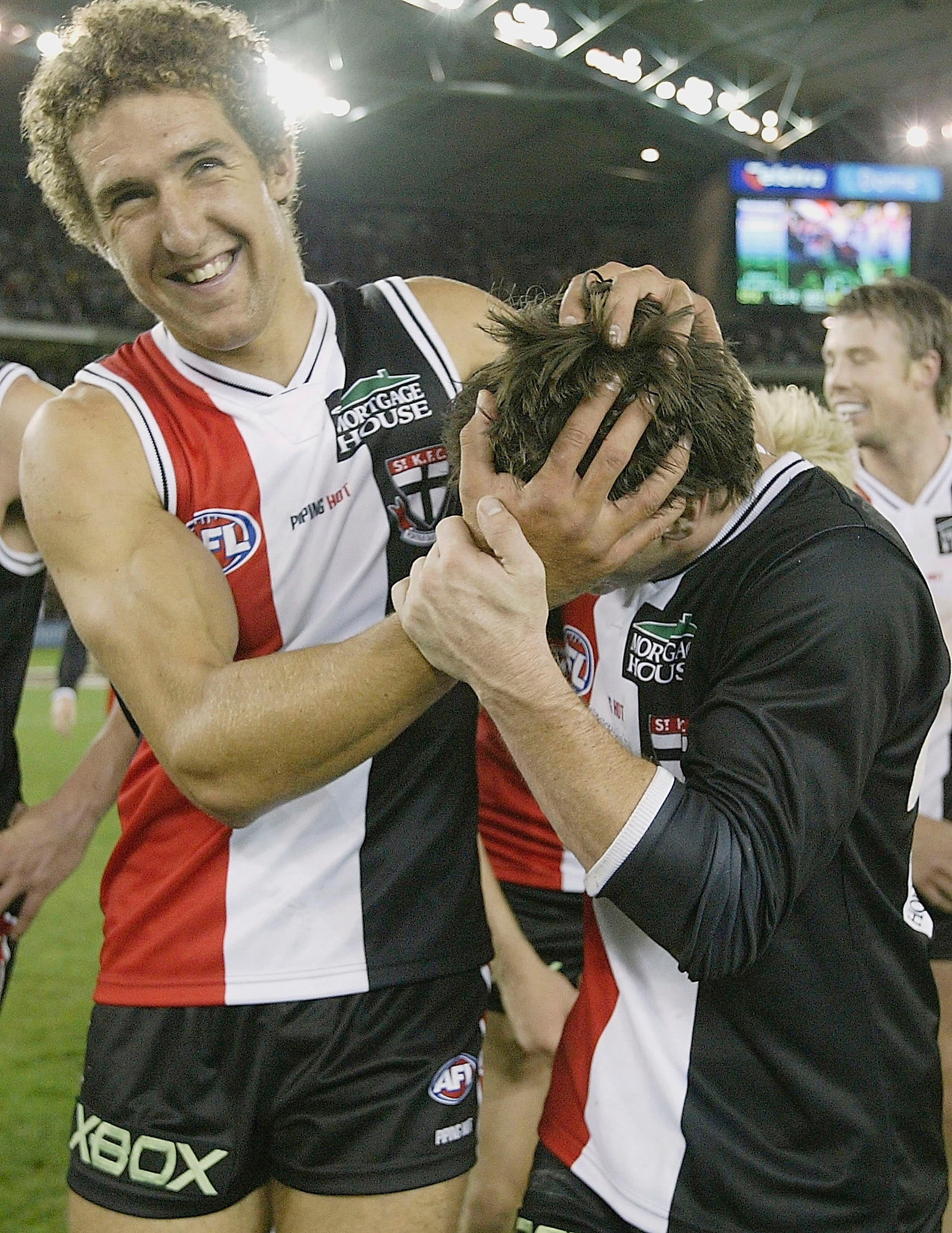 Match-winner Troy Schwarze celebrates with Stephen Milne after the famous win.
As the humble hero told saints.com.au, "the rest is history".
Never one to seek the limelight, Schwarze said the status of cult hero to this day doesn't sit well with him.
"It was maybe the only thing I did!" he laughed.
I found out later that my local footy club had taken my photo off the wall and put it on the ground, and were singing the Saints song to my photo on the floor, so it was a good moment."
For many of the 52,539 people in attendance that day, 1 May, 2004 was one of the best games of football they've ever witnessed.
For the author, as a 12-year-old kid, it remains the single loudest roar I've ever heard at Docklands Stadium.
And I hope to hear it again.