On this day in 1965, two teenagers began what would become hugely successful careers for the Saints.
A player's first game is always something special, and when Ray Cross saw the nervousness of his young teammates before they made their debut, he was quick to offer reassurance to a big kid from South Warrnambool named Kevin Neale.
"I knew they were a bit nervous and I just said to him don't worry I will look after you, just to give him some confidence", recalls Cross.
In hindsight, it is hard to imagine that "Cowboy" Neale ever needed a protector, as he subsequently became a player who struck fear into the hearts of opposition players, but the encouragement from the tough as nails Cross was important in this day as Neale, Barry Breen and Julian White prepared for their debuts against North Melbourne at the Coburg ground (North played their home games at Coburg for one year after a dispute with Melbourne Council had caused them to vacate Arden Street).
Neale's faith in his protector was shaken when he saw Cross felled near the middle of the ground. Ray Cross takes up the story:
"Early in the day I cleaned up North's winger Bertie Johnson. Then I was standing waiting for the centre bounce and he ran past and let one go, across my face. I thought I'll get a free kick out of this, and dropped down to my knee, holding my face. I had no blood or anything. I thought I will milk this. The umpire, Montgomery, blew the whistle and I didn't get the free. He just bounced the ball. Halfway through the next quarter I cleaned up Bertie on the boundary and the umpire, Montgomery, said "Righto, Crossy, I think we are square now, if you do anything more I am going have to report you!"
Ninteen-year-olds Neale and White, and Breen who had recently turned 17, were included in the team as part of five changes to the line-up. Winger Jim Read had been suspended during the week, and the side had to be recast even further when star centreman Ian Stewart and dynamic ruck Carl Ditterich had to withdraw at the last minute with thigh injuries. On top of that Darrel Baldock limped off at half time with a thigh strain and talented defender Daryl Griffiths was ruled out of the second half due to concussion.
So it was a seriously undermanned Saint side that trailed by a point at half-time. The howling wind had meant that the ball was at one end for the entire day, and only three goals were scored kicking into the gale. St Kilda vice-captian Verdun Howell played in the forward line when the Saints had the wind and moved to defence when St Kilda had to hold out the home side. North was totally scoreless against the wind in the first term and St Kilda managed one goal in the second term kicking into the breeze.
Neale, Breen and White played their part in the fighting 28 point win. For Julian White there would only be two more senior games, but the other two built storied careers. When Neale eventually retired in 1977 he held the club record of 256 games. That was superceded by Breen who became the first Saint to reach the triple century before retiring in 1982.
Of course the supreme achievement by the two great mates came in the 1966 Grand Final when Breen kicked the winning behind and Neale bagged five of St Kilda's 10 goals.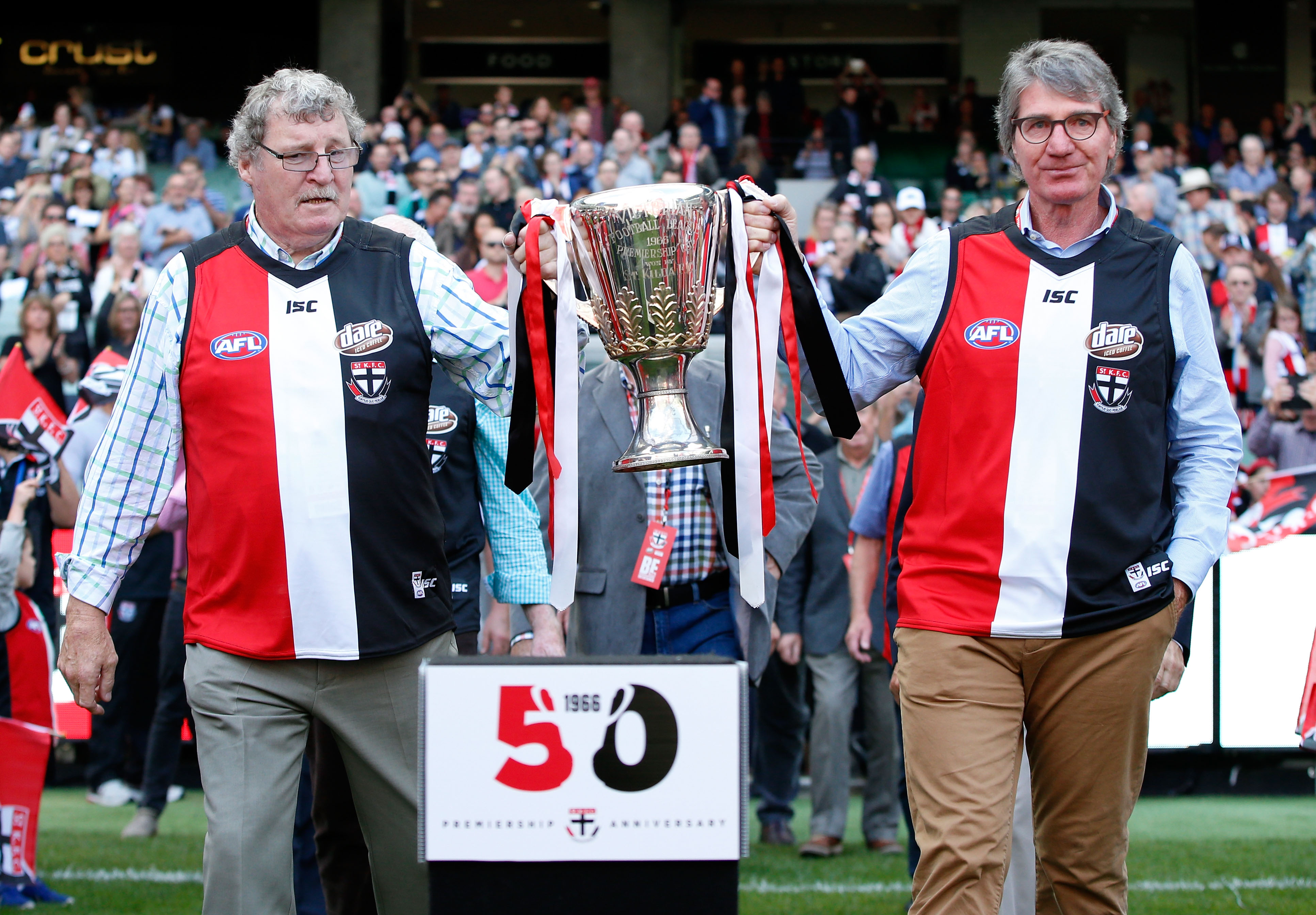 Kevin 'Cowboy' Neale and Barry Breen present the 1966 Premiership Cup in its 50th Anniversary year.
It all started at the unlikely venue of Coburg. Teammate Ian Cooper has a clear memory of that day which has nothing to do with the Breen and Neale debuts.
"When we were walking up the race at the end of the game, someone emptied a bucket of urine on us!" said Cooper.
It was certainly a harsh way to "rain on St Kilda's parade".
ST KILDA 5.5 6.5 12.11 14.12 (96)
NORTH 0.0 6.6 6.7 8.10 (58)
BACKS: Rodger Head, Verdun Howell, Des Kennedy
HALF-BACKS: Brian Sierakowski, Ian Synman, Ray Cross
CENTRES: Ken Mann, John Dowling, Daryl Griffiths
HALF-FORWARDS: Barry Breen, Darrel Baldock, Ian Cooper
FORWARDS: Alan Morrow, Bob Morton, Julian White
FOLLOWERS; Brian Mynott, Kevin Neale
ROVER: Ian Rowland
RESERVES: Denis Bartley, Bruce McMaster-Smith
GOALS: Morton 4, Cooper 2, Howell 2, Morrow, Cross, Rowland, Breen, Mann, Bartley
BEST – Mann, Synman, Dowling, Howell, Cooper, Morton