Dan Hannebery's successful return to football and a three-goal display from Max King has capped off Sandringham's 10-point victory over Coburg at Piranha Park.
The triple All-Australian pieced together a 24-disposal performance (19 handballs, five tackles) in his maiden outing for the Zebras, with his inside work around the stoppages influential in securing the four points.
Although "rusty" in patches by his own admission, Hannebery lined up for 10 of Sandringham's 13 centre bounces up until three-quarter time before sitting out the final term in a pre-planned move.
King, meanwhile, was aerially impressive all afternoon, bagging two goals in the opening term from his first two contested grabs before adding another 1.3 to his tally.
While the Lions fought back hard in the final term to draw within four points, another timely goal from Sam Fox in the final minute put the game out of reach.
The win puts Sandringham in seventh position on the ladder and in a favourable position ahead of the bye.
Dan Hannebery dishes off a handball in traffic. Picture: Getty Images

Brandon White (26 disposals, seven marks) was again solid in setting up the Zebras' assaults off the half-back line, and was flanked well by Bailey Rice, who played in defence given the inclusion of mid-season recruit, Jack Mayo.
The 19-year-old West Australian competed well in the air (seven marks) and booted a goal in the third term; a moment which saw all his teammates flock to him.
Fellow debutant Michael Batten similarly ended his afternoon with a goal to his name.
Sandringham coach Aaron Hamill was proud of his team's efforts, and despite likening the tense stages of the game to "going to the dentist for a couple of hours", was impressed at the way his side persevered.
"I think it's always a little bit unknown when you have just eight Saints playing in terms of what you're able to execute, but overall it was a bloody good team effort," Hamill told saints.com.au.
"We were able to get the game on our terms a little bit and then when they hit back, it was good that we were able to arrest momentum."
Sandringham got to work in the second quarter, winning the inside 50 count 20-8 and accruing 12 more hardball-gets.
But while the polish and slick ball use between the arcs was evident, it didn't translate on the scoreboard, with just the 1.6 kicked.
"It was a little bit frustrating in that respect, but we were playing the right way and we played well I thought in all three phases," Hamill said.
"We were able to nullify them at clearance and let our bulls go to work in Hannebery, Seccull, Armitage and Tahana, who's playing really good for us in there. Sam [Gilbert] and Kye [Answerth] in the ruck were outstanding in there without Billy [Longer]."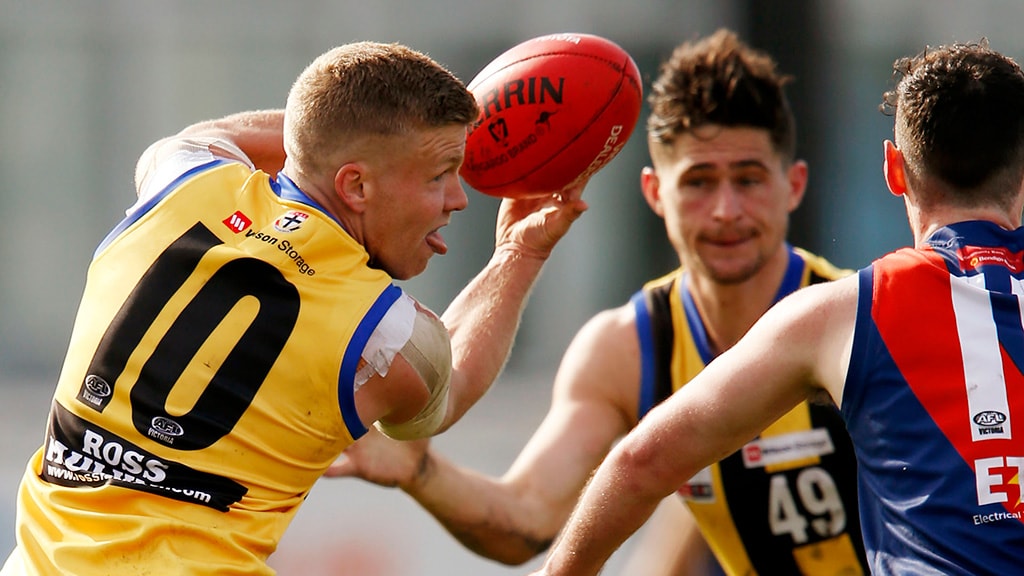 Dan Hannebery saw plenty of the ball in his VFL return. Picture: Getty Images

David Armitage
(20 disposals) utilised his foot skills and leadership through the centre to great effect – particularly considering the Zebras were without a key ruckman – while skipper
Brede Seccull
chalked up a match-high nine tackles.
Midfield bull Doulton Langlands (20 disposals) finished strongly, with his seven disposals and opportune smother and goal in the shadows of three-quarter time punctuating his bullish performance.
Langlands played most of the game on the wing before being moved into the middle once Hannebery bowed out of the contest.
Oscar Clavarino (10 disposals, six marks) continued to show his growth down back, and like Langlands, was particularly prominent in the third term.
But the story of the day was ultimately that of Hannebery.
With both the Saints and Zebras set for the bye this week, it presents itself as an opportunity for the ex-Swan to fully recuperate before making a case to break into the senior line-up in the second half of the season.
Sandringham will have the opportunity to freshen up with their allocated bye scheduled for next week, before returning to Trevor Barker Beach Oval the following Sunday to face Werribee.
COBURG 1.5 2.7 5.8 8.10 (58)
SANDRINGHAM 3.1 4.7 6.11 9.14 (68)

GOALS
Coburg: Podhajski 2, Stroobants 2, Corigliano, Donaghey, McEvoy, Weightman
Sandringham: King 3, Fox 2, Batten, Haidon, Langlands, Mayo

BEST
Coburg: Lentini, Bunker, Swierzbiolek, Podhajski, Stroobants, Corigliano
Sandringham: King, White, Hannebery, Fox, Seccull, Answerth, Langlands