Review week is here and our midfielders are the next to be assessed.
The Saints' addressed several key areas heading into the new season, bringing in flair, creativity and legspeed to their on-ball brigade.
But while there were several shining lights including Jack Steele's tackling, Rowan Marshall's dominance and Jack Billings' composure, the red, white and black won't be complacent in the off-season.
As the Saints' mids look to both fine-tune and overhaul several facets of their game, have a look back on the year that was.
Seb Ross
Career
Games: 124
Goals: 22
2019
Games: 22
Goals: 6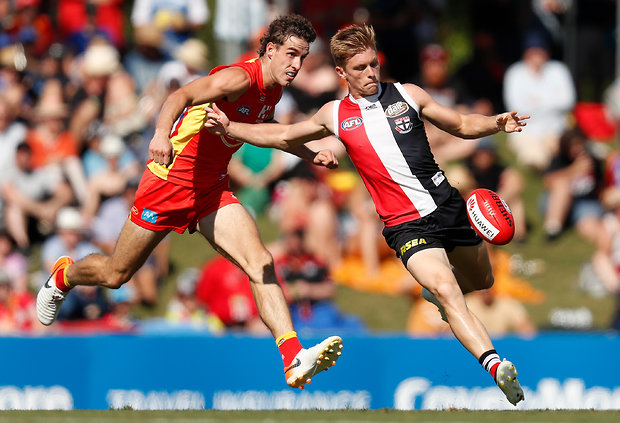 When Jarryn Geary went down through injury, Seb Ross was thrown into the deep end and forced to assume the captaincy.
But the stand-in skipper refused to let the additional pressure hinder his output, with Ross leading his side by example.
The consistent mid averaged 26 disposals, four clearances and six score involvements per game, while topping the Saints for total disposals, inside-50s, effective disposals, metres gained and score involvements
A second Trevor Barker Award, a team-high 12 Brownlow votes and an emergence into a premier leader headlined his 2019.
Who knows what's in store for Season 2020.
BEST GAME:
With Geary a late withdrawal against the Hawks in Round 4, Ross skippered his side in the perfect display, collecting 39 disposals, six clearances, a goal and the Silk-Miller Memorial Medal for his efforts.
Jack Billings
Career
Games: 107
Goals: 77
2019
Games: 22
Goals: 13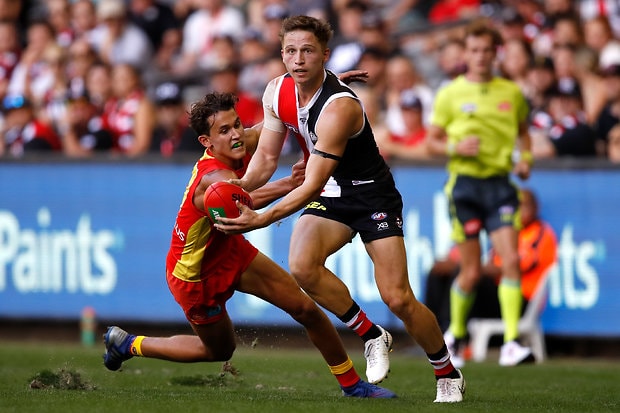 Coming into Season 2019 under fire, Jack Billings responded in the best way possible.
A move to the midfield put the classy Saint in his element, with his calmness under pressure and skill in the clinches showcasing his extraordinary talents.
Sleek with the footy and swift on his feet, the No. 15 fast became one of the Saints' most consistent contributors, averaging 26 disposals and five score involvements per game.
Billings' ability to find space and penetrate the forward half was reflected in his team-high uncontested possessions count, while his eye for goal barely wavered.
If JB can build upon his terrific season in 2020, the competition will be put on notice.
BEST GAME:
Jack Billings' epic game against Gold Coast in Round 13 saw 33 disposals, 11 tackles and two goals to his name, both of which were kicked in the final term to allow the Saints to come off the bye on a high.
Jack Sinclair
Career
Games: 86
Goals: 40
2019
Games: 22
Goals: 4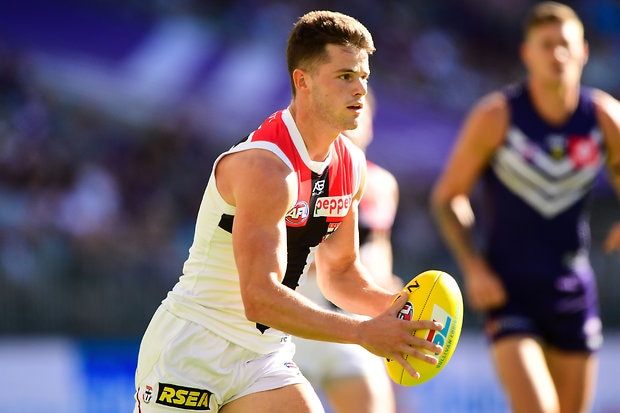 Jack Sinclair was one of seven Saints to play every game in 2019 – something indicative of his consistency throughout the year.
Sinclair may not get as much of the footy as other mids, but the wingman's incredible engine and gut-running leaves him as an important asset to the club.
The No. 35 averages 14.31km per game, with a whopping 15.77km covered in the heat against Port Adelaide in Round 11.
Sinclair's versatility allows him to play all over the ground, but his best work is often done in the offensive half when the Saints are moving into attack.
He may fly under the radar for the most part, but Sincs does the little things consistently.
BEST GAME:
Sinclair was one of the Saints' unsung heroes against Essendon with 13 disposals, 22 pressure acts, nine tackles, eight score involvements five inside-50s, a goal and an incredible 14km covered.
Jack Steele

Career
Games: 78
Goals: 25
2019
Games: 20
Goals: 3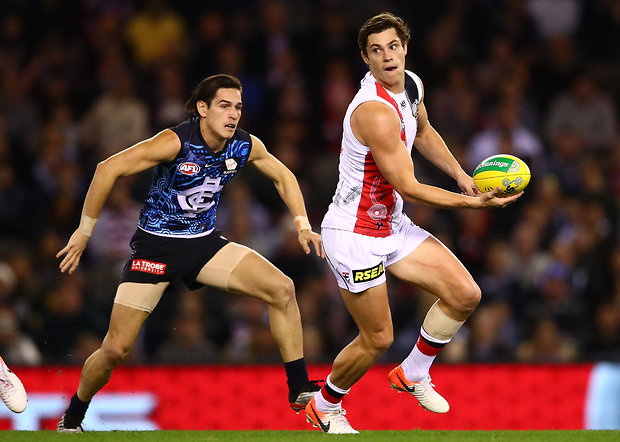 Man of Steele, Steele trap, Nerves of Steele – we've heard it all before.
But Jack Steele made sure his name was a mainstay among AFL circles, enjoying a remarkable 2019 campaign defined by unrelenting pressure, tackling dominance and physicality.
The tackling extraordinaire topped the league for tackles (164) and averaged 27 pressure acts, 22 disposals and four clearances per game.
A record-breaking 18 tackles against North Melbourne showed the midfield jet at his bullish best, while nullifying efforts against some of the competition's premier stars highlighted his skills as a tagger.
Another podium finish at the Trevor Barker Award has Steele on the rise – and top spot could soon be his if he keeps going.
BEST GAME:
Steele vs Patrick Cripps is always an enticing contest, with the star Saint coming out on top in Round 20, blanketing the Carlton skipper while racking up 20 disposals (12 contested), 14 tackles and five clearances of his own.
Rowan Marshall
Career
Games: 33
Goals: 14
2019
Games: 20
Goals: 8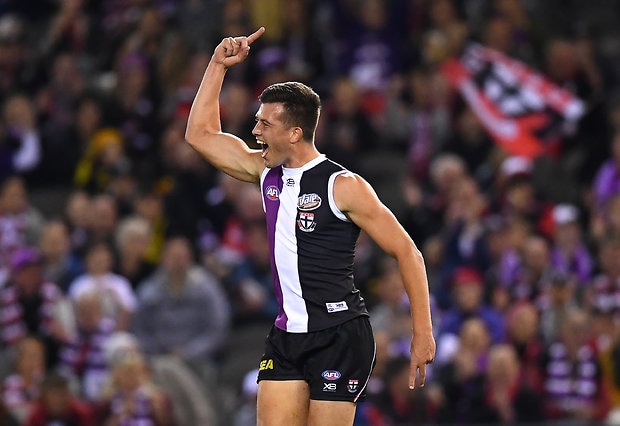 From a rookie-listed Saint to one of the club's most exciting players, Rowan Marshall's 2019 was certainly one to remember.
After breaking into the side in Round 2, 'The Prospect' impressed the AFL community in just his third season of senior football.
The breakout ruckman was nothing short of superb, averaging 29 hitouts, 18 disposals and six clearances per game and showing his skill both in the air and at ground level.
Marshall topped the Saints for contested possessions, centre clearances and hitouts, while finishing in second place at this year's Trevor Barker Award.
There's a lot of hype surrounding 'The Prospect', but he's certainly lived up to it.
And there's no doubt he's poised for even greater things.
BEST GAME:
Marshall starred against the Roos at Blundstone Arena, leaving Tasmania with 31 hitouts, 21 disposals, eight clearances and a goal to his name.
Jade Gresham
Career
Games: 81
Goals: 91
2019
Games: 19
Goals: 15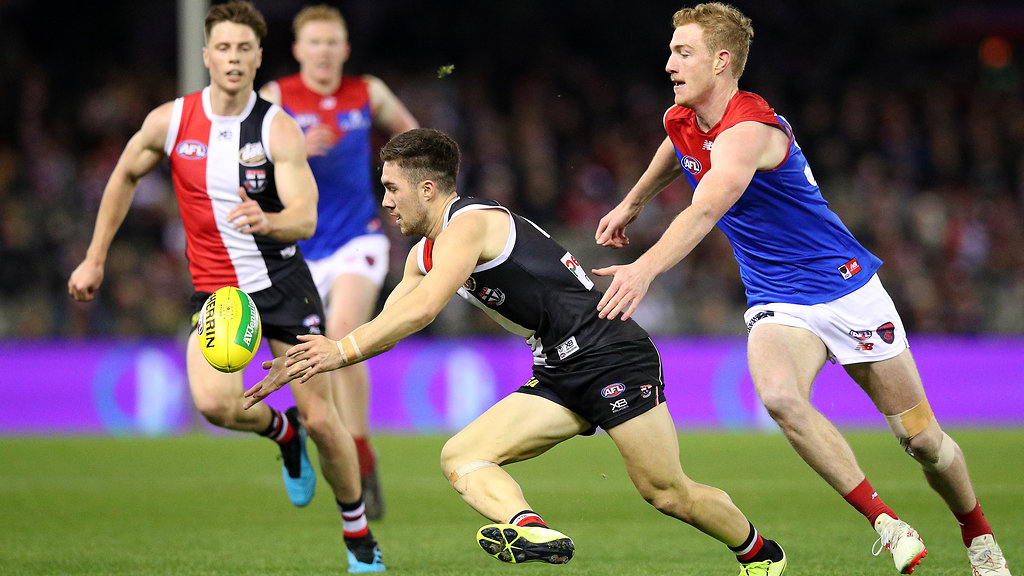 Jade Gresham's move to the midfield resulted in an immediate lift for the Saints' on-ball brigade.
The No. 4 enjoyed a superb year through the centre, bringing his trademark dynamic plays and creativity to energise the Saints on multiple occasions.
Displaying both flair and grunt, Gresham's balance between the two saw him lead the red, white and black for ground-ball gets, while also jagging 15 classy goals for the season.
He was the electricity that allowed his side to thrive, and when Gresham ignited the spark, the Saints were at their best.
BEST GAME:
Gresham had several standout games, but his incredible efforts against Melbourne in Round 19 (32 disposals, nine clearances, eight inside-50s) saw the Saints come away with the four points.
Blake Acres
Career
Games: 75
Goals: 29
2019
Games: 19
Goals: 6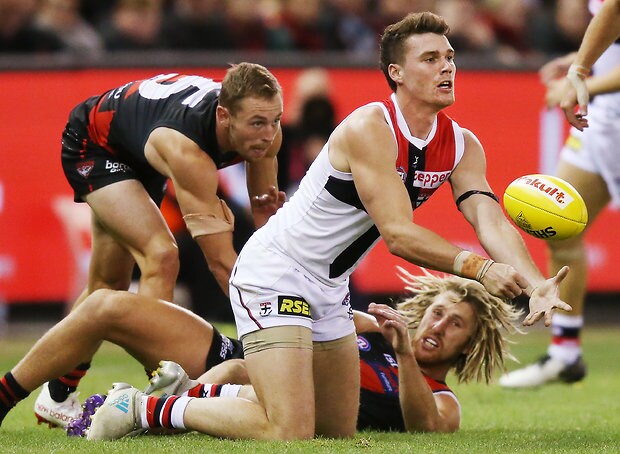 After an injury-interrupted 2018, Blake Acres was at last able to get back on the park.
The utility highlighted his flexibility across the ground, spending the bulk of his time through the centre square and along the wings.
Acres averaged 16 disposals across his 19 outings, consistently charting as a regular tackler, clearance-winner and deliverer inside-50.
The West Australian neared his career-best figures of 2017, and with a complete season done and dusted, there's every chance he can reach those heights again.
BEST GAME:
Acres rose to the occasion against Hawthorn in Round 4, amassing 26 disposals and six inside-50s to play a key role in the Saints' victory.
Luke Dunstan
Career
Games: 103
Goals: 45
2019
Games: 18
Goals: 4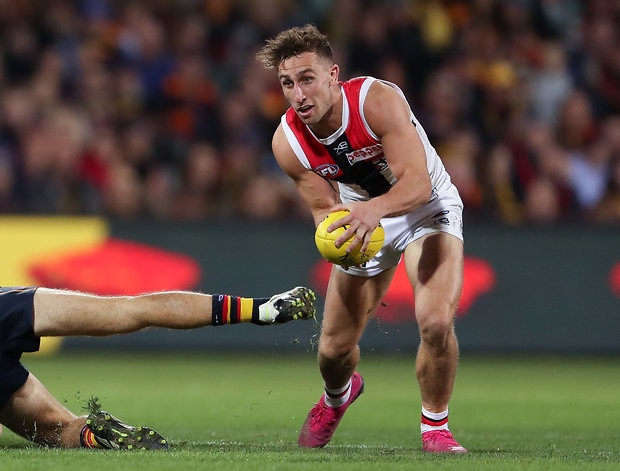 Much like Billings, Luke Dunstan entered the new season with barrages of criticism surrounding his worth to the Saints.
But the steely No. 7 proved just how important he was to the red, white and black, piecing together a career-best year to silence his doubters.
'From his 18 games, 'Spook' topped the Saints for total clearances and stoppage clearances, while also charting in his side's top-three for contested possessions, ground-ball gets and tackles.
Dunstan also finished in the top-10 at this year's Trevor Barker Award after six seasons at the club.
And with the No. 7 set to stay at the Saints for another three years, expect the midfield bull to come out charging in 2020.
BEST GAME:
Dunstan turned the tide in St Kilda's favour in the Round 8 clash against West Coast, racking up 26 disposals, five tackles and five clearances (and two Brownlow votes) after a stint in the VFL.
Dan Hannebery
Career
Games: 213
Goals: 171
2019
Games: 5
Goals: 3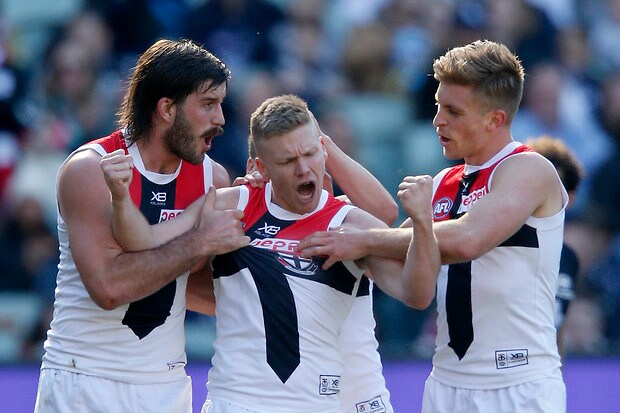 Dan Hannebery boasted quite the football resume when he joined the Saints, with premiership honours and three All-Australian selections to his name.
Unfortunately, the star Swan was hampered by consistent hamstring issues for majority of the year, seeing him line up just the five times.
Hannebery's presence was felt in each of his appearances, with the No. 10 averaging 25 disposals and five clearances per match.
After finishing the season strongly, the 28-year-old will look to put his injury concerns behind him and steam into 2020 at the peak of his powers.
BEST GAME:
Hannebery showed just what he was capable of against Fremantle in Round 21, collecting 23 disposals and two first-quarter goals to guide the Saints to a stunning three-point triumph.
Ed Phillips
Career
Games: 11
Goals: 1
2019
Games: 4
Goals: 1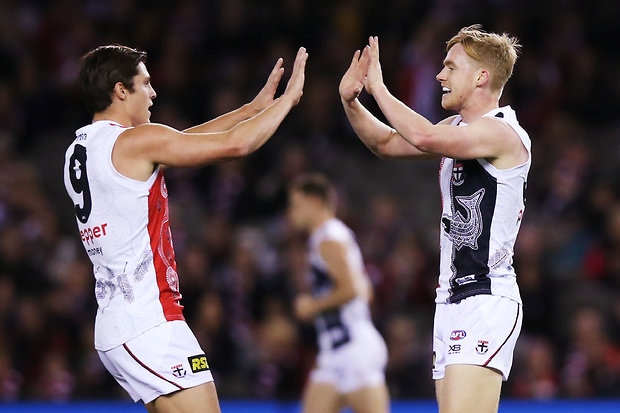 Just like his brother Tom, Ed Phillips is a running machine.
The endurance king enjoyed a record debut in 2018 and came close to levelling his stats in his maiden 2019 outing against the Eagles.
Phillips was solid along the wing in his four matches for the year, before a hamstring injury prior to the clash with the Suns prevented him from jumping back into the senior side.
The 21-year-old was consistent for Sandringham throughout the year, utilising his tank along the wing to rack up plenty of footy.
There just seems to be the feeling that Phillips is just beginning to take strides towards something special.
BEST GAME:
Phillips was fantastic against West Coast in Round 8 with 23 disposals and a career-high four clearances.
Doulton Langlands
Career
Games: 3
Goals: 2
2019
Games: 3
Goals: 2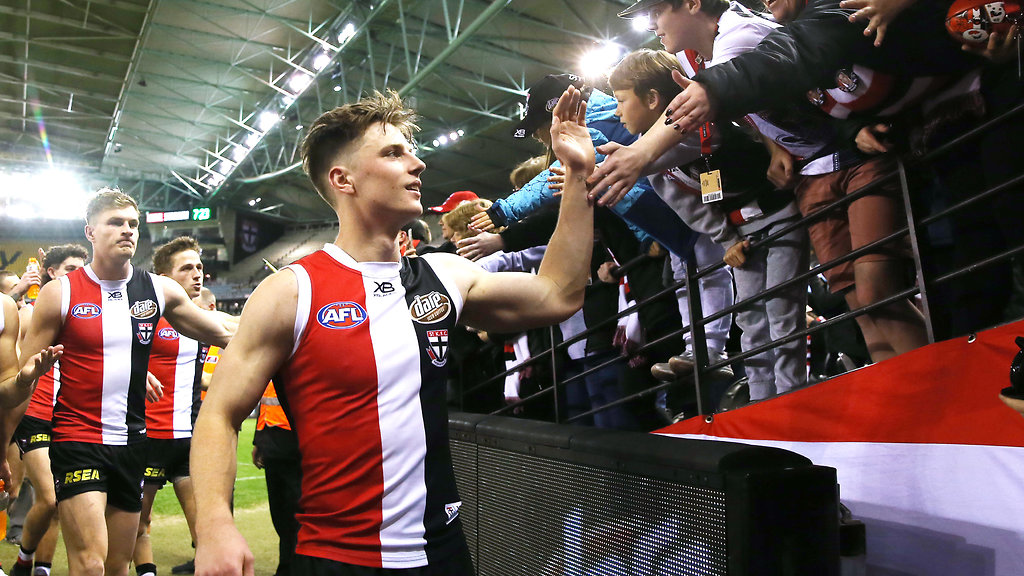 It had been a long journey to the big-time for Doulton Langlands.
Round 18 against the Western Bulldogs was the ultimate showing of perseverance, with the rookie Saint getting the call-up after an emotional week for the club.
A product of hard work and not one to throw in the towel, Langlands' shift to a bullish inside midfielder paid dividends, with the No. 46 starring in the VFL before breaking into the senior line-up.
It was a debut game to remember complete with a clutch goal, 12 disposals and one rousing rendition of the club theme song.
Langlands put on the red, white and black three times before a groin niggle saw him out of the side for the remainder of the year.
But with some senior footy under his belt, he'll be wanting to experience even more in 2020.
BEST GAME:
Langlands' debut game is always one he'll remember, with the roar of the crowd when he kicked his first goal stuck firmly in his mind.