He's yet to don the red, white and black, but first-year player Oscar Clavarino is another young talent amid a pool of gifted youngsters who will be pressing for a senior spot in 2019.

Although just one of two listed Saints yet to make their AFL debut – alongside rookie Doulton Langlands – the tall defender nevertheless made sound progress in his first year at Moorabbin.
Recruited from the Dandenong Stringrays alongside teammate Hunter Clark, the 19-year-old pieced together a solid debut season for Sandringham, starring down back with his effective rebound play.
It's a trait that held him in good stead during his time with Vic Country, with his natural ability to read the play earning him under-18 All Australian selection in 2017.
Clavarino's efforts haven't gone unnoticed at RSEA Park, with the pick No. 35 at last year's NAB AFL Draft rewarded with a two-year contract extension, tying him to the Saints until 2020.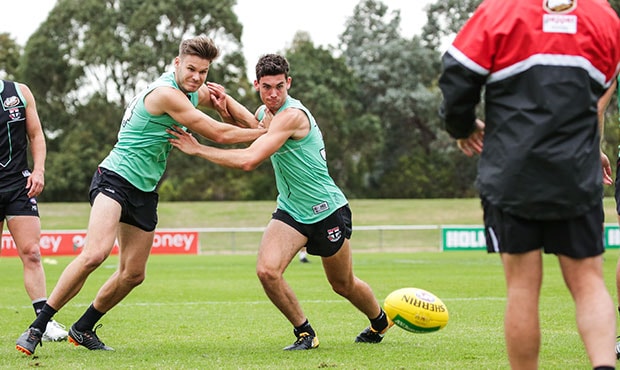 Oscar Clavarino (R) is set to push for a senior berth in 2019.
Director of Coaching Danny Sexton has seen the potential in Clavarino and believes the developing youngster is just at the beginning of a promising career.
"Oscar has been a very consistent performer at VFL level," Sexton said.
"He is a tall guy with good leadership attributes, he's athletic and he reads the play really well."
Surprisingly mobile given his 196cm frame, Clavarino averaged 11 disposals across 17 matches for Sandringham, with his strong marking ability another defining feature of his game.
Clavarino notched up four games with over five marks, with his six-mark display against Richmond the pick of the bunch – a game in which he racked up a season-high 18 disposals.
His work off the field has been just as impressive in the eyes of Sexton, who praised the youngster's efforts to increase his size and strength throughout the year.
"The thing he's done well is make changes to his body. He came in as a skinny 18-year-old kid, and he's worked really diligently on his shape and on his strength," Sexton said.
"His body is quickly taking the form of an AFL player."
Clavarino's season with Sandringham forced him to focus on his contested play and man-on-man defensive work, with the slender defender often playing on much bigger bodies.
But with added mass and increased endurance, Clavarino could potentially take the step in evolving into a key position backman in the coming years; his already established intercept marking ability and rebound plays important weapons for a defender of such calibre.
Although he still has room to develop from a physical perspective, the now 19-year-old is nevertheless a mature head on young shoulders who will hope to be a mainstay in the St Kilda line-up.
The departure of stalwart defender, Sam Gilbert, may present the emerging talent with such an opportunity to make his AFL debut in Season 2019.
"With Oscar's ability to read the play and with his diligence and professionalism – now that his body is catching up – we expect season two of Oscar's career to be pretty exciting," Sexton said.
Alongside the likes of fellow youngsters Nick Coffield, Bailey Rice and Brandon White, Clavarino has all the attributes and talents to grow into an influential and important cog in St Kilda's future back six.