Stalwart St Kilda defender Sean Dempster says he decided to call time on his distinguished career because he wasn't prepared to put himself at risk of further injury following his most recent head knock in the JLT Community Series.
Having suffered from a handful of concussions over his 222-game career, the All-Australian defender has undergone medical assessment in recent weeks to determine the potential long-term impact of further head knocks, but says the decision came down to what was best for him and his family.
"I copped a little head knock and given my history over my career of receiving quite a few head knocks I've decided that it's a risk that's too great for me, especially now that I've got a young family, it's more than just worrying about myself it's what it means to my wife and my young daughter," Dempster told saints.com.au on Thursday.
"For the last couple of weeks the club has given me some time to myself and some time to go and get some independent testing done, which I'm still going through at the moment and is an ongoing assessment. The testing had nothing to do with my want to retire; I know it's the best thing to do for me and my family."
Dempster expressed his disappointment at how the media had reported his situation and questioned his character, dismissing any suggestion that there is any resentment between him and the club.
"It wasn't what's been reported in the media that I was upset with the club about not being picked for Round 1 and that there was all this angst and hate between me and the club," Dempster said.
"I'm quite a quiet person so for it to be played out in the media was a bit hard for me to deal with. I've been lucky enough to go through 13 or 14 years as pretty much an unknown player, which I've been pretty happy with.
"For my character to be questioned a bit was upsetting for me, it was a little bit hard to deal with. I felt like I had to get on the front foot and address the situation earlier than I planned.
"It was purely a decision for me and my family and it's the way I've decided to go and I'm pretty comfortable with my decision."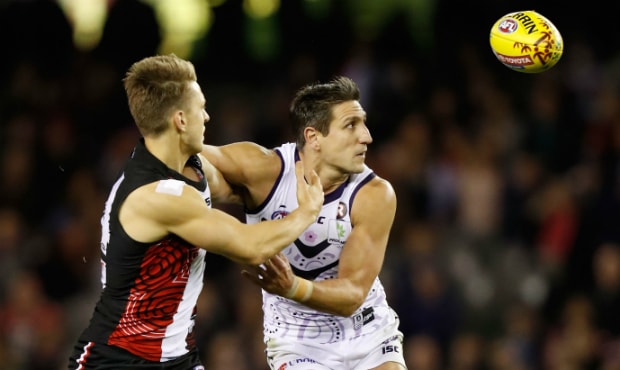 After beginning his career at Sydney as a father-son recruit, where he went on to play in a premiership in 2005, Dempster was traded to the Saints at the end of 2007 as part of a package deal with goalsneak Adam Schneider.
Across nine seasons at St Kilda, Dempster played 168 games in red, white and black, including the 2009 and 2010 grand finals. He earned All-Australian selection in 2012 and finished 3rd in the Trevor Barker Award four times in the space of five years in a stunning period of consistency.
Dempster said he will be eternally grateful for the opportunity the Saints provided him over nearly a decade in Moorabbin first and then Seaford.
"I'll be forever grateful for St Kilda. I spent the first few years of my career at the Swans as very much a fringe player," he said.
"The opportunity St Kilda has given me to grow as a footballer has been enormous. I don't think my career would have been half as long if it wasn't for my move down here.
"Football has been my something great and the club has given me the opportunity over ten years to contribute to something great. I'll be forever grateful, I've met some wonderful people, had some wonderful opportunities.
"We've played in a few grand finals, unfortunately we didn't get the results we were after but the friendships and bonds you build over those periods you're quite successful and you play a lot of football together is something I'll cherish forever."