St Kilda Football Club players, staff and supporters will come together tonight to officially launch Reimagine Moorabbin – a public campaign to raise funds which will see the Saints return to their spiritual home.
President Peter Summers said the exciting campaign, developed in partnership with the Australian Sports Foundation, is yet another essential step on the journey back to Moorabbin.
"Of the $30 million that needs to be raised for Moorabbin, $27.6 million has been secured to date," Summers said.
Reimagine Moorabbin: Help get us home - Learn more.
"We as a club are responsible for $7.6 million and thanks to several major donors we have currently accounted for $5.2 million. We are so grateful and appreciative of those who have already generously contributed. The confidence they have dedicated in our vision for Moorabbin is incredibly motivating.
"Now we need the help of our supporters to raise the remaining $2.4 million.
"Whether it's $100 or $1, we will value every donation from what we know to be a passionate and generous St Kilda supporter base."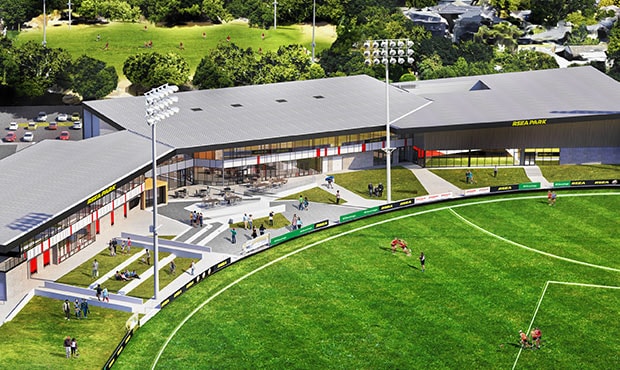 In another significant boost, the club also announced RSEA Safety as the new naming rights partner for the Moorabbin complex.
RSEA Safety Managing Director Brandon Chizik said he was excited for RSEA Safety to be joining the club for the journey back to Moorabbin.
"We are looking forward to being a part of the journey in bringing St Kilda Football Club back home to Moorabbin, now to be called RSEA Park," Chizik said.
"Our company started in Melbourne and our home is in Moorabbin too, so we are thrilled to be assisting St Kilda FC return to their heartland."
Summers said the addition of RSEA Safety further bolsters the momentum heading into the move back to Moorabbin.
"We are thrilled to have RSEA Safety as a part of this journey," Summers said.
"RSEA Safety is a market leader in the safety workwear industry, servicing many of Australia's largest organisations and we're really pleased for them to join the St Kilda family.
"RSEA Park will not only house our AFL team, but also the Southern Football and Netball League, the South Metro Junior Football League, local Auskick programs and the Sandringham Dragons through the TAC Cup.
"We want this to be a place where the community can come and immerse themselves in everything St Kilda Football Club represents.
"Through the Reimagine Moorabbin fundraising campaign, we're encouraging members of the St Kilda family to make a tangible, financial contribution toward the next phase of our club."
All donors will receive a commemorative pin, a personalised letter and a tax deductible receipt.
Donors who contribute over $500 will have their name featured on a commemorative guernsey which will be worn by players in the opening round for the 2018 season.
Donors who contribute over $1500 will, in addition to having their name on the commemorative guernsey, have their name displayed on a recognition wall to be constructed at the new Moorabbin building.
Senior Coach Alan Richardson said he and the team is excited to return to RSEA Park at Moorabbin.
"Every single decision we make is about winning a premiership and making our people proud – I believe that returning to Moorabbin will significantly increase our chances of doing both," Richardson said.
Anyone wishing to learn more about Reimagine Moorabbin can visit saints.com.au/moorabbin