When Lenny Hayes arrived at Moorabbin at the end of 1998, he had the privilege of working and learning alongside the great Robert Harvey, a champion midfielder in his absolute prime who had just won back-to-back Brownlow Medals to establish himself as the best of the best.
Having landed at the Saints courtesy of pick No. 11, and on the back of a Morrish Medal winning season in the TAC Cup with the NSW/ACT Rams, St Kilda champion Stewart Loewe swiftly told a young Hayes to latch his trailer on to Harvey and hold on for the ride.
"When I first got to the club I just watched how he trained. I remember 'Stewie' Loewe telling me if I was going to watch anyone to watch 'Harvs' and how he trains because he knew I was a midfielder when I arrived as a kid," Hayes told saints.com.au ahead of Harvey's elevation to Legend status in the Saints Hall of Fame.
Inside the four walls of St Kilda Football Club, Harvey's professionalism and insatiable appetite for hard work is legendary. At a time where football was undergoing a complete transformation and evolving into a full-time profession, the champion midfielder was ahead of his time, training at a level rarely seen.
For Hayes, who played the first 192 games of 297 game career whilst Harvey was still ticking his legs over, the lessons learnt from Harvey's tutelage were a gift, insights to scribble into a little black book that document how to achieve success in football through sheer application.
"I think he taught a lot of guys how to train and how to prepare at an AFL level. I think we were lucky that he wasn't just our best player; he was our hardest worker," Hayes said.
"He really set the scene and gave us a recipe for success – if you wanted to be successful you've got to work hard. A lot of guys that played with him would have learnt that from 'Harvs', I certainly did.
"I think also in the later stages he continued to evolve and that's something that he always did. He always used to say to me you're never too old to learn something in this game. That's something that I always held on to in the latter stages of my career."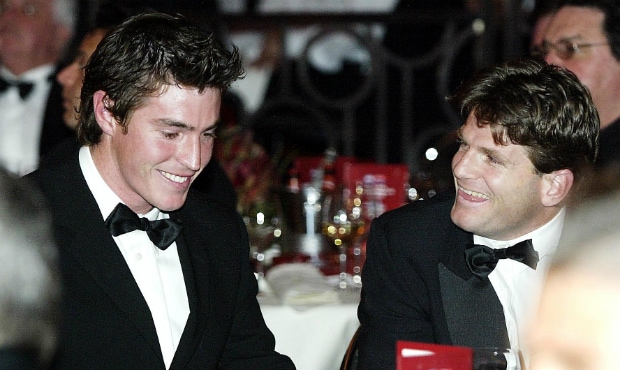 In the build up to Harvey's anointment as St Kilda's eighth legend, the eight-time All Australian's phenomenal professionalism has continuously been lauded by some of the games luminaries, both past and present. And it's a sentiment Hayes can't help but echo.
"He was just the ultimate professional really. A lot of people say treat training like a game and train as you play and he was certainly one who did that," Hayes said.
"I think every time he went out to training he saw it as a chance to do everything he could to prepare himself in the best possible way.
"Every time he went out he trained his backside off. When he went and did a session, whether it was boxing or on the bike or running, he would just be absolutely drenched in sweat. He just worked that hard.
"There was no surprise really he was as successful as what he was because he worked extremely hard."
With an average of 25.2 possessions per game across his 383 game career, Harvey's elite level of consistency and performance is of the highest echelon. The 1997 and 1998 Brownlow medallist also sits second on the most Brownlow votes ever recorded, narrowly behind Footscray and North Melbourne champion Gary Dempsey.
Renowned for his quiet demeanour and his preference to let his actions speak for his football, Hayes said Harvey was held in the highest esteem at the Saints, not just for his pure on-field exploits, but for his ability to provide considered advice and direction when the time was right.
"I think sometimes a lot of guys talk for the sake of talking, but 'Harvs' certainly wasn't one of those. But when he did speak everyone listened and he was always really considered with what he said.
"He just had the utmost respect from everyone at the club and certainly myself and his teammates.
"He was a great teammate, you just knew what you were going to get every week. His level of effort never waned, it was just a consistently great level and that's why he was so great for so long."
Limited Edition History Book: Celebrating 50 Years 1966-2016 The Archives Edition