ST KILDA has elevated rookies Ahmed Saad, Jack Sinclair and Adam Schneider to the club's senior list ahead of Sunday's clash with GWS.
The upgrades were made possible after Arryn Siposs (shoulder), Daniel Markworth (shoulder) and Seb Ross (hamstring) were placed on the long-term injury list last week.
Saad has replaced Markworth on the primary list, Schneider for Siposs and Sinclair has replaced Ross.
All three elevated players have had vastly different journeys to the senior list.
FEATURE: Year two of the Richardson era
Saad spent 18 months out of the game serving a suspension, but kept himself fit and was selected with pick 19 late last year.
The 25-year-old small forward enjoyed a strong NAB Challenge campaign, forcing his way into the reckoning for a starting spot in Alan Richardson's team.
"Ahmed's journey and how hard he has worked while away is a well-documented story now," Chief Operating Officer Ameet Bains told SAINTS.com.au.
"In drafting him back to the club, we were convinced that he was committed to the physical demands of AFL given he was in incredibly good shape ahead of the Draft.
"For him to be elevated with the prospect of him potentially playing in round one, is exciting given what he's endured."
Click here to buy tickets or a membership now ahead our season opener against GWS on April 5!
The only rookie promotion without AFL experience is Jack Sinclair, a balanced midfielder who can also drift forward. He was the number one pick in December's rookie draft and, like Saad, his impressive pre-season form has catapulted the 20-year-old into the frame.
"Jack's journey is an exciting one too," Bains said.
"He focused on his cricket throughout his schooling and then came back to footy more seriously in his first year at University. From his point of view, he never gave up his dream.
BEHIND THE GUERNSEY: Jack Sinclair
"We were comfortable selecting Jack in the National Draft, it just fell that our last pick was number 41 so we were delighted to be able to select him with the first pick in the rookie draft instead."
Buy four tickets for the price of three! Click here for this special round one ticketing offer.
Schneider was delisted last season but re-drafted in December with pick 54, St Kilda's final rookie draft selection.
"Adam obviously had to wait for a period of time at the end of last year, which was very difficult for him," Bains said.
"The fact that he has been able to train and play over the pre-season, plus add vital experience, is a real plus for us and a tribute to him."
St Kilda's squad for Sunday's game will be announced this afternoon and the final team confirmed on Friday.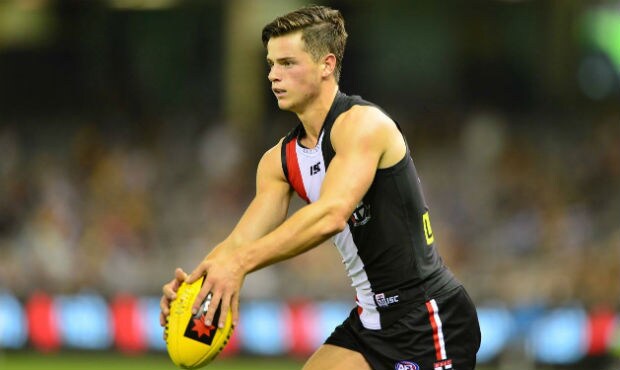 Jack Sinclair in action against Hawthorn.