In another day of positive announcements for St Kilda Football Club, SEEK, Australia's leading employment marketplace, was today unveiled as a new Elite Partner for 2015.
St Kilda CEO, Matt Finnis, said the new sponsorship was significant for the club.
"Having a well-known, much respected, innovative business like SEEK partner with St Kilda is yet another strong show of support for the direction the club is taking," he said.
SEEK, which has grown substantially since its beginnings in 1997 operating in over 23 countries and employing over 6,000 people, will be sponsoring the Saints for the 2015 football season.
"SEEK is thrilled to be able to support the game of AFL, through our sponsorship of St Kilda Football Club," Fiona Le Brocq, SEEK Marketing Director, said.
"The Saints are a passionate and dedicated team with an exciting future ahead of them. SEEK is delighted to be able to support the club on their journey through the 2015 season."
Finnis said today's announcement was the latest in a raft of positive announcements including signing 25,000 members by 25 December (a club record), re-signing 19 young players as part of Future Fest, securing a raft of exciting young talent at the National Draft (including promising talls Paddy McCartin and Hugh Goddard) and employing an inaugural General Manager - Football performance (Jamie Cox), Director of coaching (Danny Sexton) and bringing back club legend Danny Frawley as a defensive coach.
"St Kilda is in a great position; we've got a strong team, great senior management and an exciting sponsorship group," he said.
"We believe we're well placed to deliver on our plans which will see us moving forward as a club.
"People can see that we have opened our doors to the fans and are engaging and telling our story like never before. We are the 'people's club' and are determined to reconnect with supporters by being open and inclusive and taking the club to them in fresh and exciting ways."
Coach Alan Richardson said signing successful businesses like SEEK to the club genuinely gave the playing group a confidence boost.
"St Kilda is a big, important sporting club that embraces its supporters and we are very excited to see SEEK join us and back the direction we are taking" he said.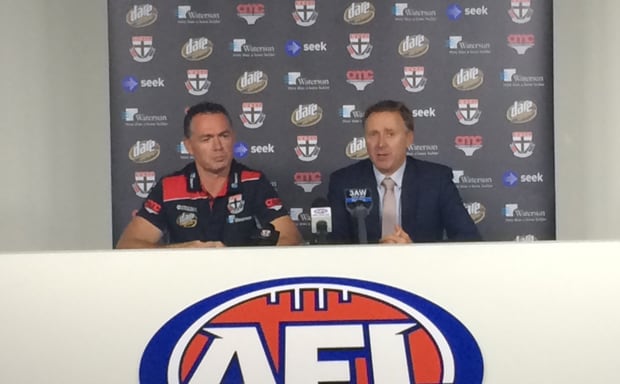 Senior Coach Alan Richardson and CEO Matt Finnis at Thursday's announcement at AFL House.