IT IS no secret that Alan Richardson arrived at St Kilda Football Club later than he would have preferred.
He was Port Adelaide's Director of Coaching and Ken Hinkley's right hand man. The Power were well into their planning for the 2013/14 pre-season when the opportunity arose for Richardson to join the Saints on November 14, just seven days before the National Draft that yielded Jack Billings, Luke Dunstan and and Blake Acres.
At the time of his arrival, St Kilda's assistant coaches had training up and running, without the stamp of a senior coach.
Click here to buy tickets or a membership now ahead our season opener against GWS on April 5!
Now at the end of his second summer but first full pre-season in charge, Richardson admits having the time to plan and prepare last September and October has made a huge difference.
"I feel much more organised coming into this season than I did last season," Richardson told SAINTS.com.au.
"Danny Sexton and Adam Kingsley had things working when I arrived in November 2014 and it was basically just skills, given there was no senior coach to impart their philosophy on the group at that stage.
"There is no doubt that the gap between your last game and the return to training is critical from a planning perspective and this year I've had that and as a result I feel much more organised."
RELATED: Danny Sexton appointed Director of Coaching
That time when the players were on annual leave allowed Richardson and his coaching group to thoroughly reflect on the 2014 season, the team's direction and its game plan.
The 49-year-old has not made wholesale changes to the Saints game style, but rather tweaked various bits and pieces along the way. It is Richardson's hope that St Kilda's game plan will be an evolution of the 2014 version, not a revolution.
He's not one to throw his philosophies and ideas out the window on a whim and start over. For Richardson, as for St Kilda, this is a journey that has only just begun.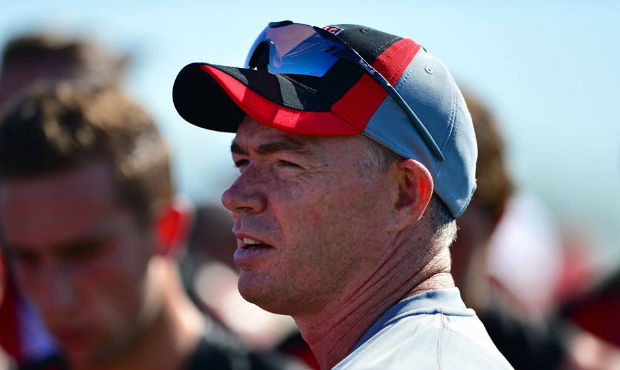 "The way that players should prepare and the way we want the game played remains the same, although there has been some evolution in it," he said.
"Given the fact we've had such a long period to work on our game plan, we've been able to go to another level in terms of predictability and understanding to each other. That was a real frustration last year - obviously we didn't quite get the synergy."
"We continued to work on our game plan when we have the ball, when they have the ball and when the umpire has the ball in regards to structure and setup. We are in really good shape there."
Put simply, Richardson just wants his team to be better for longer.
RELATED: 2015 season preview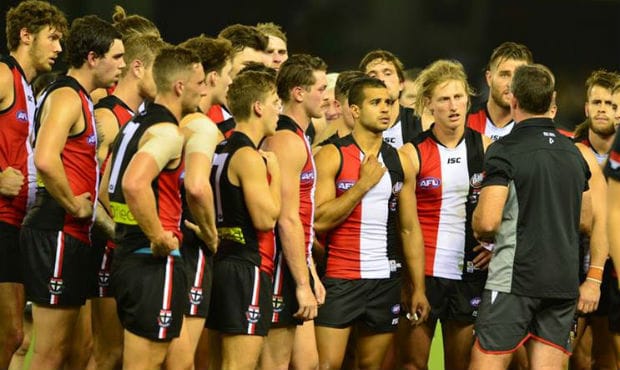 Alan Richardson during St Kilda's NAB Challenge game against Hawthorn.
"We are planning to be much consistent with our performance," he said.
"We want to be much more consistent with the way we move the footy, more consistent with the way we defend as a team and more consistent in any facet of the game where 18 players are required to be on the same page and show synergy.
"The training program has reflected that. In order to be more consistent you have to be fitter, stronger, technically better and more organised as a group. That's what training has been based on."
Where in previous years players arrived early in the morning and were often gone by mid-afternoon, this summer it hasn't been uncommon for dozens of players to be in the gym, on the track, or with coaches at 5pm or even later.
Buy four tickets for the price of three! Click here for this special round one ticketing offer.
To this end, Richardson is delighted with the work ethic of his group and their appetite for improvement.
"The pre-season has been deliberately challenging and we've certainly taken things up a few notches," Richardson told SAINTS.com.au.
"It's been a long campaign because the cricket World Cup put everything back a couple of weeks. That's been a bit of a challenge for the players because they mentally have felt like they've been ready to go for probably a month now.
"But it has been a really good pre-season and one that has us in good shape."
Alan Richardson presents Luke Dunstan with his new number seven guernsey at the 2015 jumper presentation.
Every player has had a program tailored specifically to them along the way, from Nick Riewoldt all the way down to first-year draftee Jack Lonie.
"The plans we've put in place are quite individual and relative to where they are at as an AFL player," he said.
"For example, Dempster, Montagna, Fisher, Riewoldt, Geary, Schneider and Armitage are not doing the same work as the blokes who aren't as experienced in the system.
"Jack Newnes is another example. While he is already a very good athlete, we need him to be an elite athlete."
RELATED: Newnes blitzes time trial
Jack Steven commits to our club and his mates until 2020. A decision based on faith and integrity.

— Alan Richardson (@AlanRichardson) March 25, 2015
At the moment Richardson is confident about the season ahead. Aware that his team - and in a broader sense the club - is on a journey, he can't wait to watch the players grow and develop as the year wears on.
"We are going in feeling really well prepared, but the reality is that every other team in the competition has also worked to improve and has high expectations," he said.
"I'm just really excited and looking forward to seeing these young blokes improve and grow. We have a fantastic group of leaders as well who will guide the young fellas so I'm excited to see that too."
"We've got a long way to go, but we couldn't be more committed to getting where we want to be."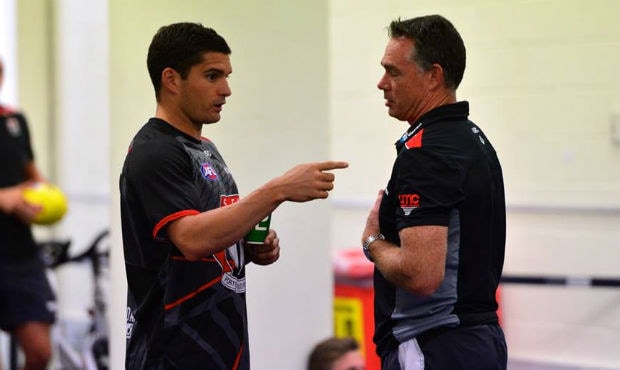 Richardson discusses tactics with Leigh Montagna before NAB 3.