Demolition of the old facilities at Moorabbin have begun and St Kilda stalwart Nick Riewoldt could not be more elated.
"To be coming back is just so exciting," Riewoldt said.
"Myself, Leigh and some of the other guys who played here [at Moorabbin] have tried to communicate to the younger group exactly what it means to be coming back here and how it will impact the community.
"I'm grateful for all the work that has gone on behind the scenes to make this happen."
When asked what he missed the most about his time spent at the ground, Riewoldt found it hard to choose.
"I've got so many great memories here [at Moorabbin]. Not only from the actual facility but from things like having lunch down the road, getting out amongst the community and the interaction that provided.
"We had fans who would come to every training session and take notes and quiz the coaches – they're the experiences within a football club that I think we've potentially missed out on over the past few years, so re-engaging with those people and our fans in this [Moorabbin] area will be fantastic."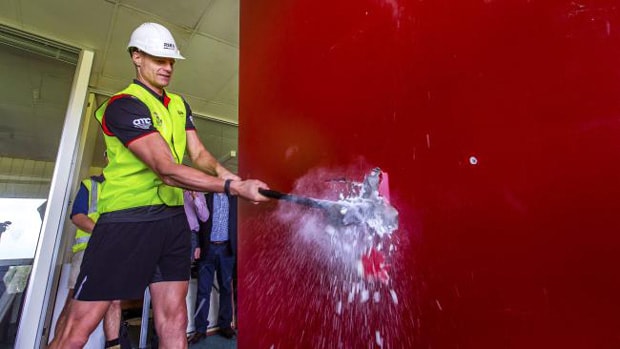 Nick Riewoldt helps out with demolition on the old Moorabbin grandstand on March 24, 2017.
St Kilda Football Club CEO Matt Finnis echoed Riewoldt's sentiments saying the project has already unified generations of Saints fans.
"Generations of Saints fans have converged upon Moorabbin to celebrate our team and I can't wait to revive those days at RSEA Park," Finnis said.
"With the start of demolition occurring, we're now one step closer to that reality.
"When we return, our players will want for nothing. RSEA Park will have all the facilities that are required to produce a team that is capable of challenging for premierships.
"If all goes to plan, we'd like to think that the first stage of the development will allow the players and coaches to be back here for pre-season early next year. Then we'll continue to build out the facilities for community football to use throughout 2018.
RSEA Safety Managing Director Brendan Chizik said the commencement of demolition was an exciting next chapter in bringing the Saints back to Moorabbin.
"RSEA Safety as a company started a stone's throw away from what will soon be RSEA Park," Chizik said.
"To know we're making a tangible contribution to bring the Saints back to the spiritual home which we share is really important to us."
With the public campaign to donate to the project barely three weeks old, Finnis said the initial contributions by members have been generous.
"We've already had enormous support from some very generous major donors, but within a week of our public campaign hitting letterboxes we had raised almost $100,000," Finnis said.
"The amount of generosity our supporters have shown us is incredibly humbling and we look forward to coming home and making them proud."
Anyone wishing to donate to the Reimagine Moorabbin fundraising campaign to bring the Saints to RSEA Park is encouraged to visit saints.com.au/Moorabbin.