The strange quirks and coincidences scattered throughout our game is just part of what makes it great.
But sometimes, these oddities can be a bit freaky. 
With our AFLW team officially designated their playing numbers ahead of their inaugural season, we can't help but notice a few similarities between our newest Saints and some champions of the past.
We take a look at some of our AFLW Saints and the legacies – and eerie parallels – they'll be upholding in Season 2020.
No. 3 | Emma Mackie & Nathan Burke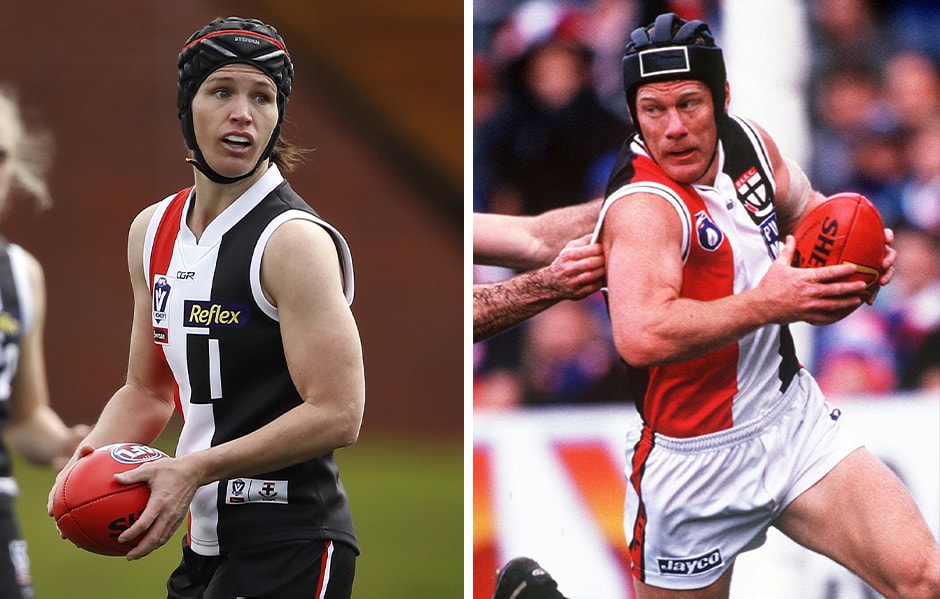 The helmet is a rare sight in footy, but was a regular feature across Nathan Burke's illustrious career for the Saints.
Now another helmeted No. 3 will pick up the trend in 2020, with Emma Mackie intent on forging a new legacy in the AFLW.
Both on-ballers have quite the list of accolades under their belts, including best-and-fairest and captaincy honours.
And Mackie's list of achievements is looking to grow.
No. 12 | Kate Shierlaw & Nick Riewoldt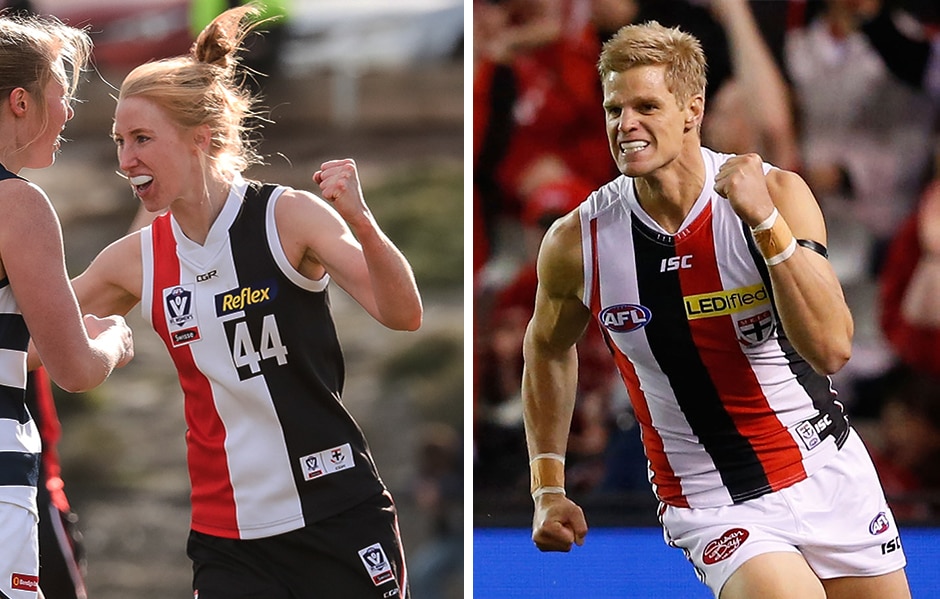 It's been almost two years since the No. 12 graced St Kilda's forward line. 
But that will change in 2020 when Kate Shierlaw cements herself as an elite centre-half forward of the AFLW. 
Just like the great Nick Riewoldt, the Saints leader is strong overhead, powerful on the lead and deadly in front of goal. 
And with Caitlin 'G-Train' Grieser at full forward, it's a winning combination.
No. 23 | Liv Vesely & Justin Koschitzke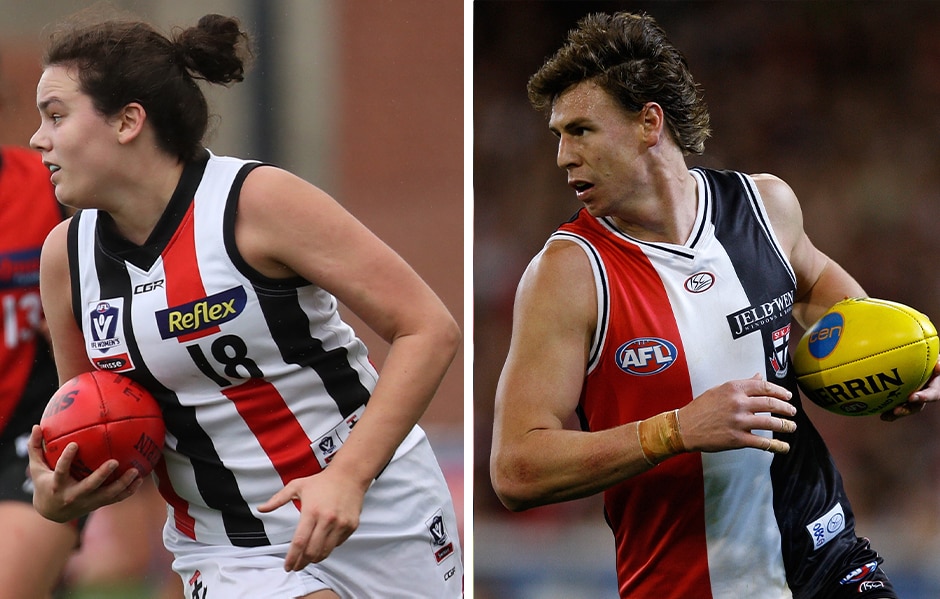 Justin Koschitzke turned heads in his first season, and so did Olivia Vesely. 
The hard-hitting midfielder took out the VFLW Rising Star Award last season to round off a decorated campaign, mirroring her counterpart's award-winning year from 2001. 
The No. 23 has long been honoured at the Saints through icons Koschitzke and Stewart Loewe. 
Now, Vesely has the chance to give it new life through the AFLW. 
 

 

 

View this post on Instagram
No. 35 | Cat Phillips & Robert Harvey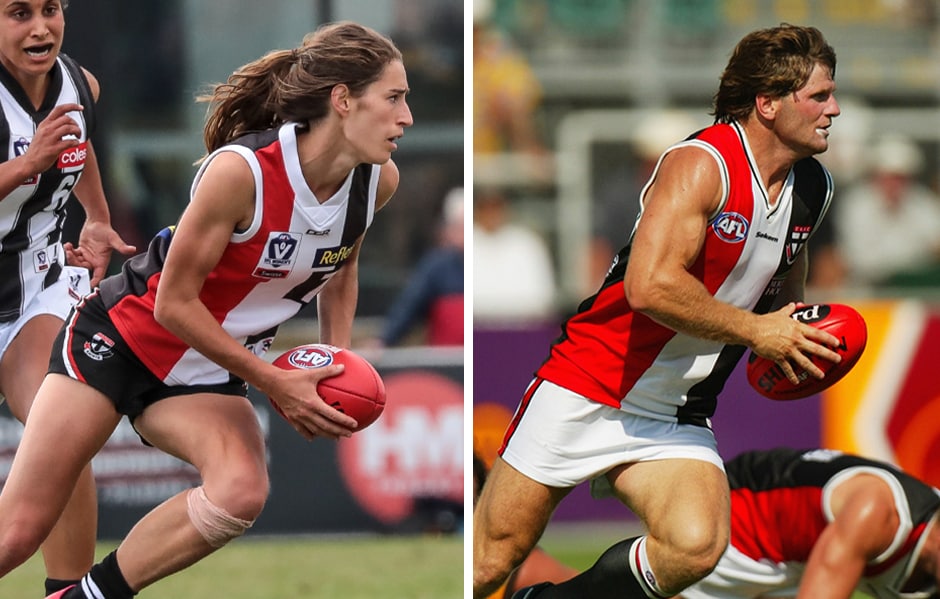 St Kilda's No. 35 goes hand-in-hand with elite endurance. 
Cat Phillips certainly fits the bill, with the running machine proving her supreme athleticism through the midfield for the Southern Saints (2019) and Melbourne AFLW (2017-19), alongside her impressive ultimate frisbee career (2008-present). 
Phillips can run all day without breaking a sweat, similar to another famous No. 35 called Robert Harvey. 
Funnily enough, they both pick up a fair bit of the footy too.
AFLW GUERNSEY NUMBERS FOR SEASON 2020
1 - Molly McDonald
2 - Ali Brown
3 - Emma Mackie
4 - Claudia Whitfort
5 - Darcy Guttridge
6 - Samantha Johnson
7 - Rhiannon Watt
8 - Alison Drennan
9 - Kate McCarthy
10 - Jess Sedunary
11 - Isabella Shannon
12 - Kate Shierlaw
13 - Courteney Munn
14 - Hannah Priest
15 - Nat Exon
16 - Poppy Kelly
17 - Caitlin Greiser
18 - Tilly Lucas-Rodd
19 - Melissa Kuys
20 - Kelly O'Neill
21 - Georgia Patrikios
22 - Tamara Luke
23 - Olivia Vesely
24 - Clara Fitzpatrick
25 - Rosie Dillon
26 - Selena Karlson
27 - Nicola Xenos
28 - Nadia von Bertouch
29 - Tarni White
35 - Cat Phillips