Born: March 15 1981
219 games, 38 goals
189cm
91kgJason Blake was St Kilda's 'everywhere man' for over a decade.

Drafted with pick No.24 in the 1999 National Draft, Blake debuted the following season and spent the majority of his career in defensive roles, while also holding down a role as a more than capable back-up ruckman despite conceding a significant height advantage to his opponents.

He holds the record for most games played (209) without receiving any Brownlow Medal votes before finally breaking through for two votes for his performance against the Gold Coast in Round 11, 2012.

At the age of 32, Blake retired from AFL football and has spent the 2014 season playing for the University Blacks in the VAFA.
How did you start following the saints?
My father went for the Saints so he took me to a couple of training sessions. Used to see Tony Lockett about 20 metres behind the rest of the pack jogging laps so that's kind of my first introduction to the Saints and obviously being drafted in the end of 1999 was pretty special.
Do you still catch up with ex-teammates all the time?
Absolutely, the best thing about it is we've got plenty of weddings, plenty of catch ups we've had a number of months fishing it's been brilliant and we were there at the start of the season for the season launch. It was great to see everyone then and it's been great to see the past players at the function at Lindsay Fox's house. I'm kind of humbled to hear the stories, heritage and the history of this magnificent club and hopefully we can continue to drive that.
Tell us your fondest memories of St Kilda?
There are a ton of fond memories. It's been a brilliant journey through St Kilda over the past 14 years. To be involved in Harves' 350th game and to play in Grand Finals and even in more recent times to have that last game to share with Kosi and Milney was brilliant. It's been magic – it's very humbling and I'm very appreciative.
Who is your favourite current day player?
I'm looking forward to seeing Jack Steven go from here. He's tried and tried and he's electric. He's a really great guy, he's brilliant to watch and hopefully there might be some bigger and better things for Jack so I'll be cheering for him.
Talk us through your debut and the lead up to it?
It  was Round Nine back in 2000 and I'd been chipping away in the twos for the first three months of the season. The Saints weren't going all that well, in fact I think we hadn't won a game at that point.
The opportunity arose early and I think it was May 5, 2000 so there you go! I remember dates.  It was brilliant and the lead up to the game was fantastic. It was a real thrill to tell my parents and my friends that I was going to play. And then to run out against the Doggies was even better.
Tim Watson was the coach and he told me that whenever I get my first kick, I need to make sure that I kick it towards the boundary. He said don't do anything clever, just get it on the boot and get it to go as hard and far as possible. I did exactly that when I got the ball.
To put the jumper on for the first time, run through the banner and listen to the crowd was brilliant. At the time some of the coaches and senior players took me aside and told me to think about the past players who had worn that jumper so that was special too. That was certainly something I followed up as my career progressed, whenever a young kid came into the team my advice would always be to think about whose footsteps you are following and to be really proud.
I managed to kick a goal in the last quarter to put us in front by a couple of points, only to see the Bulldogs come back and win by a point. It was an emotional and pretty big game because we hadn't won a match at that point.
Everyone was quite emotional, particularly Maxy Hudghton who shed a tear after the game. I remember going up to him to try and console him, and he looked up at me and gave me the filthiest look I'd ever seen. I pulled my head in very quickly after that and walked away. As a first-year player, it may have been a little bit over confident to do that. But it was a very memorable day.
What are your views on the modern game?
It is elite. It's physical and mentally challenging, while the strategy and intensity are also of the highest standard.
Having stepped away now and not training at the same intensity, I'm quite taken aback as to how hard it really is to play at that level. I really enjoy watching it because I remember how hard it was to play, so I think highly of the blokes that are out there now.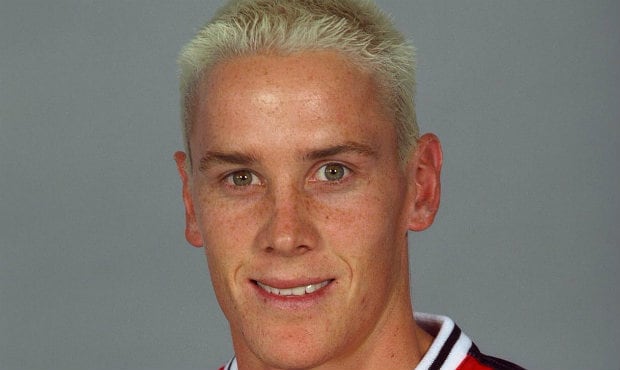 Are you missing AFL football?
I certainly miss elements of the game and the club. As I said, I'm still playing a few games for the University Blacks so I get a little taste of it running out for them. I definitely miss the team, the commitment, the drive and the feeling of being in an elite environment. With everyone pushing in the same direction and driven to achieve something great.
I have my own challenges in life now but it's nothing to that level. There are some elements I won't miss, but that camaraderie and team environment is something I will miss and will never be able to replace I think.
Who was the best player you played with and the best player you played on?
There have been so many great players and it's really hard to nominate one of them. Obviously I've played with Nick Riewoldt and Lenny Hayes who are two champions of the club at the moment. Plus Loewe, Harvey and Burke who were all stars earlier in my career.  Guys like Aaron Hamill, Jason Cripps and Andrew Thompson were mentors to me and very good players in their own right.
I played a number of positions but to play on Anthony Koutoufides in my first year was mind blowing – he just tore me apart. Also Michael Voss and Adam Goodes were extremely tough to stop.
What are you doing on a day to day basis?
Back into the real world, been doing a bit of work for Coles property which is great, looking at supermarket renewals and the retail industry it's been good.
Do you have any aspirations to be involved in footy again or do you think that part of your life is gone now?
I said I would play a few games for Uni Blacks, I've played a couple of games there and it's been good getting back there and it's been good to just train with the country guys who just want to go out there and have a good time. I've played a few games for them and hopefully watch the saints go onto bigger and better things
How about coaching?
No I'll put that on the bench for a while and just concentrate on the retail industry for a while and see how that goes and who knows what can happen.
It must be great to spend more time with your family?
We had a little baby boy called Ryder who was born on June 10. It was fantastic and he's been a handful! We also have a little girl called Maddison who is 20 months old. We have the pair now, it's brilliant, and I certainly look forward to coming home and seeing them despite a couple of sleepless nights at the moment.
Unfortunately with work at Coles I'm still time poor but when I get a chance to spend time with them it's great.