Born September 28, 1983
106 games (105 games for St Kilda, 1 for Brisbane), 49 goals
181cm, 74kgXavier Clarke's football journey has gone full circle. Drafted from St Mary's with pick five in 2001, he's now back in Darwin coaching the Northern Territory Thunder in the NEAFL competition.

Clarke's playing career was significantly affected by knee and hamstring issues, and it was his second knee reconstruction in as many years that finished his playing days.

A clever half-forward and wingman, his best season was in 2003 when he played 22 games largely as a running defender. But with injuries taking their toll in the following years, Clarke was traded to Brisbane at the end of 2009.

Clarke was an important part of Grant Thomas' team for a number of years, and is now pursuing a career in coaching.
RELATED: Clarke steps into coaching role
How did you arrive at St Kilda?
It was the 2001 draft and I got there thanks to the great John Beveridge. I arrived at the same time as Nick Dal Santo, Joey [Montagna], Lukey Ball and Goose [Matt Maguire]. Obviously Joey is the only one still at the club, but they've all had good careers.
We had a great group of blokes drafted over a three-year period with Rooey, Kosi and Brendan Goddard coming the year after my draft. We developed a good group of boys together.
Back then the club wasn't great. We finished on the bottom of the ladder but it was good to see us progress and become a better team as the years went on.
What were your first impressions of the club?
Coming from Darwin, it was exciting and a big change for me coming into the AFL. When I arrived at Moorabbin the first bloke I saw in the change rooms was big Stewie Loewe so straight away I was in awe because he was a massive man.
I was young, I was excited, and all I wanted to do was just get in and start playing footy. Obviously it's changed a lot since then with all the new facilities, and unfortunately I never got to see the new Linen House Centre training venue, but we dealt with what we had back then.
There is no doubt the gym was pretty cold in winter. It sometimes felt like it was three degrees in there – especially coming from Darwin, but once we got into the training and playing it was all good.
What were the best moments from your time at the Saints?
Obviously my first game was a highlight. There was a heap of us playing in the reserves down in Bendigo the week before and it was round two against Port Power at Etihad Stadium. We ended up getting a fair touch up by about 90 points I think it was.
I remember coming on early in the first term and getting a free kick straight away. Brent Guerra, who ended up being a teammate at St Kilda, pushed me in the back – so that was my first possession.
I think Grant Thomas told me fairly on during the week that I was going to debut – I think it was the Tuesday or maybe even the Wednesday that I found out I was playing. That was a good thing because it got the excitement out of the way and allowed me to focus on the game coming up.
Mum and Dad came down to watch which was a great memory to be able to share the experience with them, but unfortunately the result didn't go our way.
Who were the best players you played with?
The one who really stands out to me is Robert Harvey. He's probably the best player I've played with and it was just great to see the way he went about it. Coming close to him would be Lenny Hayes.
Lenny was probably similar to Harves in a way because they worked so hard at training and showed such great leadership around the club for so long. Nick Riewoldt was one as well who was just amazing. Sometimes I just looked at some of the stuff he did and was left in awe of him.
They are probably the three that stand out in my mind as the best three players I played with.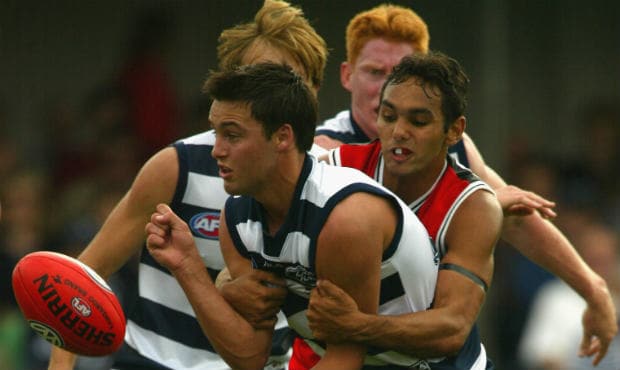 Clarke tackles Jimmy Bartel in 2002, as Gary Ablett and Cameron Ling watch on.
What about the best players you played against?
I get asked this a lot actually and generally it is a pretty tough question to answer because we played against quality players every week.
But in saying this, probably Jimmy Bartel was the one who showed the greatest maturity with the way he played his footy. He was in the same draft as me and he was very hard to play on from the very start. You can see now what he's done over a long period of time and it's no surprise to me.
If you look back now, probably Gary Ablett is one of the better players that I played against. He's probably just getting better with age. They are probably the two best players I played against.
What was it like playing footy with your brother Raphael at St Kilda?
It's funny because I don't think we played too many games together at the Saints – either he or I always seemed to be injured!
I remember his first game and it was against Essendon at Etihad Stadium and we won. Mum and Dad came down so it was a special moment, but unfortunately for Raph, he didn't get to go on and keep playing.
I think Justin Koschitzke said to me over a few beers one day that he'd give anything to be able to play AFL footy with one of his brothers. I think when people put it to you that way and you sort of take a bit of time out to think how unique and special it is, then you realise what a great moment it was to share with someone so close to you.
What are your views on the way the game has gone in recent years?
I really enjoy watching the game. It's fast and there are a lot of skills involved but it is always evolving and changing.
I don't watch as much footy as I'd like to but what I see I like. You look at the young kids who come in and have an impact in the way they play and develop throughout their footy careers, I always really like watching those guys develop and improve. Chad Wingard is a good example of this – I love watching him at the moment and he's an absolute superstar.
That's the stuff I really like - that raw talent that you sort of can't teach and Chad just has something that other players don't. I think that's what is so unique to the game of footy and why so many people love watching it.
What have you been up to since you finished at St Kilda?
I went and spent two years at the Brisbane Lions and it didn't pan out the way I hoped it would. I did my second ACL up there and had a reconstruction on that, before deciding to step away from the game. I had two knee reco's in the space of two-and-a-half years and unfortunately that was the end.
By then I had probably played the best footy I probably could have, and there is no doubt that I would love to still be out there with guys like Joey, Lenny and Rooey. A bit of me still wishes that I could still be out there having a run and a kick. Unfortunately for me, the body just didn't allow me to do it anymore.
So after my two years at Brisbane I went in to work at the head office at the AFL as the indigenous programs coordinator. So I was managing all our talent pathway programs such as Kickstart and Dreamtime at the G which was really good for me.
I also did a bit of work for the Brisbane Lions while I was in Melbourne, doing the opposition analysis for them which I enjoyed.
After spending two years there, I decided last December that coaching was the pathway I wanted to go down so now I'm currently back in Darwin coaching the Northern Territory Thunder footy side and we play in the NEAFL competition.
It's been OK because we've won seven games and lost just one, so hopefully we can keep going that way and I don't turn into one of those stressful coaches!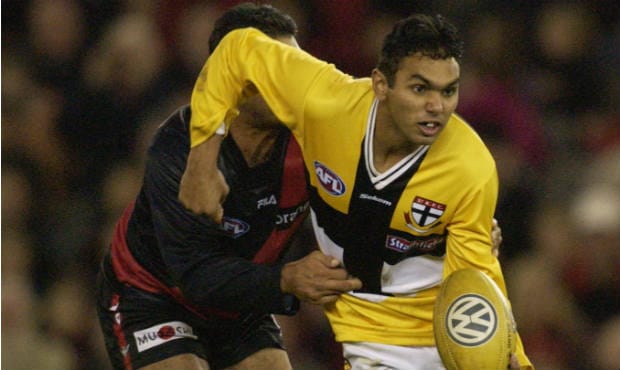 Do you have aspirations to be a head coach at an AFL club?
Well senior coaching at an AFL club is a long way down the track. I'm only in my first year coaching at a NEAFL club but there is no doubt I want to eventually get back to an AFL club either as a development or line coach. That's something I will look at doing.
Being up here is probably a really good start for me. We are playing really good quality opposition here like the Brisbane Lions, GWS Giants and Gold Coast Suns reserves sides. We also get to travel so having that experience over a two year period is going to hold me in good stead getting back into a club environment at AFL level if that is what happens.
In terms of a senior coaching role, I'd love to one day, but I also think that's a long way down the track.
What are your thoughts on the AFL's indigenous program?
I was lucky enough to spend some time at the AFL over the last couple of years and work with some clubs around Indigenous Round and what it means for them and what they as a footy club can get out of it. That was really unique actually, seeing it all from a different perspective.
You look at Dreamtime at the G, and it was just a one-off game. But what it has evolved to now in its 10th year is remarkable. Last year they had a footy designed for every game and this year every club has a specially designed jumper to wear for the occasion.
I know St Kilda has put in a bit of work to getting Friday night's game against Collingwood up and when you look at it that way, you realise it's only going to get bigger and better. At the end of the day, it's more about recognition and celebrating the game and what indigenous players have contributed over the years than anything else.
I think it's a great concept and I think it's only going to get bigger. Footy clubs are all businesses and so is the AFL, and it's a great way to be able to engage communities and let's not shy away from it, make a little bit of revenue from a round that is really special and unique.
So it's better for the game, the clubs, the communities and the players.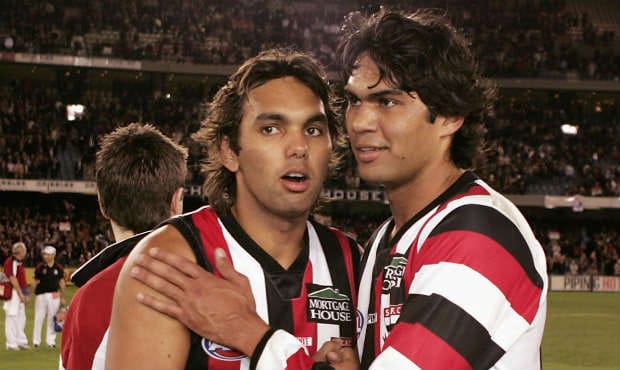 Xavier and Raphael Clarke