Born May 3, 1974
291 games, 383 goals
203cm
108kgs
A naturally gifted and mobile big man, Peter 'Spida' Everitt helped revolutionise the role of the ruckman in the mid to late 1990s.

He was skilful, deceptively quick and possessed an accurate set shot that made him a dangerous forward as well.

Everitt was one of the last players drafted via the zoning method, and played 180 games for the Saints from 1993-2002, before being traded to Hawthorn and then Sydney.

A three-time All-Australian (twice for St Kilda) and the Saints best and fairest in 2001, Everitt was regarded as the pre-eminent ruckman in the competition for close to a decade.

His younger brother Andrejs has played 96 matches for the Western Bulldogs, Sydney and now Carlton.How did you arrive at St Kilda?
I got to the club back when it was zoned. I lived on the Mornington Peninsula and it was zoned for the St Kilda region. I started in the under 19s, they sacked the 19s, so I stayed on in the seconds, and then I was fortunate enough to make the seniors. I was actually one of the last players to be drafted by the zoning system.
Tell us about your debut?
My debut game was against Geelong at Kardinia Park. My grandfather and Dad came down and my first kick was a goal – well actually I still don't know if it was. I watched the DVD of it some years ago and it was a grubber kick out of bounds. We got beaten.
How were you told you were playing?
The coach at the time was Kenny Sheldon and he told me I was going to play round one. We had a pretty bad pre-season and got beaten by West Coast over in Perth. So we got straight off the red eye - caught it at midnight and got in at 5am – and had to train at 5.30 in the morning. I was thinking 'hang on, I kicked three goals so I am going alright!' After the training session he said 'don't worry, you'll be playing round one.'
Who were the best players you played with at the Saints?
Back in my time one of the great players was Nicky Winmar. For a bloke who just sat in the gym and did bicep curls and just tried to get his chest as big as he could, he could actually play. Robert Harvey as well – for a guy to play 21 years at a footy club and never change his hairstyle was pretty good.
Also there were players like Stewart Loewe and Nathan Burke, and then towards the end of my career or when I moved to Hawthorn, there were players like Nick Riewoldt, Justin Koschitzke and Lenny Hayes come through. It was a pretty good era to play with some great players but some fun players as well.
Who was the hardest player you played on?
I reckon the coaches! Stan Alves was the hardest opponent ever!
Matthew Primus was probably the most difficult opponent for me because I was more athletic and wasn't strong at all. You knew that if he got is hands on the ball in the forward half for Port Adelaide, two seconds later they would be having a shot on goal.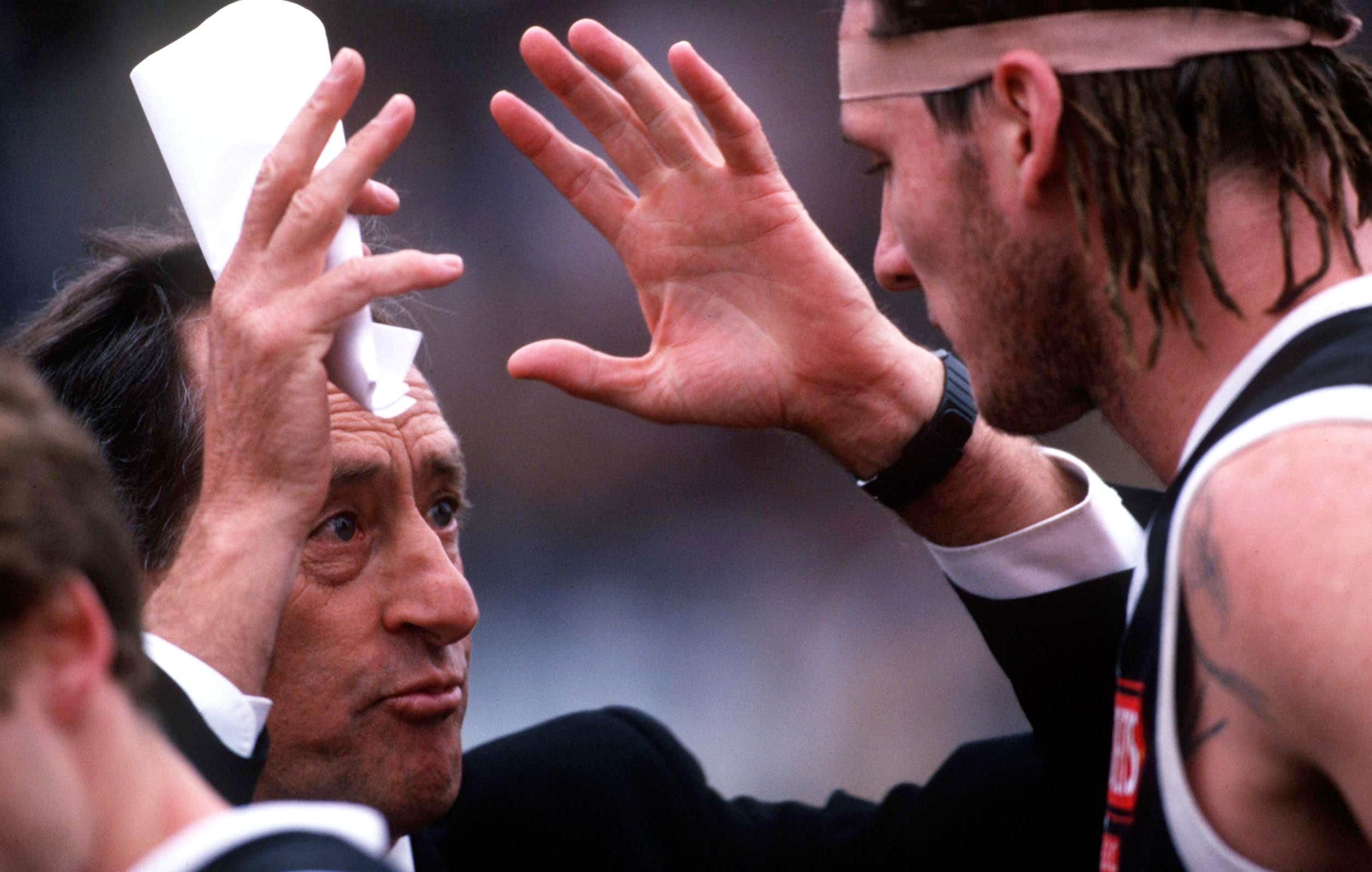 Stan Alves and Everitt in 1997.
What have you done since footy finished?
I do breakfast radio on the Gold Coast now. I do a travel show which is called The Great Australian Doorstep – we've travelled and filmed around Australia and New Zealand. That show goes on channel seven.
But it is breakfast radio on the Gold Coast from Monday to Friday. I get up at 2.30am, go to the gym at 2.45, finished by 3.30 and in the studio by 4am and on air between 5am-9am. Then I go home and play golf and fish and that's about it.
How did you find the transition into retirement?
I had done my dash. I had played nearly 300 games across 16 years. With all the meetings and the professional side of it, I just knew it was time to move on. I still keep my foot involved in footy by doing a little bit on the Gold Coast and in Brisbane, but I was comfortable moving on.
If you look at a footy club now and the science behind it all, it's the meetings, the opposition, how you prepare yourself – it's just so different. I take my hat off to players like Lenny Hayes and Dustin Fletcher who have come into the system when it was semi-professional and we used to train Monday's, Wednesday's and Thursday's. Because it worked on horses they expect you to walk in cold water and then they brought in all the discipline side of things.
What are your views on the modern game?
I enjoy it. If you were a good player in the 1950s and 60s, then you're naturally going to be a good player today because you will be able to get the ball and use the ball. More importantly, you would have turned with the times. I love footy today. Players are just as hard at it and I like it when the umpires let it go and the players are able to work their way out through the congested situations themselves.
There are always situations with flooding and zoning, but at the end, if you're team is winning, you're more than happy.
What about the evolution of the modern day ruckman?
Corey McKernan and myself started running forwards and kicking goals, so ruckman began to be more appreciated as taller on-ballers. It's gone back the other way now – you don't see many of them running forwards. You'd like to see a ruckman being able to play forward and in the ruck, but today's rules don't really allow that. You just want to see that one on one hard contest. The fun of it is battling against somebody so I would like to see some of the old ruck rules come back.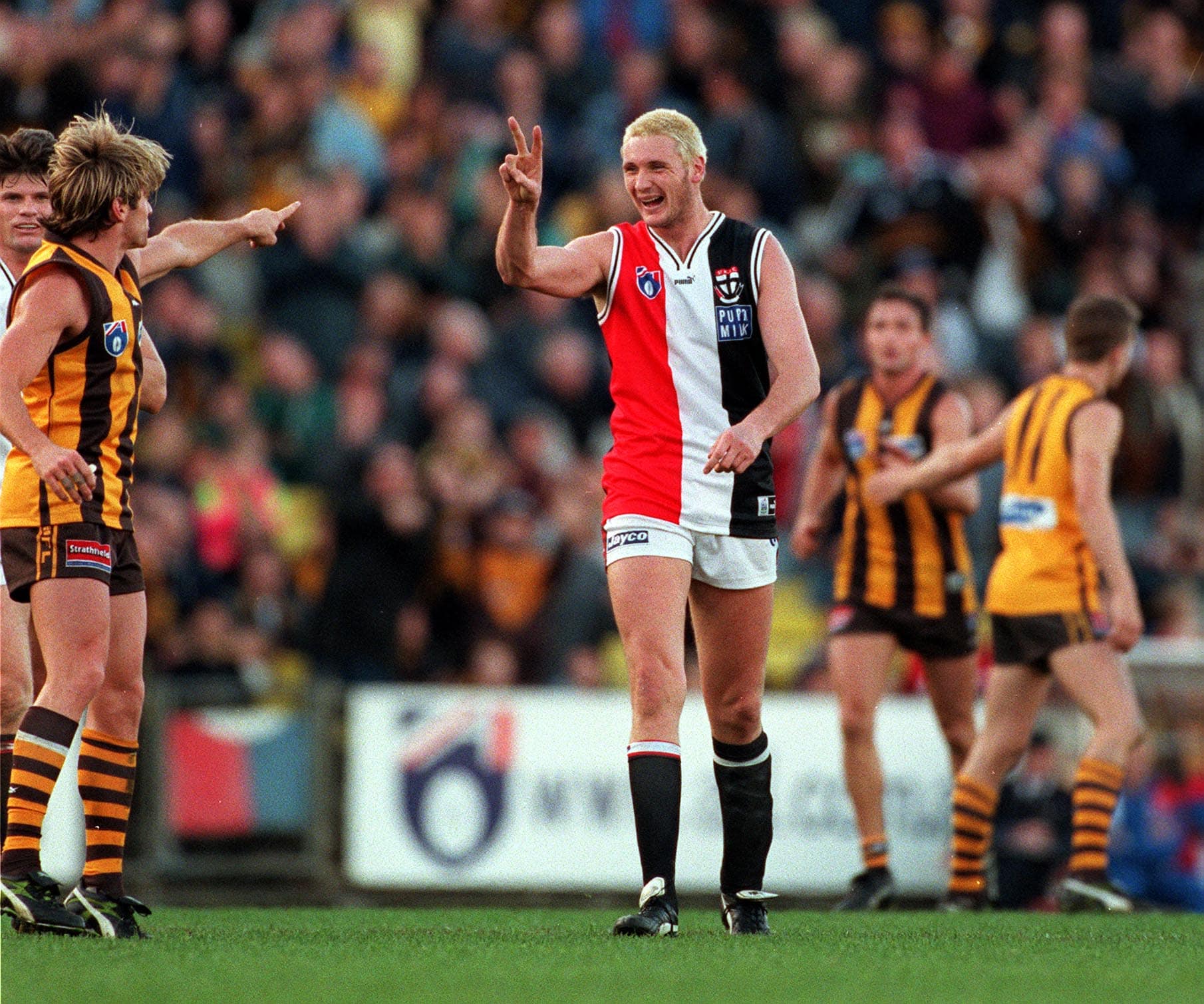 Shane Crawford and Everitt, Round 12, 1999. Who do you enjoy watching the most?
Gary Ablett Jnr. He's just the greatest player I've ever seen. I love watching him and whenever he gets the ball something happens. I have to follow my brother as well. As they say, they never build the second as well as they build the first! He does play at Carlton so I go and watch him a fair bit as well.
My son, who is seven now and is getting into footy, he's a Saints supporter so maybe a father/son prospect? I'm a Saints fan. I'm a life member of St Kilda and I'm not a life member of Hawthorn or Sydney. I will always stay loyal and stay a Saints fan.