There were no pats on the back for effort in yesterday's loss to Richmond, despite promising performances from a host of rising stars.
Injured skipper Jarryn Geary and coach Alan Richardson delivered the blunt verdict in the post-match meeting; the effort displayed was the benchmark expected, not something to be celebrated.
But for the thousands of Saints fans who piled out of a packed Marvel Stadium and into the icy Melbourne winter, there was a warm sense of hope for the future.
The 22 Saints who matched the Tigers for three quarters boasted nine players with less than 25 games' experience, with the average games played across the entire team sitting at just 66.
Richmond were at 106 per player.
It wasn't the Saints' youngest team of the year, with the side that faced GWS in Round 7 registering an average games played of just 56, but it was arguably the best sign of things to come.

Rowan Marshall's (25 games) emergence as a ball-winning, clearance specialist ruckman continued. Josh Battle (20 games) again looked at home at centre half-back and Ben Long (23 games) reminded everyone of his freakish talents and relentless attack on the opposition.
But it was Hunter Clark that perhaps shone the brightest.
Clark's first half was a mixture of courage and class, and his incredible composure was most evident in a chaotic first 10 minutes, as he continually put teammates into space out of nowhere.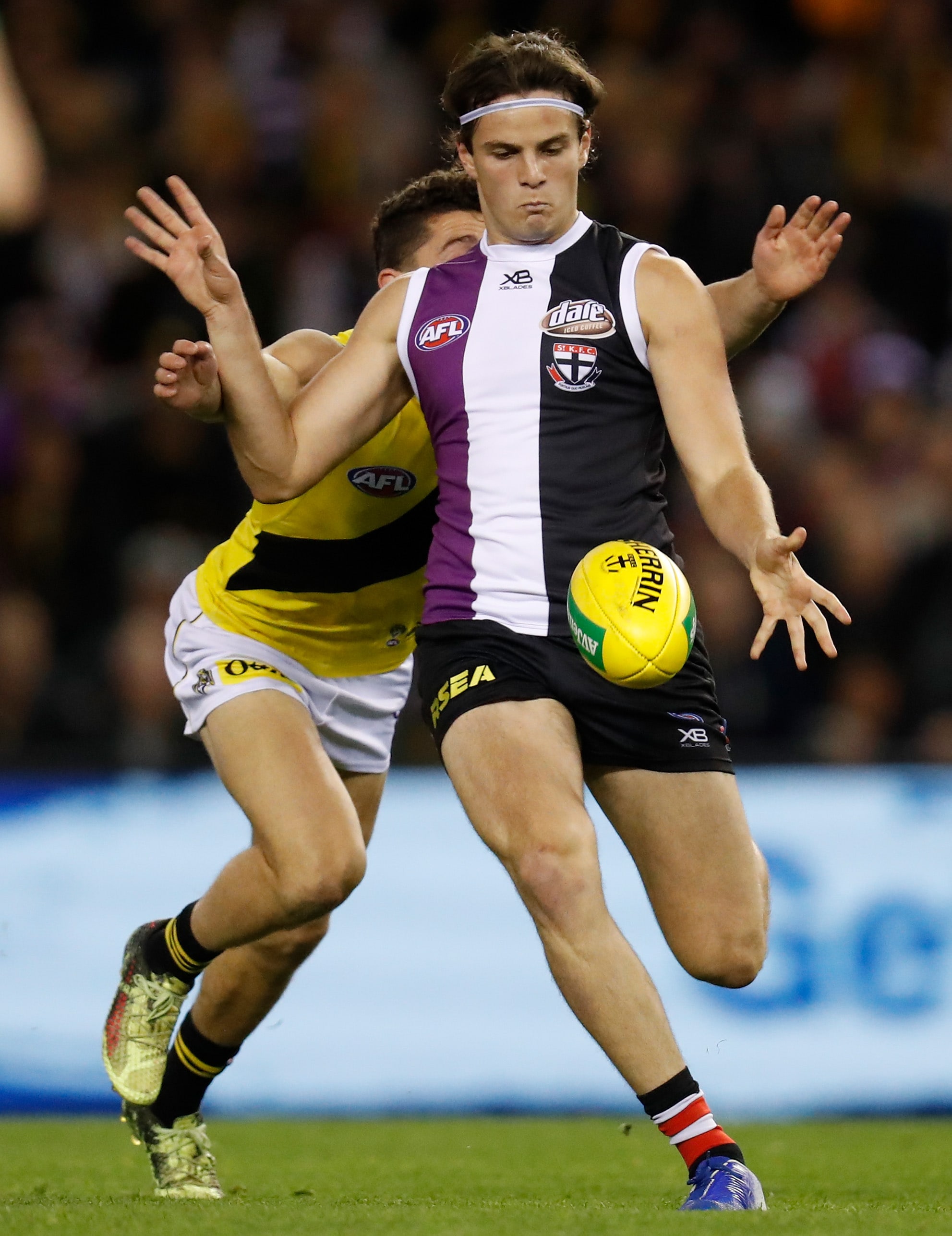 Nick Coffield was assured by foot, growing in confidence after being made to earn his place via a string of consistent performances with Sandringham in the VFL.
His power and speed were there for all to see, while close mate Ben Paton took another step forward.
There were nervous moments, Paton's drop mark under a high ball on the forward flank a sign that there is still improvement ahead for the youngster.
But they clearly have the traits to become quality and versatile players in the years to come.
MORE ROUND 15 NEWS
'WE COULD REALLY RELY ON HIM' MARSHALL ON COFFIELD
MADDIE'S MATCH HIGHLIGHTS: SAINTS V TIGERS
SAINTS START STRONG: BRILLIANT BALL MOVEMENT TO BRUCE
TIGERS OVERRUN SAINTS: RICHMOND TAKES MADDIE'S MATCH HONOURS
Meanwhile, the Saints' new mature-agers continue to repay the faith the club has shown in them.
Nicholas Hind kicked two goals to make it six in a career that is already flush with highlights despite being just three games old. His speed, composure and decision-making appear at home on the big stage.
Matty Parker continued to provide glimpses of his pressure and ability to make something out of nothing, while Callum Wilkie's growing reputation is intact despite going toe-to-toe with Dunstan Martin in defensive 50 on at least two occasions.
With Max King and Jack Bytel both set to start the 2020 pre-season injury-free, the next wave of Saints promises to be well worth the wait.