Review week is here and our defence is the final line to be put in the spotlight.
There's no doubt that when Round 1 rolled around, the Saints' backline looked in strife.
With no Nathan Brown, Jake Carlisle or Dylan Roberton, the Saints' defensive depth was put to the test.
But amid the adversity throughout the season, the red, white and black stood tall and found some absolute gems, from mature-age recruit Callum Wilkie, forward-turned-defender Josh Battle and the highly-talented Hunter Clark.
As always, the mission to improve is never done, but in the meantime, have a look back on the season that was.
Callum Wilkie
Career
Games: 22
Intercepts: 130
2019
Games: 22
Intercepts: 130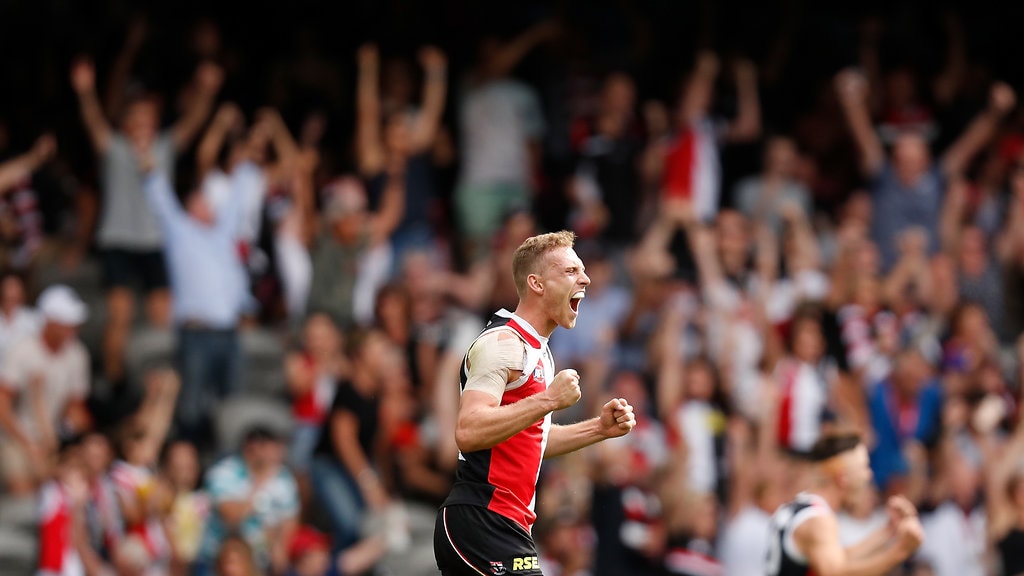 As far as debut seasons go, Callum Wilkie ticked all the boxes.
With the Saints' backline ravaged by injury before Round 1, the mature-age recruit slotted seamlessly into the line-up, becoming one of the red, white and black's first-picked players every week.
The agile defender topped St Kilda's intercept possessions and intercept marks for the year, while placing second for rebound-50s.
Able to read the play like a book and use his accurate kick to launch the Saints out of defence, Wilkie quickly established himself as an integral piece of the back six.
And there's no doubt he'll continue to do so in the years to come.
BEST GAME:
Wilkie was terrific against the Demons in Round 5, notching up 17 disposals, eight marks and six intercepts in the 40-point win.
Shane Savage
Career
Games: 163
Rebounds: 378
2019
Games: 22
Rebounds: 98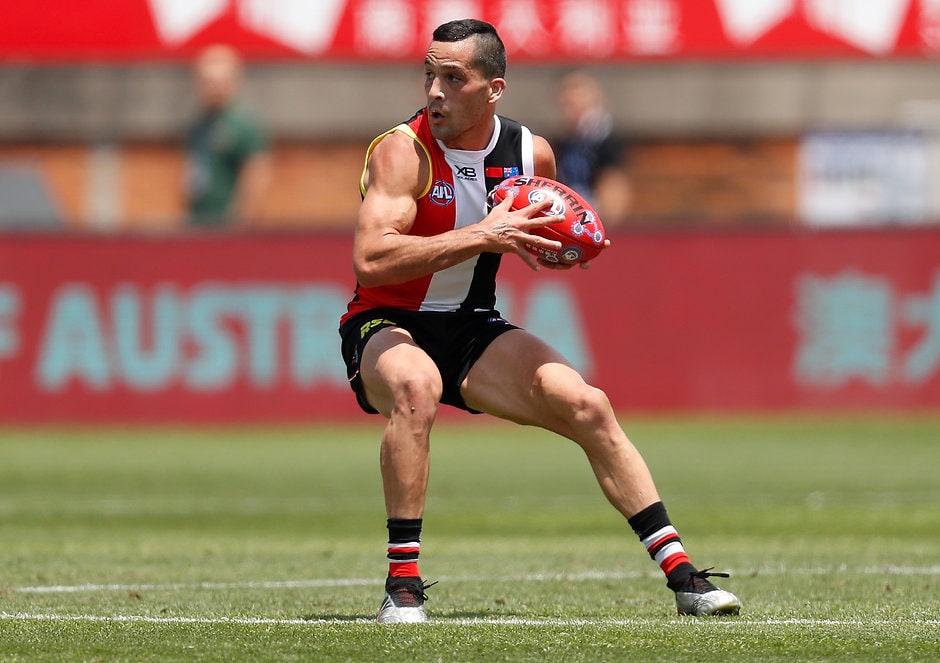 There were many words to sum up Shane Savage's 2019 campaign.
Some of the best would be 'lethal' and 'effective'.
The 28-year-old led the defence in the absence of several position players, using his deadly accuracy and spring off the half-back line to catapult the Saints out of danger.
His class was evident with almost every disposal, with the Auckland-born Saint placing first for the club's effective kicks in Season 2019.
Savage's rebounding was just as efficient – another statistic which he ranked in first position for – while his ability to gather the footy was a valuable asset to the Saints.
And with the No. 5 set to roll around for at least another season, you can expect much of the same from the silky Saint.
BEST GAME:
Savage was at his classy best against West Coast in Round 8, finishing his evening with 25 disposals, nine rebound-50s, eight marks and an incredible checkside goal from the pocket.
Josh Battle
Career
Games: 26
Marks: 134
2019
Games: 19
Marks: 115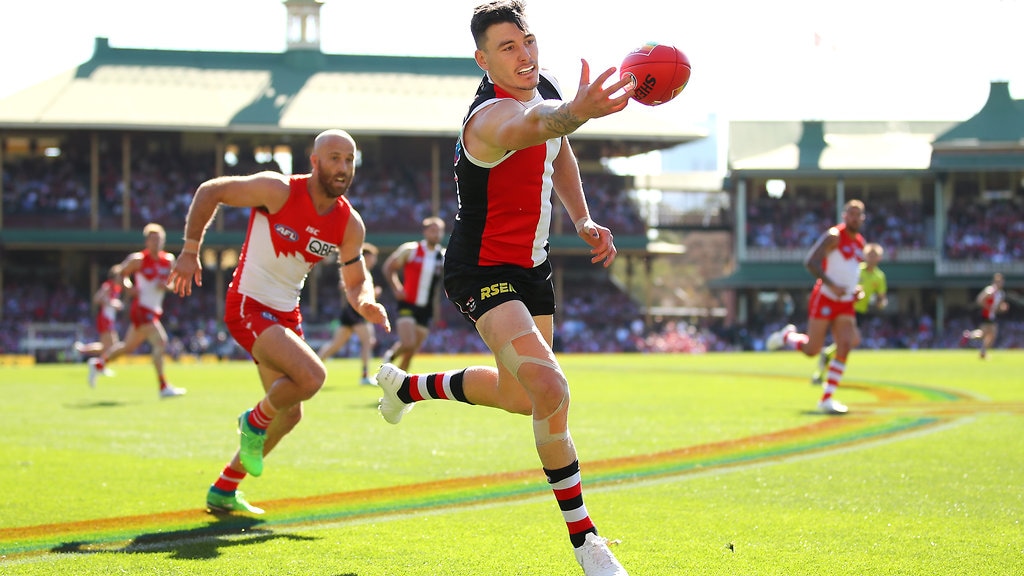 The Saints saw several positional changes, but the most drastic – and surprising – was that of Josh Battle to defence.
Battle's penetrating right-boot, strong marking and ability to read the play transferred seamlessly into his new role, with the prospective forward blossoming into a talented defender.
The Rising Star nominee averaged 15 disposals at 83% efficiency, 10 pressure acts, three tackles and six marks per game, all the while looking exceptionally comfortable in then-uncharted waters.
His versatility in playing one-on-one or coming across as an intercept defender was just as prolific, as was his ability to push up the ground to launch the Saints into attack.
Still hard to believe he's only 21.
BEST GAME:
Battle's courage was on full display against Fremantle in Round 21, with his match-winning mark in the dying seconds of the game securing a memorable win for the red, white and black.
Daniel McKenzie
Career
Games: 49
Marks: 175
2019
Games: 15
Marks: 50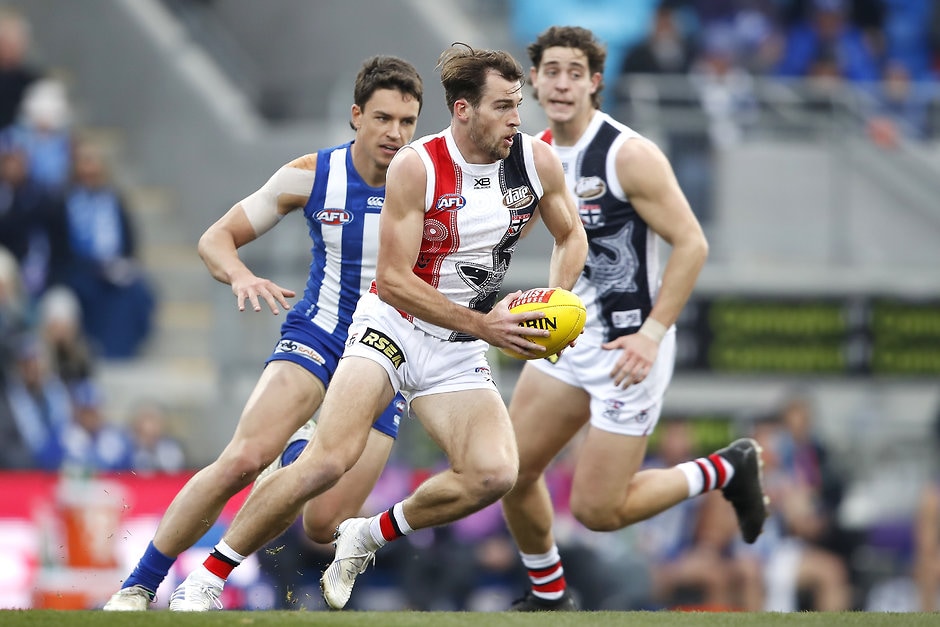 After establishing himself as a core member of the defence in the backend of 2018, Daniel McKenzie brought his grit and tenacity into the new season.
A concussion against the Hawks sidelined the no-fuss defender, but he quickly returned with several solid performances under his belt.
Professional in his approach and with a sizeable tank to complement it, McKenzie played a career-best 15 games for the season before rounding out the year in the VFL.
As D-Mac approaches the 50-game mark, he steps into the next important bracket of players who will lead the club forward.
His determination will make sure he does just that.
BEST GAME:
McKenzie starred against Adelaide early in the season, finding plenty of space to collect 19 disposals (17 uncontested), 12 marks, four rebound-50s and six one-percenters from 92% of game-time.
Hunter Clark
Career
Games: 29
Disposals: 518
2019
Games: 14
Disposals: 287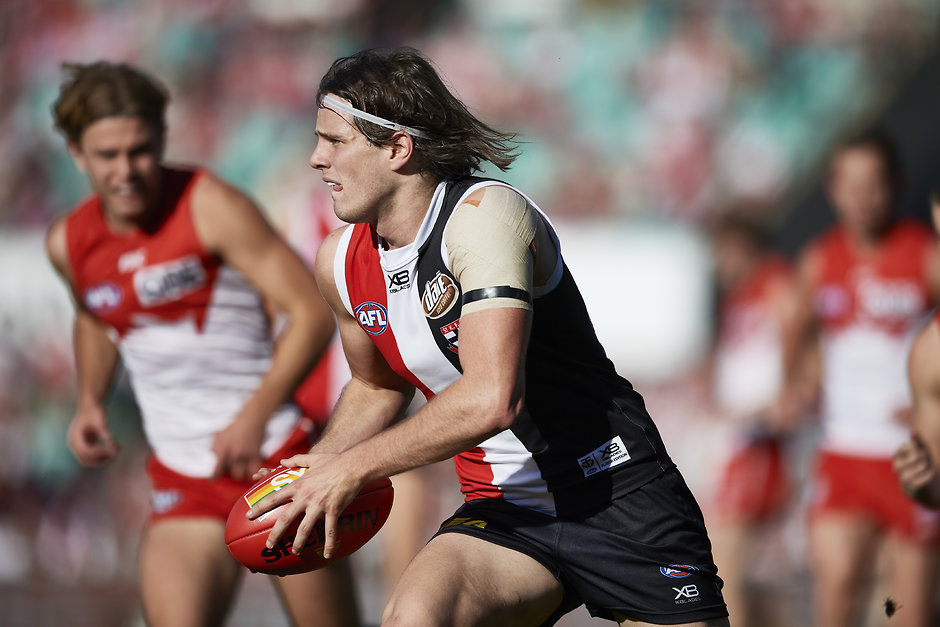 Hunter Clark was poised for a huge 2019 right from the outset.
It certainly came, it wasn't until the second half of the season where the ball well and truly got rolling.
The Mount Martha product was a glittering feature off the half-back line, with the No. 11 averaging 20 disposals, five marks and four rebounds from his 14 games.
His class, evasive skills and composure were always on full display, while his football nous is evidently well beyond his years.
With such excitement in the way he plays, the St Kilda faithful will be hoping his purple patch rolls around into Season 2020.
BEST GAME:
Any one of Clark's games could feature here, but his 26 disposals and two goals against the Western Bulldogs is hard to look past.
Ben Paton
Career
Games: 16
Disposals: 227
2019
Games: 13
Disposals: 191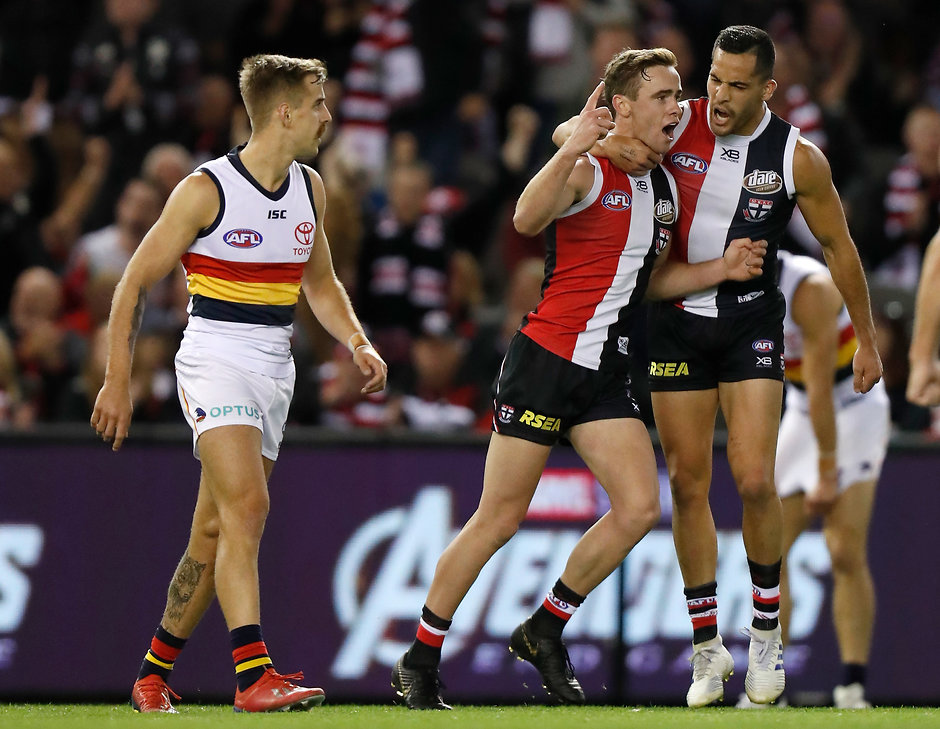 A lot is made about Seb Ross assuming the captaincy in the absence of Jarryn Geary against the Hawks, but the man who actually came in for the skipper is often overlooked.
That man was Ben Paton, and his solid outing against the brown and gold saw him keep his spot in the senior side.
The Tallangatta product built upon his three games from the year before, showing plenty of promise through his ability to find space, be versatile and gather the footy.
Knee soreness but his run short by Round 10, but Paton broke back into the line-up following an impressive patch for Sandringham.
He's only had the five wins in his short career, but the 20-year-old will be intent on increasing that tally next season.
BEST GAME:
Paton's game and first-ever career win against the Hawks was superb, but the young Saint went one better against Melbourne with a 23-disposal and six-rebound display.
Jake Carlisle
Career
Games: 22
One-percenters: 551
2019
Games: 10
One-percenters: 66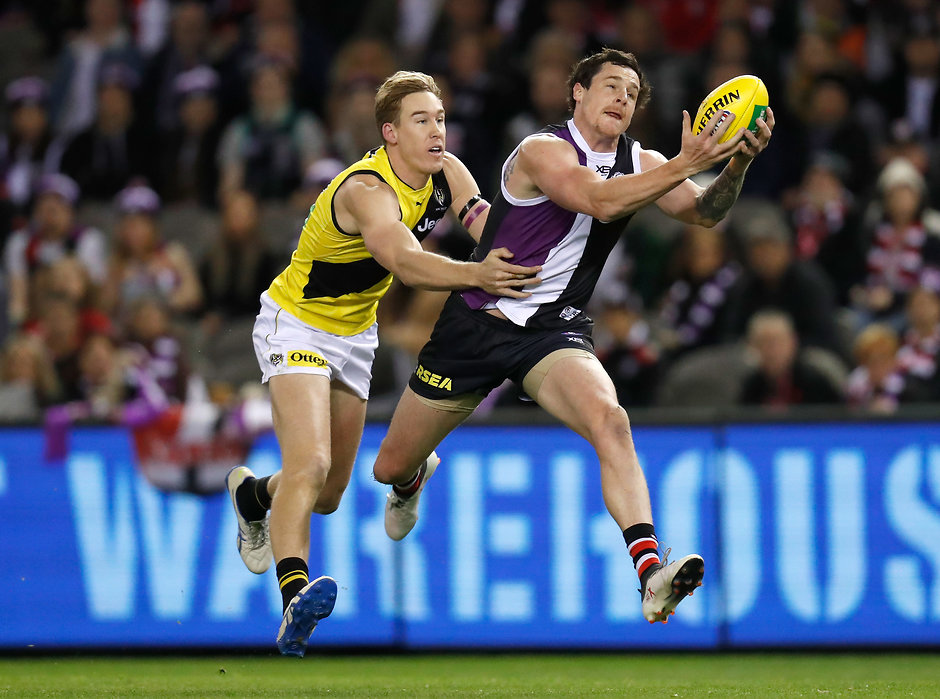 It's remarkable that Jake Carlisle donned the red, white and black this season.
Back surgery to relieve pressure on a nerve sidelined the key defender for several months, but his off-field work ethic saw him make an incredible return in Round 14.
Carlisle slotted straight back in to man the key defensive posts, building his match-fitness and influence with each outing.
An unrestricted and injury-free pre-season will go a long way for the No. 2, whose sights are firmly set on a solid 2020.
BEST GAME:
Carlisle hit his strides against the Western Bulldogs, amassing 18 disposals, eight marks and seven one-percenters from 97% of game-time.
Nick Coffield
Career
Games: 18
Marks: 92
2019
Games: 8
Marks: 46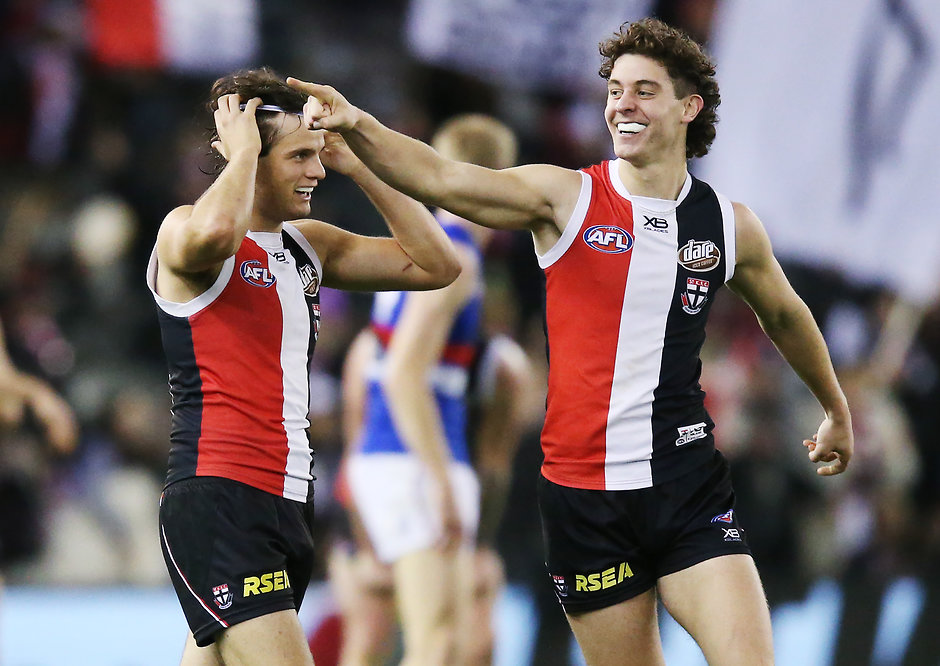 Just like fellow draftee Hunter Clark, Nick Coffield is destined to become a cornerstone of the Saints' future.
After struggling to break into the senior side, Coffield made his debut in the unlikeliest of circumstances after illness swept through the Saints' camp in China.
The No. 1 cemented himself into the side by Maddie's Match, utilising his level head and composure to influence the contest.
Coffield was building towards an exceptional finish to the season, before dislocating his shoulder in Round 21 against Fremantle.
A lengthy rehabilitation is in front of him, but his gaze is always going to be towards making an impact next season.
BEST GAME:
Coffield's first win of his career also marked his most impressive performance of the season, with the nimble half-back among the best contributors with 21 touches.
Jimmy Webster
Career
Games: 93
Rebounds: 315
2019
Games: 8
Rebounds: 29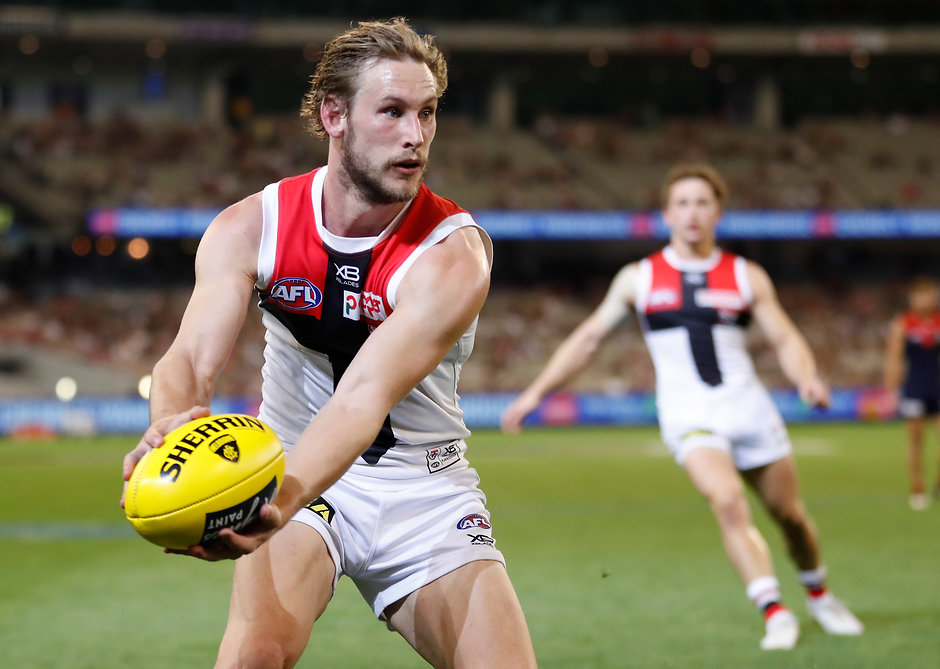 Jimmy Webster is no stranger to injury, and unfortunately, Season 2019 was one of those years.
After a consistent start to the season, the rebounding defender was sidelined first by a hand injury, and then a long-term back complaint.
Webster found his way back into the VFL in the remaining rounds of the year, but the risk of playing him at senior level far outweighed the reward.
Just like several other injury-hit Saints, the No. 29 will look to hit the ground running in 2020.
BEST GAME:
Webster was at his best off half-back against the Demons, showing glimpses of his stellar 2018 form with 20 possessions, seven rebounds and five marks.
Jarryn Geary
Career
Games: 188
Disposals: 3154
2019
Games: 5
Disposals: 94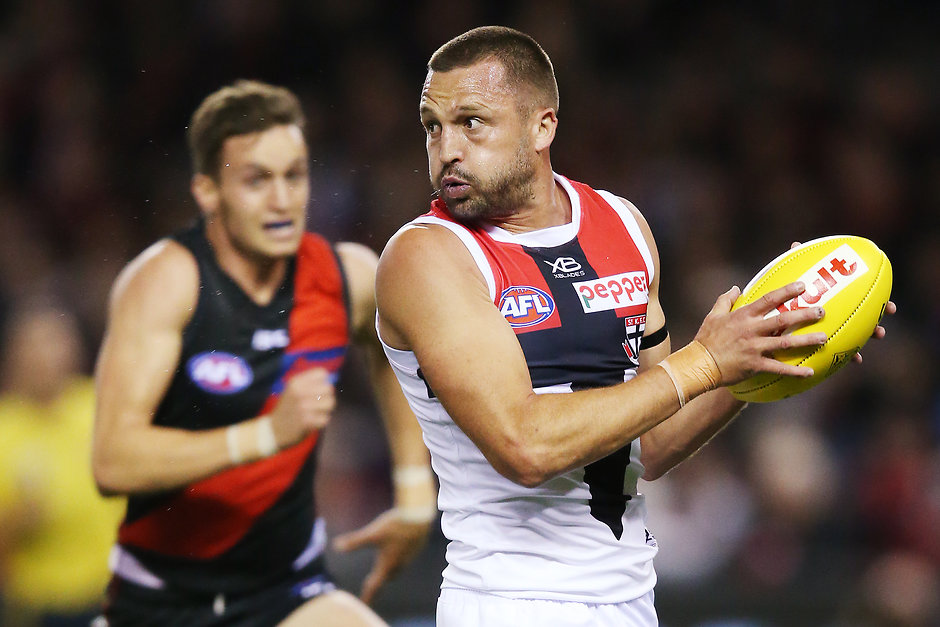 He's as tough as they came, but heartbreaking injuries forced Jarryn Geary to watch his side from afar in 2019.
First it was emergency surgery on his quad following a goal-saving effort against the Dees, then a broken leg against Port Adelaide following a miraculous turnaround from his operation.
His leadership was undoubtedly first-class, and the skipper was determined not to be complacent, even when stranded on the sidelines.
It was nothing short of a frustrating campaign for Geary, but his insatiable hunger to make an impact will be driving him into the new year.
BEST GAME:
Geary was inspirational against the Demons with a 21-disposal display, but also starred against Essendon with 20 touches, eight rebounds and five marks in a largely unsung performance.
Jonathon Marsh
Career
Games: 20
One-percenters: 96
2019
Games: 5
One-percenters: 20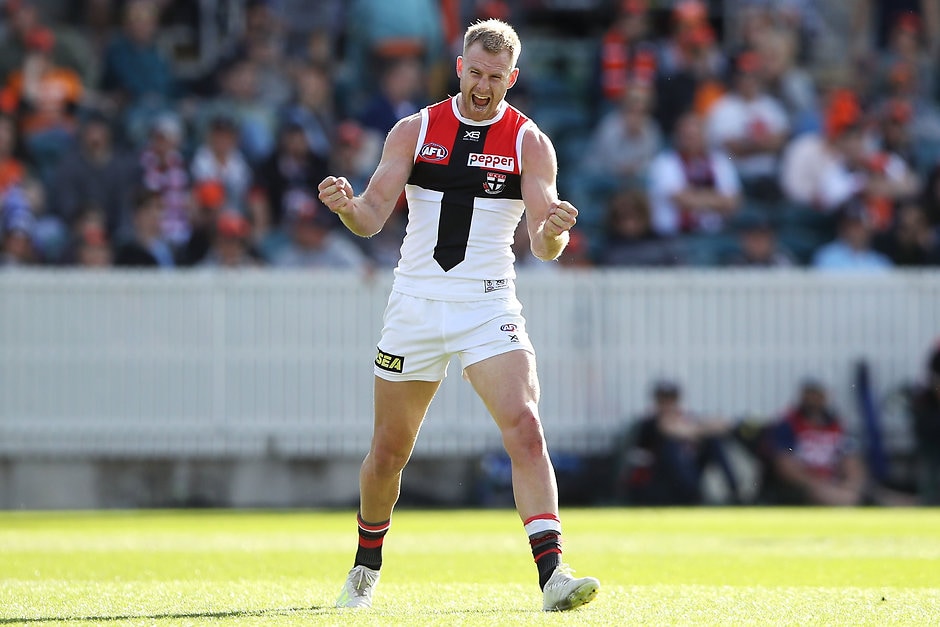 Jonathon Marsh was desperate to make it back to the AFL.
And when he got his chance as an SSP selection, he seized it with both hands.
The ex-Magpie was tried up forward in his first game, experiencing an inspiring one-goal return before moving back to his regular home in defence.
Marsh played five games for the Saints, but was a strong leader for Sandringham through his commitment to the contest and marshalling of the defence.
They'll be traits he'll be hoping to carry into 2020 – primarily in red, white and black.
BEST GAME:
His first ever goal against GWS was Marsh's most memorable moment, but his most influential game against Carlton in Round 10 after collecting 12 disposals, four rebounds and four marks.
Darragh Joyce
Career
Games: 5
One-percenters: 28
2019
Games: 3
One-percenters: 21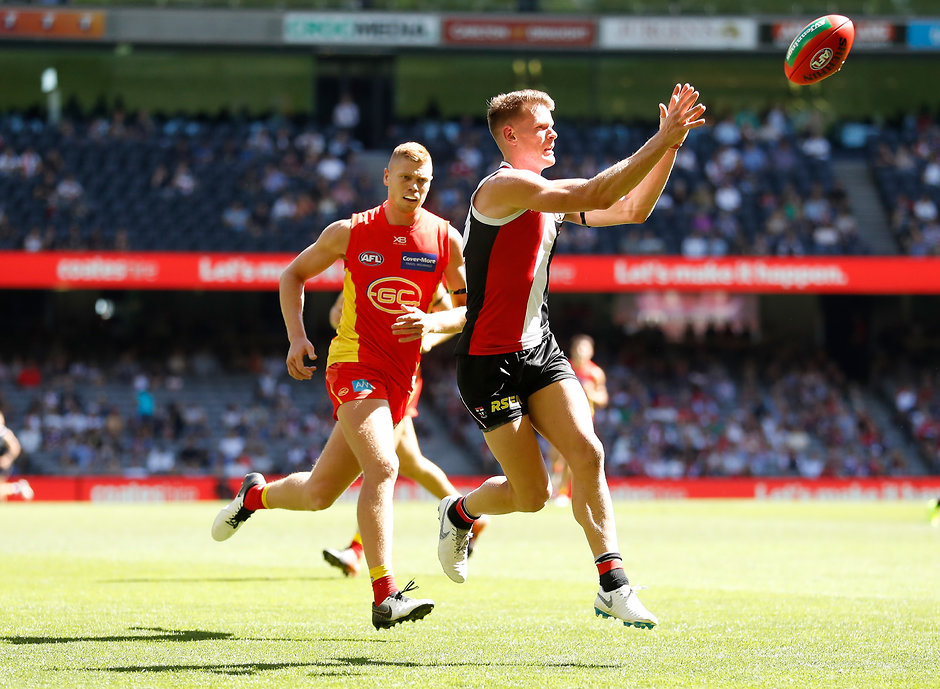 With Nathan Brown sidelined through suspension and Jake Carlisle injured, Darragh Joyce filled the defensive posts in the opening round of the season.
The Irish recruit would only play another two games for the year, but enhanced his craft under the watchful eye of Aaron Hamill in the VFL.
The Kilkenny recruit was one of the Sandringham's most valuable assets, particularly when the side lacked positional depth as injuries took their toll.
Joyce was tried up forward and booted a handful of goals, but did his best work in defence through his vocal leadership, impressive marking and one-on-one contested work.
BEST GAME:
With the Saints' backline stocks depleted, Joyce stood up to the plate against Gold Coast with 18 disposals, 11 one-percenters and a match-saving spoil to get the Saints on the board.