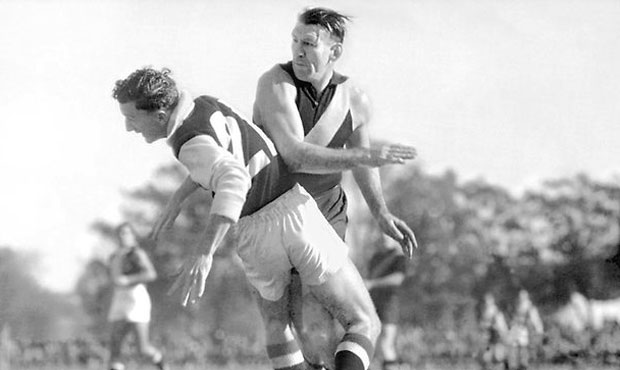 Tom Meehan had a substantial career of 92 VFL games, but an unusual niche means he'll be forever remembered in football history.
The former Saints defender, who passed away recently at the age of 92, is part of an iconic image involving legendary Tiger Jack Dyer.
The picture with Dyer enhanced the Richmond tough man's reputation, but in reality, it wasn't what it seemed.
READ: Saints tour Shanghai
Dyer had swung his arm at the ball and Meehan was leaning to one side to change course, but the long-range camera had made the pair appear closer than they were.
Nevertheless, the image was so reflective of Dyer's persona that it was used by the late Richmond hard man on the cover of his book.
Many years later, the two signed a batch of copies with Jack Dyer writing, "Take no prisoners", but adding that the story was actually a myth.

The famous image on Jack Dyer's book.
Bizarrely, Tom Meehan is also immortalised in statue form as the "stepladder" for the great John Coleman.
Meehan played 73 games for the Saints between 1947-1952 before playing a further 19 games in two years at Fitzroy, and it was in Lions colours that he was sculpted.
Unveiled in 2006, the monument depicts Coleman flying for a mark on Meehan's back, and it can be seen in Coleman's hometown of Hastings.
Meehan was a full-back originally from St Kilda CYMS who was both serviceable and reliable on the backline.

Tom Meehan at training with the Saints.
It was a surprise when he parted ways with St Kilda, as he had played the previous 27 games in succession. After his stint at Fitzroy, he played for Brighton in the VFA.
According to his son Patrick, Tom Meehan was alert until the end and even in his dying days was having bets on horses while sitting up in bed.