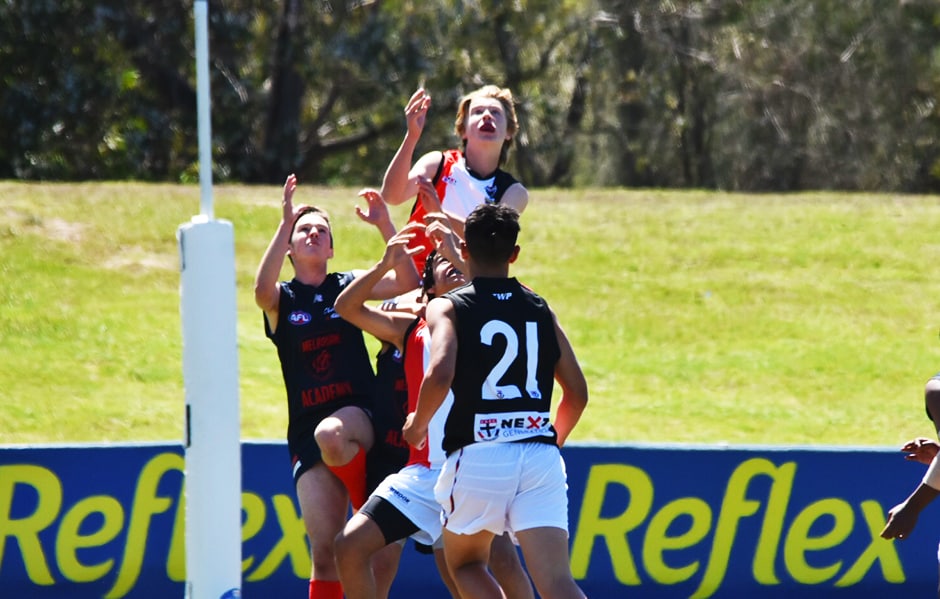 A host of potential future Saints were on display as St Kilda's Next Generation Academy hosted the Melbourne Demons equivalent at RSEA Park.
In what was their first outing against a rival AFL Academy side, the Saints took the shape of a fluid, well-drilled football side, but a handful of future prospects stood out.
The boys in red, white and black scored quickly and efficiently, led in the middle by budding ball-winner Samuel Latreille.
The Carrum Downs junior was everywhere early, and his slight frame appeared to have no effect on his ability to significantly impact the game.
READ: NGA Gala a huge hit
Latreille's clean hands and pin-point disposal worked well in combination with captain Steven Dimopolous, as the pair worked tirelessly to drive the Saints forward.
Dimopolous plies his trade at the junior level for the Frankston Rovers, and his kicking ability and contested work set an example for his teammates to follow.
Jasper Hassoun and Maxwell Ford both exhibited explosive speed and power through the middle and on the wings; a tearing four-bounce run from Ford on the outer side provided the highlight of the first half.
Zinzan Kahu also competed aggressively and was influential in the air for the Saints, while ruckman Kulang Kulang physically dominated in the middle.


Kulang Kulang (R) flies high for the mark.
A bone-crunching run-down tackle from Kulang on his opposite man drew a huge roar of approval from the substantial crowd, and he used every bit of his 190cm frame to influence aerial contests and bring the ball to ground.
Overall, the Saints played an attractive brand of attacking football, with a number of Academy prospects putting their hands up for selection in the 2019 AFL Victoria Diversity Talent Squads.
And over the coming fortnight, three of St Kilda's Next Generation Academy 'Elite Talent Program' players will train alongside the Saints in the AFL program.
Bigoa 'Biggy' Nyuon, who is both NGA-eligible and an AFL Academy member, will train with the senior side for the second time in 2018, while father-son prospects Tyson Milne (son of Stephen) and Jackson Voss (son of Brett) will also train under Alan Richardson next week.
The immediate TAC Cup future for both the Dandenong Southern Stingrays and the Sandringham Dragons looks bright, but the potential future of St Kilda looks even brighter.