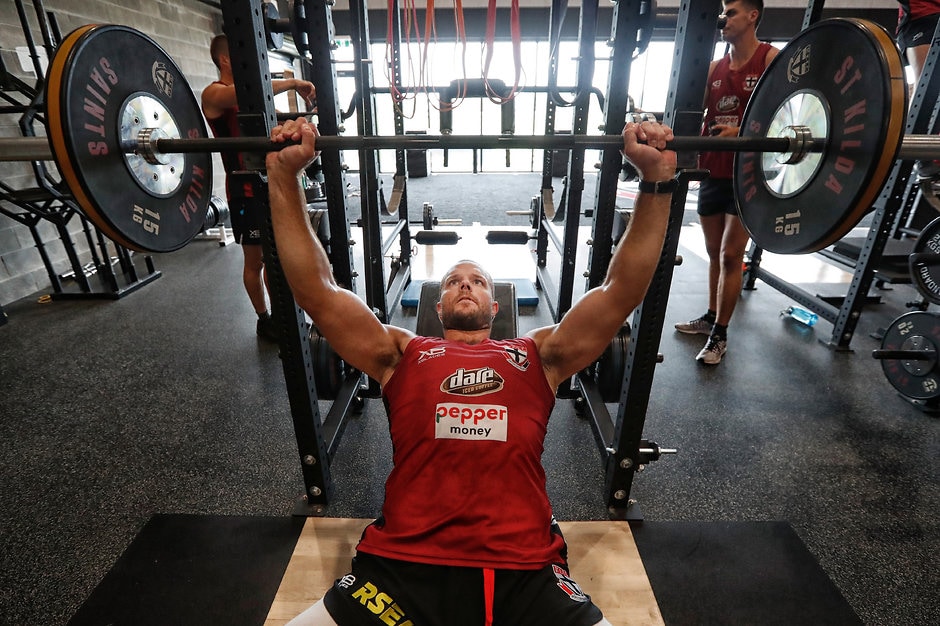 Their enthusiasm and passion for the game is just infectious, and even at my age you can grab onto that.
Nathan Brown
'Age is just a number', as the old adage goes.
And for veteran Nathan Brown, the expression couldn't be any more relevant heading into his 12th season of senior football.
The 30-year-old has become one of the Saints' most impressive figures on the training track, turning back the clock with his ability to push himself that little bit further.
DAD LIFE: Nathan Brown talks fatherhood with Josh Bruce
"This pre-season more than any other – and I don't know whether it's because I've just recently turned 30 and you think your career's coming to an end – it's like I've got nothing to lose," Brown told saints.com.au.
"I've got less years than I have more left in my career, so I've just tried to throw the shackles off and loosen up and try to do something different."
But putting a cap on his capabilities due to his age has never been on the radar for Brown.
In fact, he's done the complete opposite.
What started as extra running sessions in the pre-season has now become an obsessive habit, which has rejuvenated the hardened defender's career.
DONE DEAL: Brown inks new contract
As well as the running, Brown's newfound routine of boxing sessions to channel aggression and drop skinfolds has the big man in career-best nick.
"The way things go is when you hit 30, everyone thinks you slow down and you're just hanging on. But my body feels great, so why can't I do something new?" Brown said.
That's why I took that approach. Why do I have to coast when I can feel great and come back fit and try and press further and break through the ceiling that's been placed on me?"
While his physical transformation is obvious, the mental shift has been just as formative for his new perspective.
"If I had stayed at the 'Pies, I maybe could have finished up one or two years ago, but coming across to St Kilda and feeling young again and having that extra drive with such a young group helps," Brown said.
"Their enthusiasm and passion for the game is just infectious, and even at my age you can grab onto that. You love that and it does make you feel younger and more invigorated."
Physically and mentally, the veteran Saint is in the best shape of his career, but he knows full well it's in its twilight stages.
MARSHING IN: Hear from new Saint Jonathon Marsh
And for Nathan Brown, there can be no regrets.
"I've really had the attitude of just enjoying everything, whether it be hard or not," Brown said about his time in the red, white and black.
"I'm just enjoying things for what they are, because one day I'll wake up and it won't be there anymore, and I'll want to go back and do it."