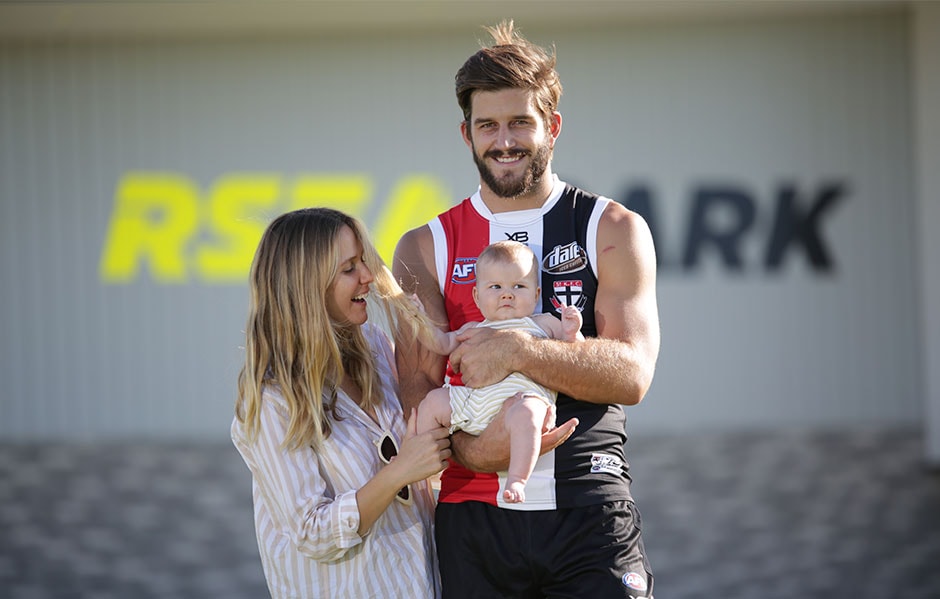 It's good to come home and completely switch off from footy and give your life a different sort of purpose; a less selfish purpose
Josh Bruce
On the field, it was a tough 2018 for Josh Bruce.
But off the field, it was one of the most special.
Stress fractures in his back, a broken leg and an inability to help his struggling side out on the park made the year just gone one to completely forget.
Yet all were outweighed following the birth of his daughter, Poppy, with Bruce – at the time still in a leg brace and recovering from his injury – discovering a new perspective as he became a father for the first time.
Prior to Poppy's arrival, Bruce's sights were always set on making a return to stop the Saints from sinking even further during their miserable 2018 campaign.
"The motivation was really strong to come back and have a great, strong second half to the year, but then I obviously snapped my leg at training," Bruce told saints.com.au.
"It was very disappointing, I was working my way back towards a mid-year return and got myself back in some really strong form in the VFL and had just got picked in the AFL side."
Bruce's injury shattered not only his leg, but his confidence after what was a dominant showing for Sandringham, in which he finished with seven goals and 15 marks from three games.
"That really dampened spirits and I had a few weeks away from the club. I went away from footy and then by the time I got back, we had a little bubba."
Since August of last year, Bruce and his partner, Pip, have been the proud parents of Poppy, who has since been the pride and joy of their lives.
"It was a really tough year on a football front, but the best year of my life on a home front," Bruce said.
"I'm loving it, I'm loving life as a dad and it's going really well. Poppy has been a dream so far and apparently it only gets better from here."
While it's easy to dwell upon a year that could have been had it not been for injury and exceptionally bad luck, the introduction of Poppy to the world has been crucial in shaping Bruce's life view.
"It's good to come home and completely switch off from footy and give your life a different sort of purpose; a less selfish purpose," Bruce said.
"The club's been really good at getting all the families together and organising events and stuff, so it's starting to feel like a real family club."
The St Kilda family is only continuing to expand, with Parker Armitage the newest arrival to join the baby Saints, also consisting of Jett Savage, Maggie Steven and Matty Parker Jr.
Such an exciting and energetic environment is something Bruce is similarly as keen in seeing from a football sense, with the Saint eager to nurture a positive atmosphere at RSEA Park.
Although he's one of the resident pranksters alongside Jimmy Webster, Bruce knows there's more to it than just enjoying a good laugh every now and then.

WATCH: Josh Bruce takes over for Team Photo Day
"It's really important the players are enjoying their football. I mean if you're not enjoying your footy then you're not going to go out every weekend and give it everything you've got," Bruce said.
With last year's season sapping a great deal of energy from the side, Bruce knows how important positivity is as the preparation for Round 1 begins to ramp up.
"Having a really happy group is really important and I think the club has had a really good balance with some of the new coaches who have come in," Bruce said.
"Brett Ratten and Brendon Lade, they've made footy really fun – new drills, new ideas and less of the monotonous week-after-week type stuff."
"It's a really exciting prospect with everyone really happy.