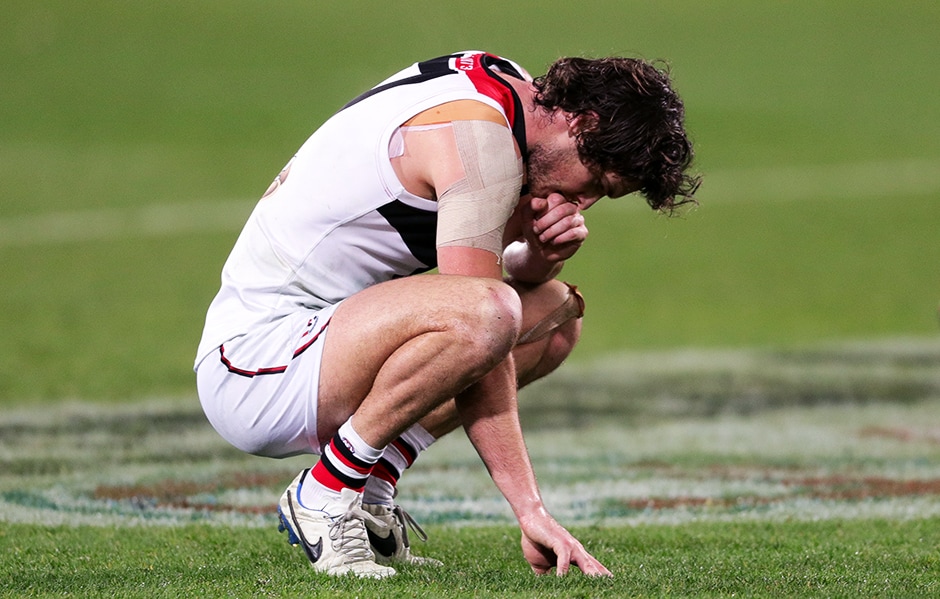 We, like him, are hopeful a solution to his condition can be found and we can see him in Saints colours once again.
Alan Richardson
St Kilda defender Dylan Roberton will sit out the 2019 season due to a heart condition.
A review of data from an internal device in Roberton's chest showed a period of irregularity before it activated at the conclusion of Sunday's JLT clash in Ballarat.
The cause of the irregularity is still unknown, with Roberton keen to explore all medical options.
READ: Jonathon Marsh is with St Kilda
The 27-year-old's heart issue was first discovered during St Kilda's Round 4 clash against Geelong in 2018, which forced him to miss the remainder of the season.
After extensive testing from cardiologists and a procedure to implant an internal monitor, Roberton was given the all clear to return to training.
The defender then completed a full pre-season, and after regular check-ups with cardiologists, was permitted to play with continued monitoring.
"It's extremely frustrating because I physically feel fine, and if you exclude those two incidents, I'm as healthy as I've ever been," Roberton said.
MATCH HIGHLIGHTS: JLT 2 Saints v Bulldogs
"Unfortunately, I need to listen to the professionals and take some more time out of the game.
"I still have a great desire to play at the highest level and want to make sure we look at every possibility.
"Given the club's ability to add a player to the list, I wanted to make the call while they still had time to do so."
St Kilda senior coach Alan Richardson praised Roberton's resilience.
"Robbo is an incredibly selfless player, and nothing speaks more to that than his want to continue to play on and contribute to our group. Unfortunately, that's not going to happen this year," Richardson said.
To lose a player of his calibre is no doubt a blow, but as he said to his teammates when he spoke to them today, he has enormous faith in our guys to step up and fill the void."
"The club, our medical staff, coaches and the players will support him through this period and with whatever comes in the future.
"Whether that's working with the coaching staff again like he did last year, I'm sure Dylan will still play an important role for us in 2019 and be there to support his teammates."
"We, like him, are hopeful a solution to his condition can be found and we can see him in Saints colours once again."
The club asks for Dylan's privacy to be respected at this time.