St Kilda's prized pick Max King is taking a patient approach as he continues his recovery from a knee reconstruction, with the key forward targeting a return to the field before mid-season.
The Saints used their first choice at last year's NAB AFL Draft – No.4 overall – to grab the talented tall despite the right knee injury that saw him miss most of his under-18 season.
READ: Fit Clark hunts midfield role
The 18-year-old ruptured his anterior cruciate ligament last April, meaning he will be 12 months past the surgery after a month of the home and away season.
"I'd like to play as early as I can, but they'll probably hold me back a little bit just to make sure it's 110 per cent right. I guess towards the middle of the year, or maybe a bit before that, but we're not really putting a timeframe on it," King told AFL.com.au.
"I've tried not to put a specific date on it. I just want to do everything right, and get out there as soon as I can."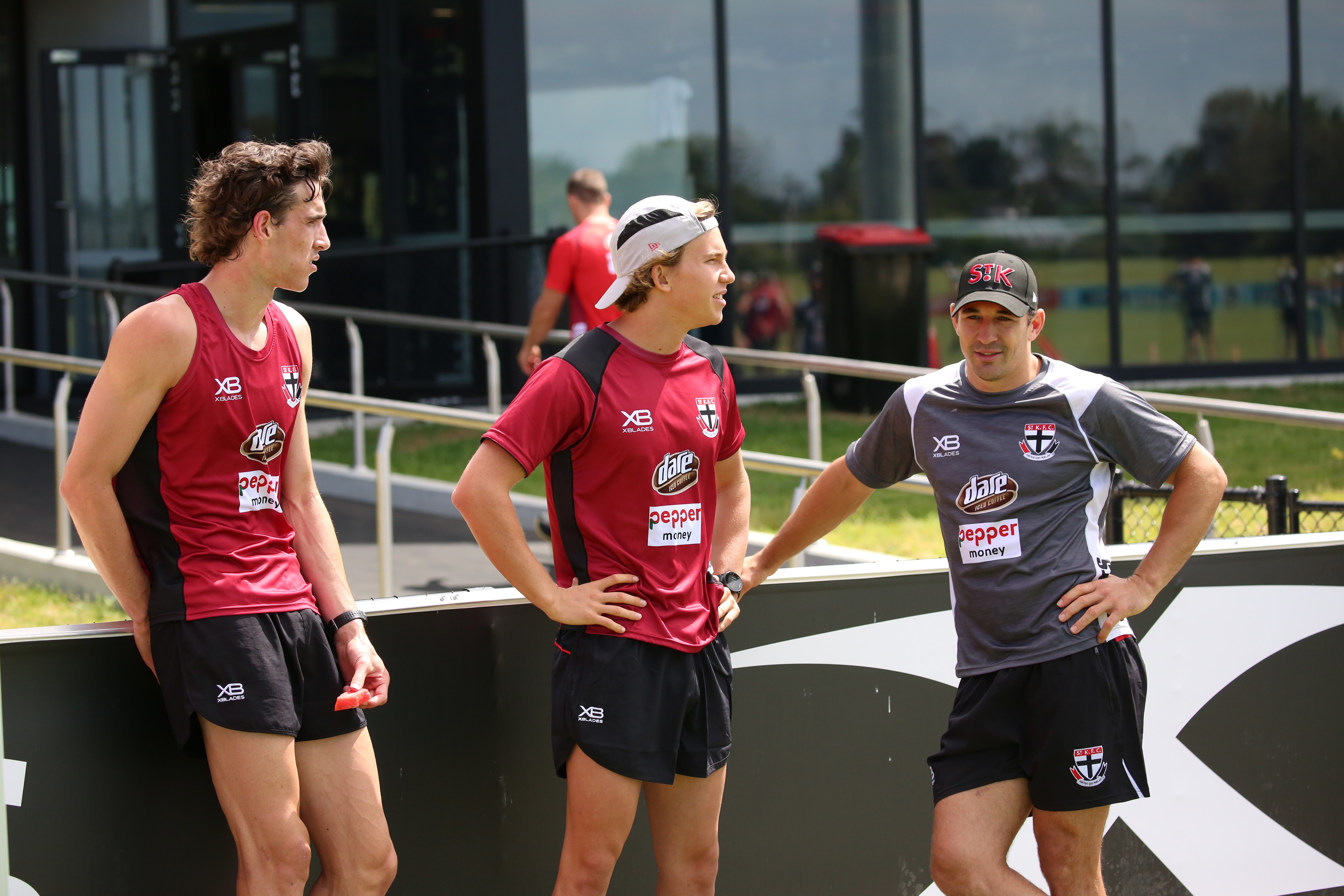 King was already familiar with the surrounds of St Kilda before the club officially added him to its list. Throughout last year he spent at least a day a week doing his rehabilitation program with the Saints, who share a link with King's TAC Cup club the Sandringham Dragons.
"I got a bit of a look because I did my rehab in there, but once you're actually in there and you're involved, it's a lot different," he said.
Doing my rehab around the club, I always wanted to be involved but I couldn't. But to finally be able to be amongst all the boys and get into training alongside them … to meet them has been a lot better."
If not for the knee injury that ruined his draft season, King would have been a stronger contender for the No.1 pick, such is his talent as a high-marking, athletic and powerful goalkicker.
He said he had no apprehension about his knee as he stepped up his training.
"We're going pretty slow at this stage and I'm developing confidence in my knee so when I do progress I have full faith that it's going to hold up. There's not much nerves about it," King said.
"It's hard, I'm not really joining in that many drills with the boys but I feel like I'm adapting pretty well to the AFL lifestyle and I can match it with some good players."
WATCH: Phillips crowned time trial king
King was at Marvel Stadium this week as part of the AFL Players' Association's induction camp for first-year players, which was also attended by his twin brother Ben, who was drafted by Gold Coast last year.
Max said it had taken some adapting to be away from Ben, but that he has a new member at his family's bayside home – fellow Saints draftee Jack Bytel.
"It's been a bit different and I'm still getting used to not having Ben around. He's come back a few times and it's always good having the family back together, but I'm definitely getting used to the new set up," he said.
"I have Jack now living at mine, so that's a bit of a different dynamic but it's good."