"I felt really hungry at three quarter-time today!" was the unusual observation from the young St Kilda player sitting across the table at the Saints Auction in mid-1984.
He then pondered how he wouldn't have minded munching into a pie, before breaking into the expansive grin that we would see so often in the following 35 years.
Sadly, we will not see the beaming smile of Danny Frawley again, but he will live in the hearts of St Kilda people forever.
And not just those men who he played alongside and led, but the current-day Saints who enjoyed his guidance, humour and advice during his time as an assistant coach in recent years.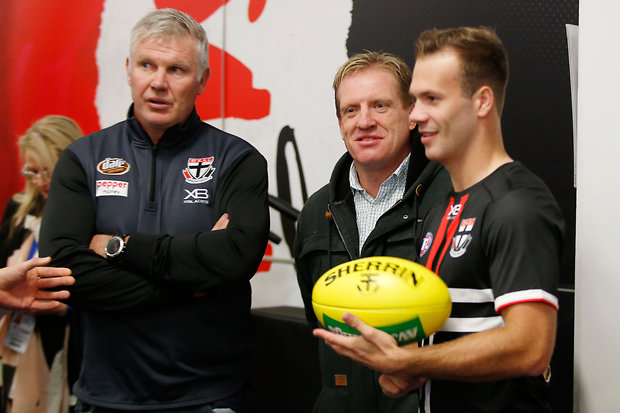 Danny Frawley, Dean Rice and Bailey Rice just before the latter's first game in the red, white and black.
Of course, the Frawley connections also span his time as an assistant coach at Collingwood and a senior coach at Richmond.
Then there was the wider connection to the football world through his radio and TV commentary at Triple M, SEN and Fox Footy.
It was there that Spud became a household name, bringing his warmth, larrikinism and hearty laugh into living rooms across the country, first through the radio, then through television.
VALE, SPUD: Tributes flood in for Danny Frawley
Once, when Frawley was asked how he would like to be remembered, he said as a bloke who never shirked an issue and fought tooth and nail for every game.
Danny Frawley had a heart as big as the St Kilda grandstand.
On the eve of his last game, he wrote a letter to his teammates which he pinned on the wall at Moorabbin.
In it, he summarised his own ethos.
"There's a saying which epitomises my attitude to life and football which to me are one and the same. 'When I was a young man I observed that 9 out of 10 things I did were failures, I didn't want to be a failure so I did 10 times more work.'" - Danny Frawley.
For a man who became such a great leader, it is hard to imagine that when he was appointed captain at the age of 23 in 1987 there were many who doubted the move.
Frawley himself shared the concerns and admitted to being daunted by heading a side that included recently transferred Carlton men Peter McConville, "Wow" Jones, Alex Marcou and Ken Sheldon, along with homegrown veterans Trevor Barker, Greg Burns and "Joffa" Cunningham.
But in trademark fashion, Spud just knuckled down and concentrated on playing well and setting a good example.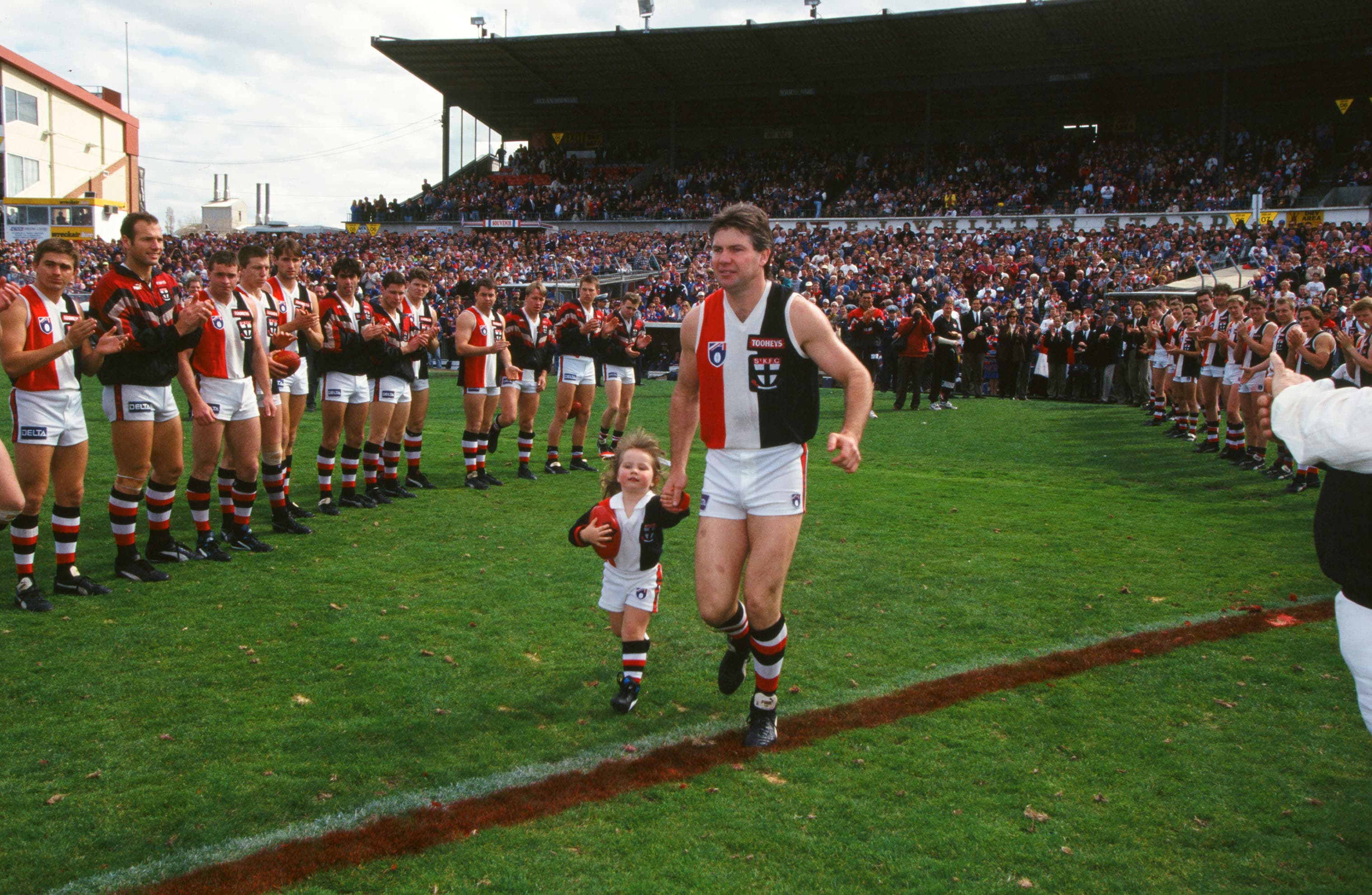 Danny Frawley runs out for his final game as the Saints form a guard of honour.
He was grateful for the support of the older blokes and they respected him for his wholehearted approach.
By the time he retired, he had led St Kilda in 177 games (73 games more than the next highest Darrel Baldock) and was universally regarded as one of the competition's best captains.
It was a captaincy record only exceeded by Nick Riewoldt.
As a player, Frawley sits in exalted company as one of St Kilda's greatest ever full-backs.
SHARE YOUR TRIBUTE: Send in your messages of support in honour of Danny
It is a footballing line of heritage that extend back to four time best and fairest Bill Cubbins, through Brownlow medallist Verdun Howell and premiership full-back Bob Murray – all regarded as the best of their time.
Not so long ago, an indignant mate of Spud's rang to ask why Danny hadn't been included in the Team of the Century and pondered whether someone on the selection committee had a personal grievance. He had to be reassured that it wasn't case.
240 games for the red, white and black – 177 of them as skipper – along with a club best-and-fairest in 1988, 11 state representative honours and an induction into the St Kilda Hall of Fame emphasise just how much of a legend he was.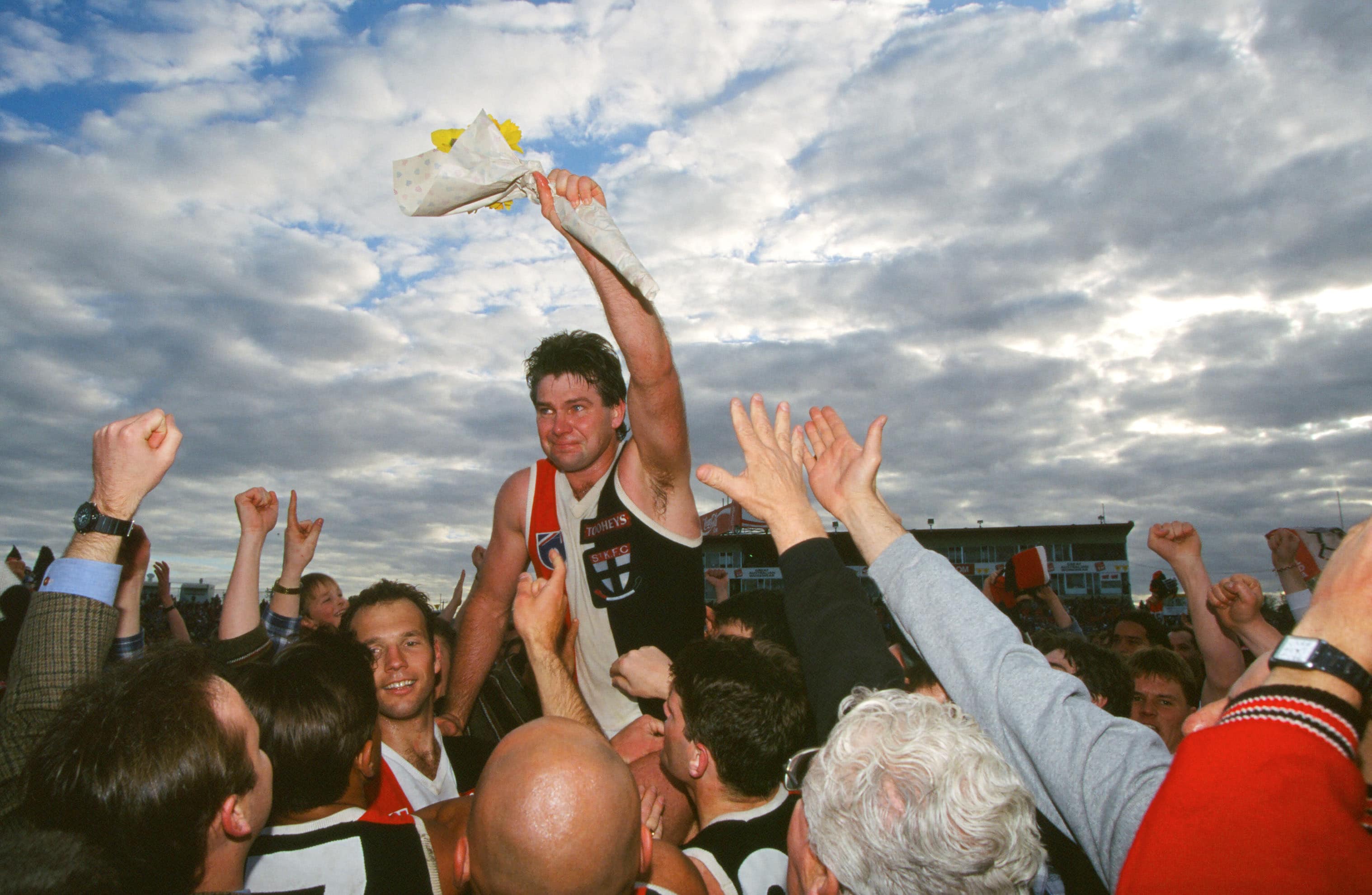 Spud is chaired off after 240 games in the red, white and black.
In recent times he has been part of the Saints Past Players and Officials Committee.
At a meeting a few months ago, Frawley spoke passionately about the need to look after the mental and physical welfare of Saints people.
We knew of his own well-publicised battles and he cited the case of the death of a former player at another club and how that club had responded.
As in everything, he was wholehearted and straight to the point.
He always wore his heart on his sleeve, and his legacy is that our efforts as fellow committee members will be redoubled in the area of player welfare.
FOREVER IN OUR HEARTS: Vale, Danny Frawley
We saw his tears as he announced Plugger's elevation as a Legend, and when he guided the then almost-blind Teddy Whitten around the Victorian team's dressing room.
Sincere and caring – the Danny Frawley ethos.
His humour was the classically Aussie brand of taking the mickey out of any situation.
Last year he was standing at one end of the office chatting to Paddy McCartin and loudly yelled as he saw my portly and white bearded visage – "Look Paddy, Father Christmas is here!"
Now it is us who shed the tears of emotion for a man who is irreplaceable.
We'll miss you, Spud.