St Kilda Football Club is thrilled to announce Complete Dairy as its recovery partner.
A staple of many sporting clubs and organisations, one glass (250mL) of Complete Dairy milk contains 15g of whole protein; an essential part of a healthy and balanced diet.
Complete Dairy is made through a cold filtration process that naturally increases the protein and decreases lactose levels*.

READ: RSEA extends partnership with St Kilda
"We're very pleased to welcome Complete Dairy on board," Saints General Manager of Commercial Chris Larkins said.
"Complete Dairy products are perfect for assisting athletes in their recovery and allowing them to easily get protein hits throughout the day.
"This partnership further exemplifies our commitment to health and wellbeing right across the club and we're very excited to have Complete Dairy join us in this mission."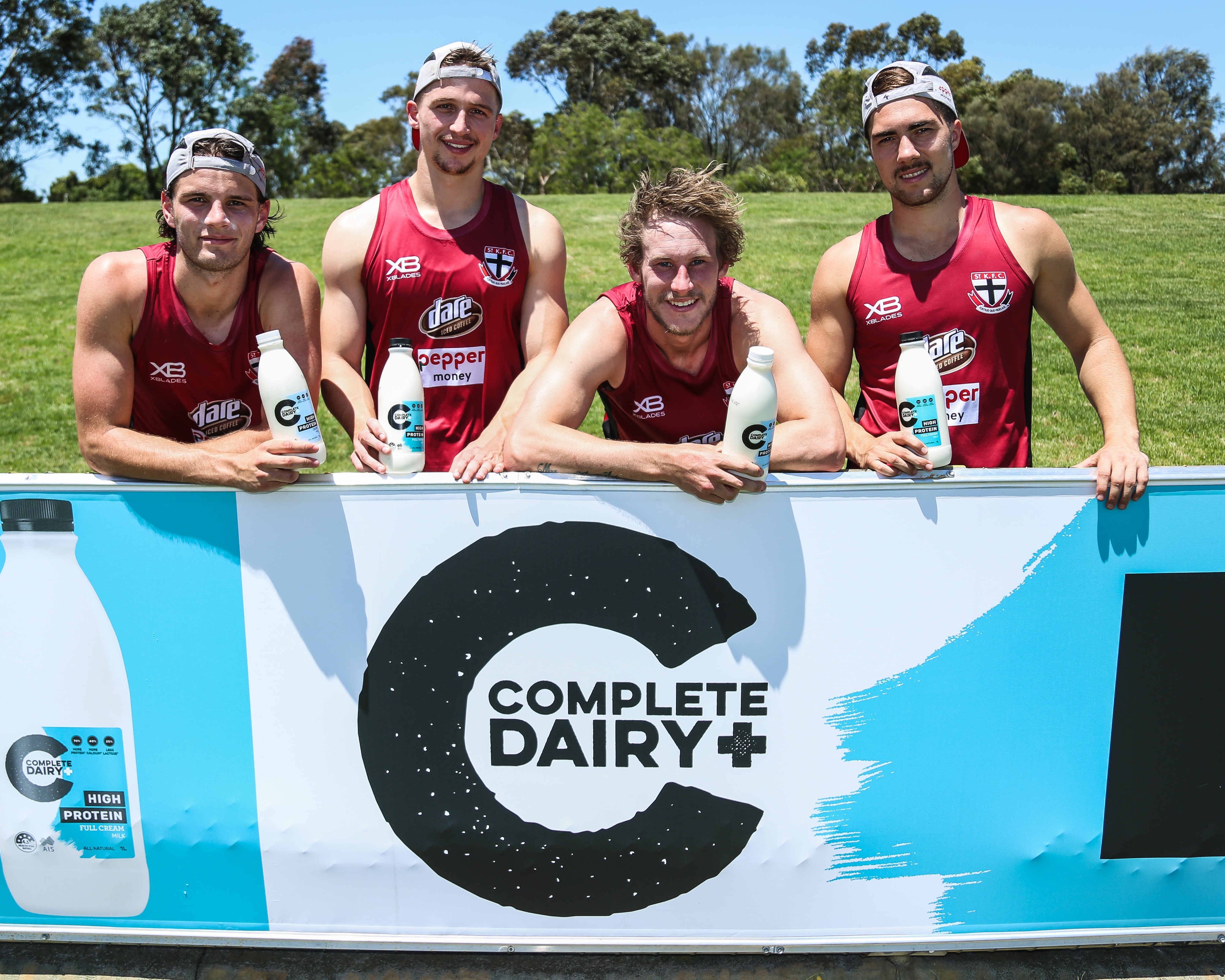 Complete Dairy is also the official milk partner of the Australian Institute of Sport and is stocked in both Coles and Woolworths supermarkets in Victoria, New South Wales and South Australia and local Independent stores in South Australia and Victoria.
"We are proud to be partnering with St Kilda to support the players with their recovery and help them keep their bodies in top condition for the season ahead," Lion Dairy & Drinks Marketing and Innovation Director Darryn Wallace said.
"Complete Dairy High Protein milk can be enjoyed by everyone as a part of a balanced diet, and we are excited to be able to share it with the broader St Kilda football community."
Saints' Performance Dietitian Alison Miles said the players' fridge was fully stocked with Complete Dairy High Protein Milk.
"The players can help themselves and can drink it straight, on cereal or in a smoothie. It can be for before training for fuelling or afterwards for recovery – both refuelling and rebuilding," Miles said.
She said drinking Complete Dairy was an easy way for footballers to get plenty of protein from a food source.
"Complete Dairy milk is a great 'food-first' option to help them achieve their protein goals, while also fuelling them with essential carbs and strengthening their bones with calcium."
Fans will be able to do a taste test themselves at the Saints' intra-club match on Saturday 23 February from 9.30am – 2pm, with samples of the players' favourite smoothie recipes available.
A special march is also being organised to mark the occasion, with fans to assemble at Moorabbin Station at 9am before walking to the Saints' spiritual home just a few blocks away.
You can read more about the event on the St Kilda website or visit Complete Dairy, athttp://www.thecompletedairy.com.au
*The Complete Dairy Milk contains 70% more protein and 25% less lactose compared to regular full cream milk with 3.4% protein and 4.4% lactose.