Lance Oswald was a brilliant footballer in one of the sport's most glittering eras.
And while his death at the age of 82 is an occasion of great sadness, it also provides an opportunity to reflect on a centreman who was in many ways ahead of his time.
The impact of Oswald's talents was so significant that he was honoured with selection in the club's Team of the Century before being inducted into the Hall of Fame in 2008.
BILL MILDENHALL: Former Saint earns Australian Basketball's highest honour
In the late 1950s and early 1960s, it was generally expected that a centreman would play a stay-at-home role in midfield.
But Oswald's style was epitomised by constant press references to his "free-roaming" approach.
In an interview for the book "Heroes with Haloes", he explained that his coaches at St Kilda did not try to curb his style of play.
DONE DEAL: Ben's in for the Long haul
"They just said, 'Keep running all the time, and keep the ball moving down the ground'," Oswald recalled.
"I had played in the centre as a kid and knew that you had to get back and pick up your man if you went down further than centre half-forward.
DON'T MISS AN EPISODE: Subscribe to the Saints Insider podcast
"I was different to most of the other centremen at the time. Blokes like Bill Serong and Jack Clarke stayed back near the centre."
Oswald had good reason to be confident of his capacity in the forward zone. As a young man, he once kicked seven goals in a quarter for Wangaratta and bagged 93 goals in his last season there.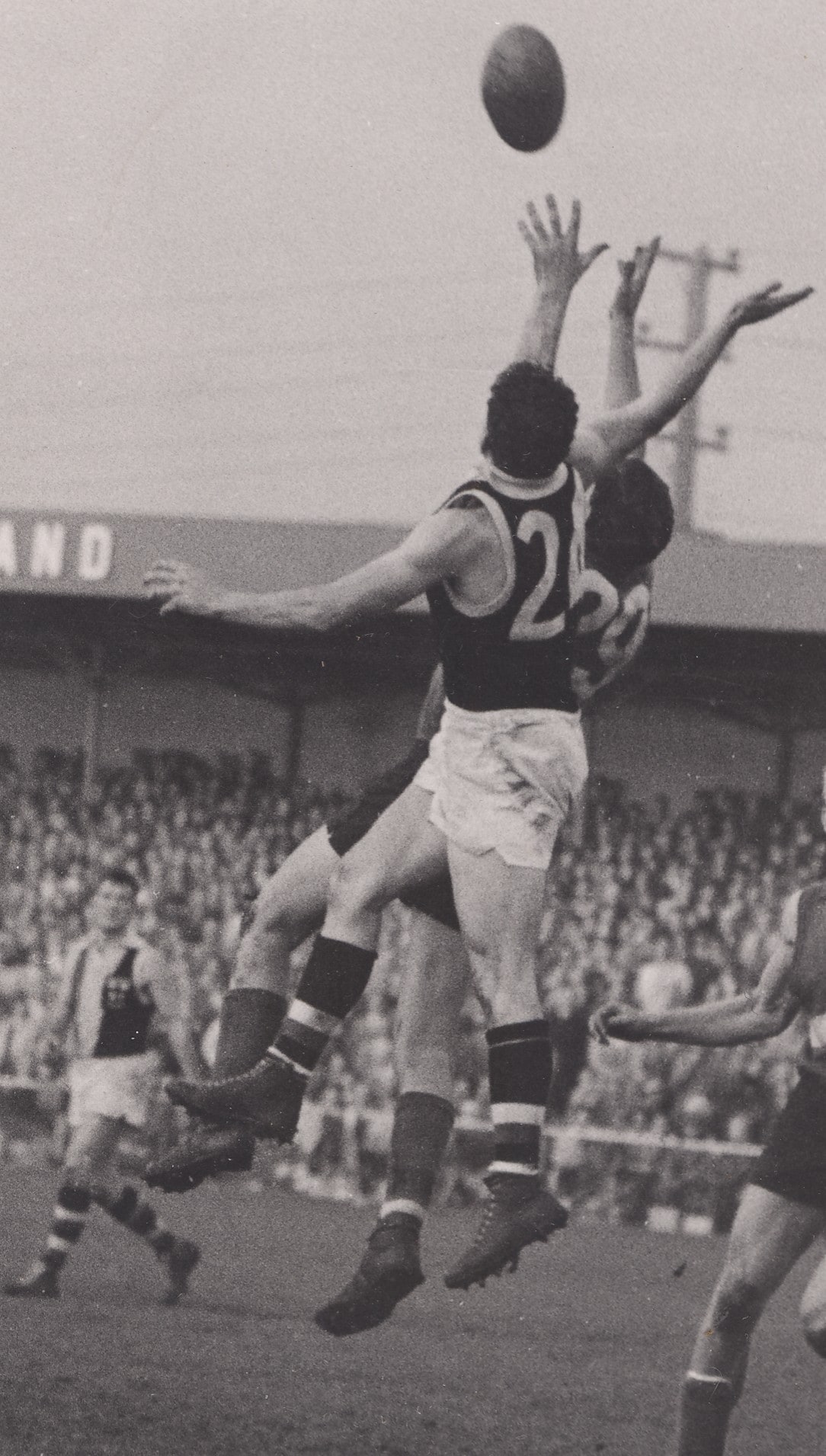 Wangaratta wasn't about to let him go without a fight, but the Saints convinced the Riverina club to let him play in the opening round against South Melbourne in 1957 on a one-match permit.
In those days, country clubs could agree to let players appear temporarily for a League club without being cleared.

Oswald joined the Saints permanently in 1958 and instantly impressed as a rover and forward.
At the start of 1960, he was handed the centreman's role and his football went to a new level. In 1960 and 1961, he won the Saints best and fairest award and represented Victoria, and he was considered unlucky not to be selected in the All Australian team after the 1961 National Carnival.
They played me on the half-forward flank against Tasmania and they reckon that cost me a vote for the centre position."
He was a prolific possession-winner and beautiful kick, and he was generally acknowledged as the best centreman in the land.
When St Kilda made the finals in 1961 for the first time in 22 years, the entire club was nervous at the prospect of entering uncharted territory.
Oswald would laugh when recalling that he initially left his bag sitting on the gate at home before quickly turning around to collect it.
JB STEPS UP: Billings named in leadership group
The team's nerves were apparent in the final against Footscray and they slipped behind in the early stages.
But it was the brilliance of Oswald on the MCG that sparked a revival. The Saints clawed the margin back to within a couple of points, but ultimately couldn't steal the victory.
In 1963, he was displaced as centreman for the Saints by a new kid named Ian Stewart and reverted to the half-forward/roving role.
INJURY REPORT: Hear the latest directly from our Head Physio
The lure of the bush was always strong for Oswald, and at the age of only 26, he left to take up a coaching appointment with Strathmerton.
There was a wide-held belief that he had left because of Stewart's arrival, but Oswald himself quickly dispelled that thought.
It didn't worry me much at all. My ankles weren't any good and they had been crook for a year, ever since a bloke stood on the back of my ankle at Footscray".
Manipulation and the insertion of pins had made no difference.
Playing on dry country grounds – "it never rained on a match day for three years" - was less taxing than playing on the boggy surfaces in Melbourne.
He had a relatively short League career of 107 games from 1957 to 1963, but Lance Oswald had made an indelible mark at St Kilda.